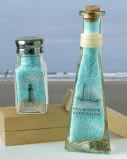 For thousands of years, people have traveled to places far away to bathe in natural mineral pools. Bath salts are a simple way to experience some of the same benefits in the comfort of your own bath. And when combined with the aroma of natural essential oils, the experience can be truly amazing!
Ingredients:
1. Salt. There are many different types of salts that can be used for bath salts. Some common salts used in bath salts include Epsom salts, sea salts, or regular table salts. Also available are some naturally colored salts that can be quite stunning when used for bath salts. How course or fine the salt is depends on your personal preference, just keep in mind that courser salt will take longer to dissolve than fine salt. Some good places to check for different types of salts would be the grocery store, health food stores, pharmacies, craft stores, and the Internet. You may want to check the ingredient list on any salt you get to see what (if any) ingredients have been added in case of allergies or other health concerns.
2. Essential Oils.
3. Food Coloring (if desired). Food coloring is an easy and inexpensive way to color bath salts. Just be sure that if you use them that any recipients know what colors were used in case they are allergic to a certain colorant. Also don't try to make your salts very dark colors, or you may end up staining your tub. Some people also use mica powders to color their bath salts, but these can be harder to find.
Instructions:
1. Pour 1 cup of your desired salt (or a combination of several salts) into a bowl (use either a stainless steel or a disposable bowl—plastic and glass bowls can sometimes get permanently scented by essential oils)
2. Add 5-10 drops of your favorite essential oil or blend to the salt and stir together until no clumps of salt remain and the oil is distributed throughout the salt. Some oils that might work well either individually or as part of a blend are listed below.
* For a scent that reminds one of the sea, try different blends of sandalwood, vetiver, lavender, jasmine, chamomile or cedar wood.
* For a more relaxing bath salt, try lavender, chamomile, geranium, clary sage, or sandalwood.
* For a more invigorating bath salt, try cypress, fir, juniper, lemon, nutmeg, orange, grapefruit or peppermint.
* For a more romantic bath salt, try rose, jasmine, clary sage, geranium, rosewood, or ylang ylang.
3. If desired, add one or two drops of coloring to the salt and mix thoroughly until color is evenly dispersed throughout the salt.
4. If you live in a humid area, you may want to spread your bath salt mixture on a baking sheet or a sheet of foil or parchment and let it dry for 4-8 hours (stirring occasionally). This can help prevent your mixture from clumping together.
5. Using a funnel, carefully pour your bath salt mixture into small decorative jars.
6. Create a label or gift-tag that says what kind of bath salt it is, what the ingredients are, and how to use it (typically 1/4 – 1/3 cup of bath salts dissolved in warm bath water is a good amount). For example, your label or gift-tag might read:
Sea Scents Bath Salt: Contains natural sea salt, and pure essential oils of jasmine and cedar wood. Add one-fourth to one-third cup to warm bath water, wait until dissolved, and enjoy!
Extra Ideas
1. This recipe can be easily adjusted for different amounts, just keep the proportions the same.
2. If you are using a courser salt that may take longer do dissolve, you may want to make a small bag with a drawstring out of a fine mesh material to place the salt in. This bag can then be filled with the correct amount of bath salts and hung on the spout of the tub with the drawstring so that the bag is underneath the water that is coming from the spout. This will help speed the dissolving process, and will also keep the undissolved salt out of the tub.
3. Try layering different colored salts in clear glass jars to create some neat effects.
If you are looking for some great blend ideas that you can use to create some wonderfully scented bath salts, try the book 500 Formulas for Aromatherapy by Carol & David Schiller.
Source and Photo: abundanthealth4u.com
Do you like this Money Making Business Idea? then please consider subscribing to our Pinoy Bisnes RSS feed. You can also subscribe by email and have new articles sent directly to your inbox. (Once you entered your e-mail address, you need to login to your e-mail account and click the link to confirm your subscription).