There are no rules that one needs to stick by when it comes to painting. One stroke of paint can change the entire presentation of your space. So if you are looking for ideas to freshen up your spaces with olden golden ways or light it up with unique approaches, then here we are with our 9 simple yet transformational paint ideas on a budget.
1. Charming Chinoiserie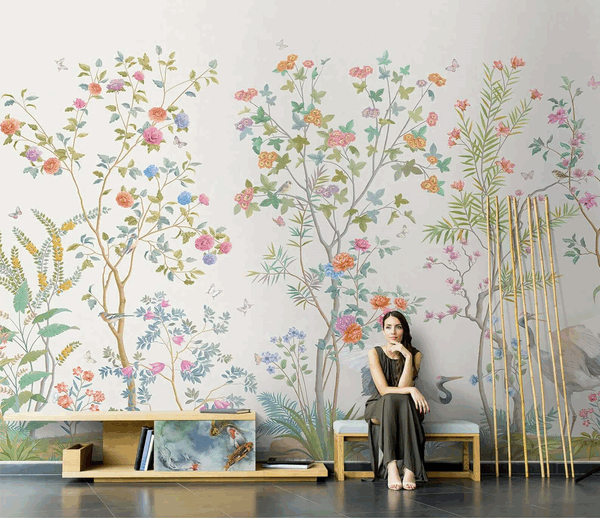 Chinoiserie can be a perfect pick to spruce up your interiors. An interpretation of east Asian designs, Chinoiserie goes back as old as the 17th – 18th century. It is a great way to add more definition, merriment, and fancy touch to your walls. You can choose from any of your favorite colours, from bright yellow to baby pink. Or deep colours attract you, and when you opt for those as well.
2. Go funky with geometry
It's 2021. Why not go funky with your interior game? And what is much funkier than playing with geometrical shapes? Paint your walls with triangles, circles, or even modern accent shapes with rich, sharp tones. Geometrical walls make it great as a statement wall. Vibrant colour and geometry can give your room a punchy yet eye-catching look.
3. Colourful Corners
If you and your interiors are tired of neutral and basic colours, painting your walls with intense colours is an excellent way to brighten your dull walls. From dramatic red to livid purple, bright colours add life and love to your home. Being bold can be beautiful and inspirational all at once.
4. Abstract the Art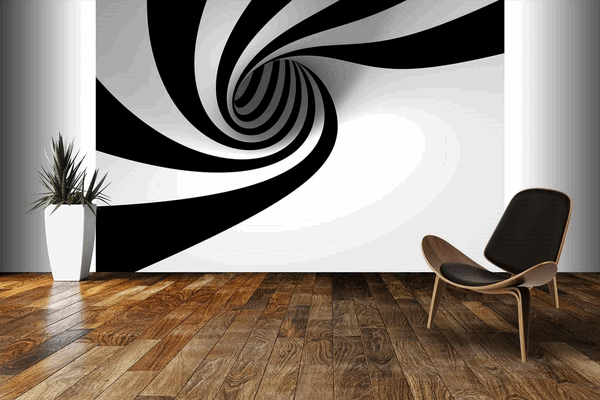 Abstract art can make your interiors look powerful visually. You can install abstract art or even paint them on your walls. You can install a simple natural canvas or ancient art. Either way, you like it. Abstract art on the walls is unique and makes you stand out from the old usual paint colours.
5. Stick or peel?
If your interiors need a fresh breath of creativity and uniqueness, then wallpapers are worth investing in. From florals to plain wallpapers, you get endless options for your walls. And if you ask us, the best part of wallpapers is that you can stick and peel them off anytime you want. So if you are looking for something engaging yet way out of your comfort zone, then this is it.
6. Let us get dreamy with Ombre.
How about going all dreamy and decorative with interior paint colours? Ombre paintings are one such paint idea that will transform your interior on a budget. Yes, ombre painting is a watercolor effect created with two or more colours. It is an artistic technique that brings the hues and blends together harmoniously, giving you a rich yet sober textured wall. Applying ombre painting is uncomplicated so that you can do it on your own as well.
7. Patterning along!
If plain colours look too little and florals look too much, then I highly recommend you look for pattern painting on your walls. You can go way too creative with this, like curating a stencil to vertical stripes that make your walls look longer. Pattern painting on the walls is sure to transform the whole look of your walls and keep your interiors up to date. Harlequin, stripes, stencils, strie, and sponging are some of the patterns you can experiment with.
8. Supremacy in Minimalism
If I know less is more, then it is because of the minimalist paintings that I have on my interiors. Unlike most of them, I am not too fond of bright colours and florals and patterns on my walls. So minimalism is the way I go. The clean lines, utter simplicity that minimalist painting offers are an incredible way to uplift your interiors without spending much from your pockets. Not just with paint, you can also invest in some great minimalist art paintings and decors that add more life to your interiors.
9. Statement Walls
No, feature walls are not old yet! Another beautiful way to keep your room look different with just one statement wall. Colour the whole room in one colour without leaving the ceiling part, and then colour the one single wall that you need to highlight with a contrasting colour. This adds more dynamism to your interiors without spring too much.
Aren't these ideas fresh yet cool? Try any of these simple ways to spice up your interiors, and let us know what more articles and blogs you would like to read from us.