Painting your industrial facility is a big investment, and you need to make sure it is done to your satisfaction. You want to choose the best industrial painting contractor in Arizona to do the job right and produce the quality, long-lasting results you require.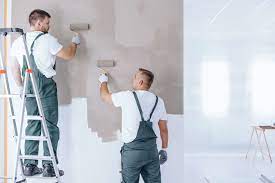 You need to go beyond a Google search for industrial painting companies AZ. Here are the four things you need to consider when choosing among industrial painting companies:
1. The Basics
Any industrial painting contractors in AZ that you consider must have the basics in place.
Experience: How long have they been in business?
You want to work with industrial painting companies that have been around for a long time and have experience with similar industrial painting jobs. You should also make sure work crews are experienced and trained in any specific applications for your facility.
Insurance: Do they carry adequate insurance?
Ask for a copy of their certificate of insurance (COI) and verify coverage with their insurance carrier.
Licensed: Are they licensed to do business in your state?
An unlicensed industrial painting contractor opens you up to liability. If a contractor is unlicensed, you might be sued for workplace injuries or have liens placed against your property if the contractor fails to pay its workers. You can verify an industrial painting contractor's license in Arizona through the state's Registrar of Contractors.
Bonded: Are they bonded in case of problems?
A bond protects you in case the job is not completed, industrial painting contractors fail to pay their suppliers or subcontractors, or they damage your property while doing the job.
Safety Training: Have all employees been trained for safety?
Industrial facilities have unique challenges when it comes to safety. Make sure all work crews have passed OSHA safety training.
Worker Screenings: Require all work crews to be screened, including criminal background checks and drug screening.
2. Reference and Reviews
Always get references. Ask any industrial painting contractors in AZ to provide you with customer references. Preferably, they can provide you with past customers that operate similar industrial facilities so you can compare. Contact the property owners and find out firsthand how they felt about the job. If possible, visit the facility yourself to make your own assessment of the quality.
You should also check online reviews, such as the Better Business Bureau (BBB). The BBB tracks complaints and resolutions. Ideally, you want to work with industrial painting companies in AZ with an A+ rating, the highest rating given by the BBB.
3. Additional Services
The best industrial painting contractors in AZ provide a variety of services to help protect your industrial facility. For example:
Weatherization
Weatherization protects your facility from the elements. Caulking and specialty coatings can provide added protection against even harsh climates. You may want to consider exterior and interior weatherization to protect against heat, rain, wind, and humidity.
Specialty Coatings
Due to the nature of the environment or the materials being used in industrial facilities, you may need special paints or coatings. These can include:
Epoxies and urethanes
Anti-slip coatings
Line striping
Concrete resurfacing
You may also want to consider elastomeric paint, which provides a denser coat to form a watertight bond that excels at resting moisture.
Specialty Applications
Many industrial facilities take advantage of electrostatic painting to refurbish equipment or provide a smooth and durable bond. This uses a sprayer that positively charges paint particles to adhere tightly to negatively charged metal or plastic objects.
4. Get Everything in Writing
The best industrial painting companies will do a great job, make your facility look beautiful, and create a durable, last-lasting finish. However, do not take anyone's word about what they are going to do. Always get everything in writing.
After you have done an on-site visit and approved an estimate, secure a comprehensive contract before any work begins. Contracts should include:
A detailed description of the work as agreed
List of materials and pricing
Estimated start and completion dates along with any specific conditions, such as weekends or after-hours work
A payment schedule that defines any down payments, partial or progress payments, and the balance due upon completion
Any guarantees or warranties, including length of warranty and exclusions
Responsibility for maintaining insurance at agreed-upon levels
Responsibility for acquiring building permits
You also want a clear understanding upfront about how change orders will be handled and what happens if the contractor encounters problems during the job, such as finding a previously undisclosed structural issue that prevents completion.
In Arizona, weather can sometimes require schedule adjustments. Extreme hot weather during Arizona summers can make outdoor painting dangerous work. Dust storms, haboobs, and torrential rains can also delay projects. Make sure you know how such schedule adjustments will be handled before you sign the contract.
For significant industrial painting projects, you may want to consider having a legal review of the contract.
Industrial Painting Contractors AZ
When hiring an industrial painting company in AZ, it ultimately comes down to who you trust. You can trust the industrial painting specialists at Ghaster Painting & Coatings. With more than 45 years of experience, Ghaster Painting & Coatings has painted thousands of commercial and industrial facilities across Arizona.
If you are looking for an industrial painting companies in AZ, contact Ghaster Painting & Coatings to request a bid.