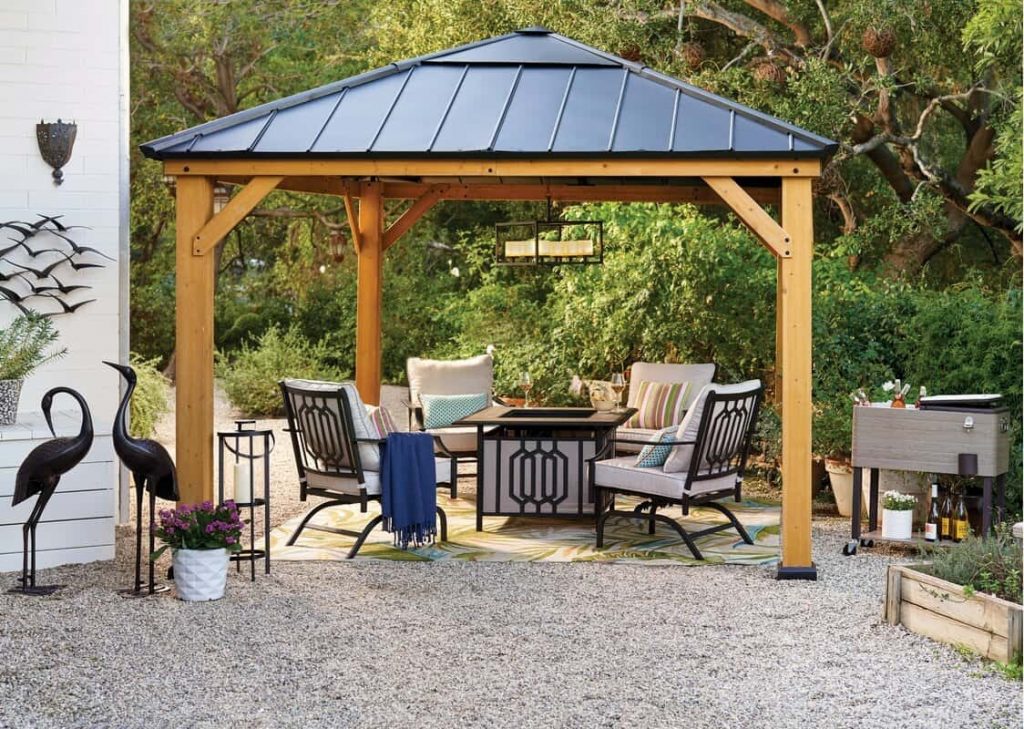 You take great pleasure in your home. The outside landscaping should be as lovely as the inside design. In fact, because your neighbours can view your yard, you may be a little more up to date. You want your yard to appear pleasant whether you like grilling, gardening, or simply staring out the window. However, let's be honest: your backyard needs some TLC. You want to improve the look of your yard but don't have a lot of money. How do you finish a garden remodel on a budget?
We've compiled a list of cost-effective yard improvement ideas. Prepare to be inspired by these creative backyard design ideas, ranging from utilising little plants in attractive pots to hanging rustic lanterns or bright lanterns. Do you have a large space in your home? Furniture arrangements and designated areas will make a huge difference. Want more budget-friendly DIY tips for your backyard makeover? Keep reading!
How Do You Envision Your Dream Backyard?
Is your favourite colour green? After mowing your lawn, you would like to have one of those checkered lawn designs. Combine this with gobs and loads of blossoming flowers, and your yard looks like it came straight out of a magazine. But, other than having lovely landscaping such as trees, bushes, and flowers, what do you want to do in your backyard?
Before you begin your outdoor renovation, consider the areas of your yard that you use the most. Set borders around certain regions. Examine the lawn's form, the soil's health, the utilisation of water supplies or cables, and other factors. Consider this while deciding how you want to spend your time outside when the task is done.
Common Uses for Your Backyard
How you envision your dream backyard probably falls under one or more of these categories.
Gardening
Do you have a green thumb? Then gardening is your thing! You might imagine a mini-storage building for all your tools, such as wheelbarrows, shovels, gloves, and more. Outside interest, whether you like to plant a vegetable garden? There is nothing like reaping what you sow for a sense of achievement.
Entertaining and Grilling
Are you the ultimate host? Perhaps you picture yourself holding a big backyard party. You can relax with a weekend outdoor movie or fancy with the backyard wedding reception! more, the merrier! You need plenty of seating, a cooler for drinks, and a top-notch grilling station. Do not forget about the details such as the chandelier and plug the charger to the music.
Pet Housing
Your furry friends and your four legged friend are part of the family. Cats and dogs need outdoor space to roam. Maybe your page is more like a farm with chickens! the results of your yard eggs and more, so you need a place for the chicken coop and all that goes with it. Building a storage facility for all your needs might be important!
Storage facilities and Workshops
You love the great outdoors, which means you have a lot of motorized toys and tools. Ships, motorcycles and four-wheeled vehicles – oh my! Your garage is full, so you may need another
mini storage building for your big stuff. Besides storage, you could use a workshop space for your projects. Are you a carpenter, welder, mechanic, or painter? You can't hone your skills inside! Create a productive workspace in your very own backyard.
Backyard Design Ideas for Any Budget
Build a DIY Deck or Patio
The backyard is not complete without a deck or patio to hang out. You do not have to spend too much on it, when you follow these DIY tips! Instead of buying expensive new wood, try to find solid wood pallets. If you already have a plain concrete patio, you can give a fresh look using stone stain in the color of your choice. If not, buy cheap pavers to create a small area enough for a table and chairs.
Make a Garden Path
Create your own secret garden with a path leading to a different designated area. Create your course layout as you wish. Take some time and really think about what exactly you want. With the machine, cut the stone with the desired shape. After cutting, take a spade and use the edges to dig 2 or 3 inches. Create a parameter to cut the stone and then slide on the side of the page. You can even use rocks glow-in-the dark for a pleasant summer evening. If you want to go to another service, choose a mulch to create a lined area. Additional details on the lanes can be some small landscape lights.
Each makeover backyard needs a bit of paint
A bucket of paint can walk away, especially when you have a limited budget. You might think the paint should remain at home, but you will see a lot of places that need color if you look around your yard. If you have a mini-storage building, make it look like a mini version of your home. Have a fence? Do not just paint it; Create an interesting mural on it that is unique in your yard alone.
Think vertically with the ideas of natural
Is your backyard large and flat? Add dimension to the room stretched by placing several large rocks throughout the property. You can set up large stones individually or group them to look like a park. Planting flowers and placing a stone or a smaller mulch around the part. Do you have a giant tree in the middle of your yard? Maybe you are above the idea of ​​a tire swing. Instead, creating a bench around the tree trunk is great. Paint your favorite color and throw some decorative pillows on it. Shade makes a perfect place to read!
Waking up the water feature in your backyard
Fountain you must follow the theme of your backyard. You do not need an ivory tower! Instead of porcelain plates, go rustic with watering cans as jets of fountains. It can fall into bucket farm style! To make your own fountain, you will need to pump to keep the water flowing. Besides a fountain, another water feature can be a stock tank. Put on your concrete patio, so you're not dead grass underneath. You can hold water in it during the summer months. Children and pets will love it!
Increase your backyard with a limited budget
Backyard you have a lot of potential, and you can not wait to utilize the space better. It's time to start your backyard makeover. The best part about the transformation of diy pages is that you should not pay more than a thousand dollars. You can remodel your backyard with a limited budget. Follow this helpful DIY tip, and you will have the best page on the block in no time.
Need help installing a mini-storage building to hold all of your toys or tools? You can arrange delivery and installation. Everything is fast and easy. The best part? You can customize your climate controlled building to match your home to enhance your curb appeal. Building a storage facility on your residential property will increase the value immediately. However, you will simply adore the extra space — and wonder why you waited so long to get one.