A kitchen is the heart and soul of your home, regardless of the size. A lot happens in a kitchen apart from cooking. It is where you spend some warm moments with your loved while preparing their favourite dish and entertaining guests.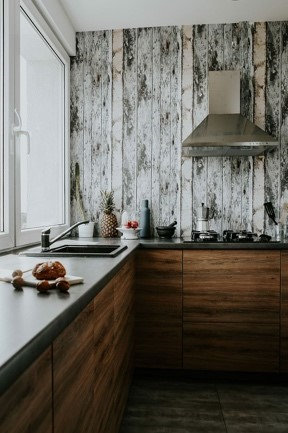 So, what can you do to make your small kitchen more functional and optimize it to suit your requirements without compromising on the aesthetics?
Read this article to know how!
Make use of light colours
When you use dark colours in a room, it makes it look smaller. So, if you have a tight kitchen, then you must consider using light colours to create an illusion of space. Choose the colour of your walls and cabinets carefully. But if you like the classy look of mahogany and envision your cabinets in its luscious brown shade, then you can consider brightening up the lights to make the kitchen appear larger. You can also add LED strips underneath your cabinets and shelves. To make up for the extra lighting in your kitchen, you can replace the old appliances with energy-efficient models. If possible, you can paint your walls with a lighter shade as well.
Add your personality to the design
When decorating your kitchen, don't be afraid to add your personal touches. If you are someone who is bold, then a loud backsplash will make an interesting addition to your décor. A backsplash doesn't need too much empty wall space. However, if you add a running backsplash all the way to the ceiling, then you can make your kitchen look taller than it actually is! Just use a bold pattern to add some aesthetic energy to your working area around the stove.
Choose your sink wisely
By choosing the right sink, you make your kitchen appear roomier. For instance, if you fit your granite slabs with the Best Granite Sink, you are able to create a flawless design that adds a sense of space. Just be sure to pick a light colour for your small kitchen.
Use tall shelves for storage
If you don't have extra square footage on the floor, you can always install shelves vertically to expand your storage and remove all clutter from the slabs. Remove all unnecessary items from the slabs and insert them in the kitchen shelves. An open kitchen space too makes it look bigger.
Add a splash of colour
When you use patterns and colours in your décor, you can create a lot of interest in your kitchen. For instance, if you have an exposed wall, then colour it with a bright shade to give your kitchen a modern look. If painting the whole wall doesn't seem like a feasible option, then you can also add a printed window shade or a patterned rug to break the monotony. These updates are a great way to highlight small spaces. Besides, a quick edit will change the whole look of your kitchen if you are feeling bored with the current décor. This is the quickest and the cheapest way to update your space without spending too much.
Hang all your artwork
You can personalize your kitchen by hanging your favourite artwork. Pick a few modern paintings that are attention grabbing or consider adorning your walls with a vintage style. You can also make your kitchen a personal gallery if you like to paint or click photographs. However, while you are at it, make sure you choose one oversized piece or a collection of small ones. You can also take help from design experts to help you pick the right artwork that will not only bring your kitchen to life but also make your kitchen look bigger.
Maximize Your Dining Space
Looking to add a space to entertain? Don't worry, you can use creativity to create seating even in a small kitchen. Just insert an island kitchen in your design and fit bar stools or look for drop leap tables that can fit more people when required.
Don't believe anyone who tells that you that small kitchens cannot match up to their larger counterparts in functionality and charm! The best way to increase and maximize your kitchen space is to redesign with these simple tips in mind. Additionally, you can also organization tricks such as keeping countertops clutter free or using every inch of space for storage purposes. You should also use any unused space, such as a bare wall or an empty window sill to add potted plants or décor sparingly. You can also use the visual power of uniformity by grouping similar items or using monochromatic colour palette.
These are just some of the many ideas that will give you a head start in planning an ultimate kitchen that is not only aesthetically pleasing but also a practical space for your day-to-day use.