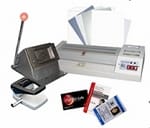 Starting an ID lamination business is a good home-based business venture that can make big profits for anyone wanting to start a business ideally for household moms, dads, and even students with just minimal investment.
ID lamination business can be easily setup at home, and only requires a minimal capital at P8,500 including consumables (if you already have a computer and printer set).
The Id lamination business can bring you more profits because aside from ID lamination it could get along with other business like eload business and you could also offer other services like signage making, discount cards, privileged cards, button pin, mug press etc. What's important in this kind of business is the customers. Look for customers who regularly need corporate IDs, school IDs, VIP or discount cards, and signages, among others.
For an investment of P8,500, one can already make 500 IDs. This package offered by Ronrox Corporation includes an A3 size heavy duty laminator, standard ID mold cutter, 3-in-1 slot puncher and 50 sets of PVC film.
In order to start an ID lamination business, aside from those package mentioned above, one should also have a computer set and printer that uses pigment ink. Since IDs should be made to last, pigment ink is used so that the image or print won't fade easily. This particular ink is not water-based so even if the ID gets wet the print won't smear.
The laminator machine consumes only 250 watts and has light indicators. So one would know when the machine is ready to start laminating. The slot puncher, on the other hand, has three uses: creating oblong or round hole and curving edges. The PVC film is composed of two parts, the printable side, which is the transparent one, and the adhesive part or the middle layer.
Procedure in PVC ID Lamination:
Step 1: Using your computer, lay out the IDs in A4 size document, as the PVC film has the same size. It will be good to place all the fronts of the IDs on one side (lengthwise) and the backs on the other side. Print the images on the printable side of the transparent PVC films.
Step 2: Cut the PVC film lengthwise. Put a pair of printable sheets together and tape one edge to align the images. Make sure that the images on this pair would be the front and back of the ID. Set aside.
Step 3: Get the adhesive part of the PVC film and peel off the plastic covering both sides. Put the adhesive in between the printed sheets.
Step 4: Preheat the laminator machine for a few minutes and set it to 120oC.
Step 5: Once the green light is on, start laminating the PVC film. The machine has three buttons: the Plastic Seal, Clockwise and Start buttons. The start button should be pressed when laminating. The Plastic Seal button, however, should be turned off if you're doing cold lamination.
Step 6: After laminating the PVC, cut it into individual ID pieces using the mold cutter.
Step 7: Create a hole using the slot puncher, which can create either a round hole or an oblong one.
Step 8: You'll notice that the IDs are still matte finish so you have to laminate them again.
Step 9: After the second lamination, peel off the plastic cover on both sides and it will become glossy. There, your IDs are now ready.
Costing:
A single PVC film, which costs P30, can make 10 standard size IDs. Ronrox estimates that a single print consumes about 2ml of ink. If 1ml of ink costs P3, you're spending P6 per printable sheet. So the production cost for 10 IDs is: PVC film @ P30 + ink for two sheets @ P12 + electricity @ P0.50 = P42.50 / 10 IDs = P4.25 each ID.
The price of corporate IDs range from P100 to P300 while school IDs are priced at around P80 to P150. What a hefty markup! But remember that this computation still does in factor in your labor cost or the salaries of your workers.
TIP: To close deals with companies and schools or stores, give them either discounts or commission. For example, if a school usually sells the ID to its students for P150, offer your product at a bulk rate of P80, P100 or P120 each.
Watch the video on How to Start an ID Lamination Business in Kabuhayang Swak na Swak
Watch the videos on How to Start an ID Lamination: Processing
Part 1
Part 2
Part 3
Part 4
For more information, please contact:
Ronrox Corporation
Unit 16 Grace Park Commercial Complex
J. Teodoro St., 4th Avenue, Caloocan City
Telephones: (02) 365-3025, 497-5950
Website: www.ronrox.com.ph
Sources: entrepreneur.com.ph, ronrox.com.ph
Do you like this money making business idea? then please consider subscribing to our RSS feed and have new articles sent directly to your inbox. (Once you entered your e-mail address, you need to login to your e-mail account and click the link to confirm your subscription).