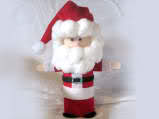 Christmas season is the busiest time of the year. It's also a good time to start a business because people are busy buying for anything from food, clothing, decorations and gift items. People are also busy in planning for their Christmas parties and family reunions. During the holiday, you can expect everyone will spend money just to feel the spirit of Christmas. Many people are looking for unique gifts that will be just right for their family and friends.This makes the right time to find what craft business ideas you can start during Christmas holidays. Listed below are my Top Christmas Craft Business Ideas you can start right at your own home.
Christmas Craft Business Ideas.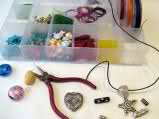 Bead Jewelries– Bead jewelry making is a creative and entertaining hobby that not only will have you produce unique, handmade items of jewelry, but will also be a great business and a source of gift ideas for family and friends. Click here for bead jewelry making.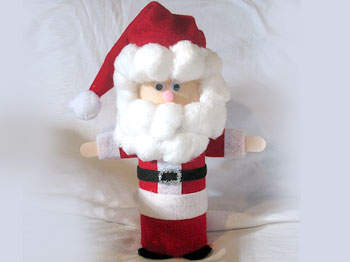 Chip Can Santa Craft– Don't throw out those potato chip cans, they make great crafts! Try your hand at this cute little chip can Santa craft, a perfect display for your holiday table. Click here for Santa craft guide.
Cupcake Towels– Cupcake towels that "looks so tasty". These cakes are actually towels that are exquisitely designed to look just like real cakes. Cupcake towels are perfect innovative dessert souvenirs for any occasion. Click here for cupcake towels.

Clay Pot Santa Claus– It makes a nice decoration at Christmas time for the table or window, and when wrapped in a clear foil, can be a nice gift for someone as well. Click here for candy canes guide..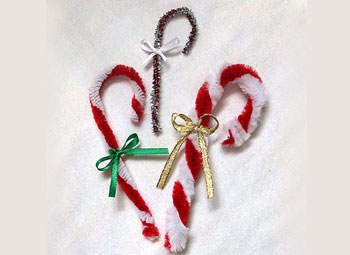 Chenille Candy Canes– Chenille stems make the easiest candy canes and you will be amazed and how happy your child will be after making these easy ornaments. Perfect for any age, this is a wonderful holiday craft. Click here for wreath ornament guide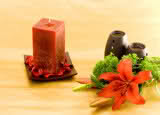 Scented Candles– Scented candles are very popular item especially for hotels and Spas. They add a warmth and scent to the place that many people desire. Making candles at home can cut the cost, and provide a fun project for those who like to craft. Click here on how to make scented candles.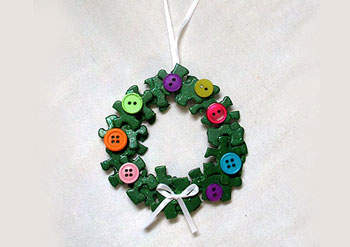 Puzzle Wreath Ornament– If you have any puzzles that are missing pieces, they can be turned into fun craft projects! Take this cute wreath ornament for example. Turn spare puzzle pieces into a cute ornament for your Christmas tree. Click here for snowman guide.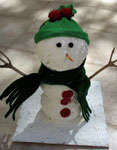 Never- Melt Snowman– Brrrr! It's time for building snowmen! Too cold to go outside, or no snow on the ground? No problem! Make this cute textured snowman to decorate your home. Click here for snowflake candle glass craft guide..

Snowflake Tea Light Candle Glass– This is a very lovely way to decorate your holiday table. Create candle glasses such as this one and set them onto iridescent flakes. It has almost a magical look to it when the candles are lit. The snowflakes are sprinkled with extra glitter to add to the look. Click here for Christmas potholder guide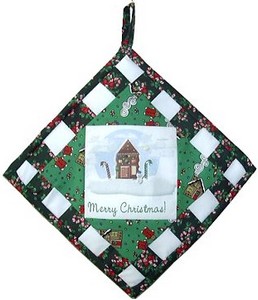 Quilted Potholder for Christmas– There is nothing more wonderful than a hand made, unique gift. This potholder is easy to make, plus it teaches you new quilting skills, as well as how to transfer an image to fabric. Click here for felt Santa guide.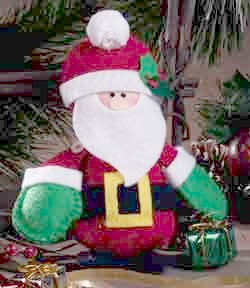 Felt Santa– Use this charming Kunin felt Santa decoration for Christmas trees, wreaths, mantels, centerpieces, stocking stuffers or just to give as a homemade Christmas gift! Click here for reindeer ornament craft guide.

Reindeer Ornament Craft– Make Rudolph ornaments this year for an easy, any age Christmas tree ornament craft. Making this reindeer ornament craft is a real holiday classic- and a fun to do activity with the kids this year. Click here forRibbon Spool Christmas candle guide..

Ribbon Spool Christmas Candle– Candles are wonderful, but this one is safer! This flame lasts forever and will not burn your fingers. It would make a lovely centerpiece on your Christmas dinner table. Click here for beaded crystal wreath guide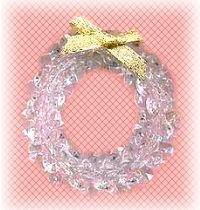 Beaded Crystal Wreath– These beaded wreath ornaments are so easy to do that you may want to make a bunch of them to decorate the Christmas tree. Click here for angelic candle holder guide.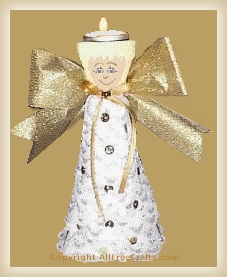 Angelic Candle Holder– Our sweet angel will help light your way and would look lovely displayed on a side table, or somewhere near the fireplace, at Christmas time. You only need a few inexpensive supplies to complete this candle holder. Click here for bead angel guide.
Bead Angel– Craft a beaded angel with nothing more than two beads and a little wire-edged ribbon! These bead angels are easy and quick to make, but they make a lovely gift that is symbolic of love and caring. Click here for Christmas cardinal lightbulb craft guide.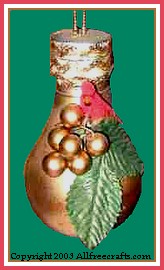 Christmas Cardinal Recycled Lightbulb– Reuse a burned out lightbulb to make this Christmas cardinal recycled light bulb craft. Of course, tiny blue jays or small Christmas flowers could be substituted as decorations – just use what you have or pick a theme that is personal to you. Click here for Santa lightbulb craft guide.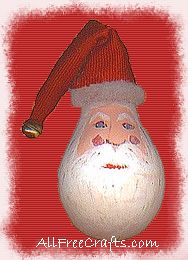 Recycled Light Bulb Santa– Need a small Christmas gift for the teacher or babysitter? This Christmas Santa tree trim is quick, easy and inexpensive to make as the main supplies are a burned out light bulb and craft paint. Click here for beaded star ornament guide..
Beaded Star Ornament– Here's a beaded star tree trim to add to your homemade Christmas ornaments. So quick and easy to do, you'll want to make lots of them in different colors. Click here for Christmas greeting card placemat guide.

Christmas Greeting Card Placemats– Recycle your Christmas cards, or other greeting cards, to make pretty placemats for your table. This is one way to keep and display some of your prettiest, or most memorable, greeting cards. Next year, you can bring them out for holiday entertaining; perhaps your guests will even recognize their own cards in your selection! Click here for beaded reindeer ornament guide

Beaded Reindeer Ornament– Add a dash of reindeery goodness to your Christmas tree with this Beaded reindeer ornament. This craft is most appropriate for teens and adults. Click here for Christmas gift box guide.

Christmas Gift Box from Used Christmas Cards– These little gift boxes are a wonderful homemade craft for children or anyone who likes to recycle. Use Christmas cards, tie up with Christmas ribbon and they make neat Christmas tree trims that can hold little surprises – although they would be good for Easter or other occasions as well. Click here for wreath Christmas centerpiece guide.

Miniature Wreath Christmas Centerpiece– This Christmas centerpiece craft project is completed within minutes. Especially if your need a quick and easy decoration, this project is ideal. Because of its size, it does not require too much space. Click here for lighted Christmas tree guide..

Lighted Christmas Trees– This Christmas tree decoration is a little time consuming to craft but it is overall very easy to make. After you saw the pieces out, putting it together is simple. The decoration consists of 3 large pieces – 2 trees and a base piece and 10 stars. Click here for snowman centerpiece guide

Winter Wooden Snowman Centerpiece– This snowman is a cute table centerpiece throughout the whole winter. Because it is made two-sided, it can be enjoyed from all sides. The colors of white and blue give it a crisp snowy feeling. Click here for moose and sleigh craft guide..
Moose and Sleigh Advent Calender– This wooden Christmas moose decoration has a sleigh full of presents and is made to serve as an Advent calender, but can be used as a Christmas decoration for the window sill or under the tree as well. Click here for Christmas wall quilt guide

Christmas Wall Quilt / Wall Hanging– Create this lovely country style quilt in one weekend and decorate your walls with it for the holidays. The reindeer, mitten, stocking, tree, sled and star motifs are typical seasonal favorites and the quilt is made using only 3 colors of patchwork fabric. Click here for 2009 Christmas Bazaars List In Metro Manila.
How to Sell your Christmas Crafts
1. Sell it to your friends, to your neighbors, to students or to offices. Many of these people are looking for unique gifts and souvenirs that they will give to their friends and families. They might also want to buy your Christmas crafts to decorate their homes.
2. Sell at craft fairs in your area. One of the easiest ways to sell Christmas crafts is by finding a craft fair shows in your place. These are especially popular around the Christmas season, as many are looking for unique crafted gifts. You can also rent a space or booth and set up your crafted items near busy streets or to places where many people are passing by.
Where to sell your Christmas crafts? Check this great List of Christmas Bazaars. Here's the Etsy.
3. Sell your crafts online. One of the best site to sell your handmade Christmas crafts is in Etsy, that is, if you want to sell it internationally. There are also several websites that you can sell your crafts locally. In Philippines, you will find many sites that you can sell your craft items like in Multiply or any buy and sell websites. This will allow a wider network to look and browse at any of your specific craft items. If you decide to sell it online, you should have all of your information available, pricing, shipping as well as pictures of the crafts that you are selling.
Starting a Christmas craft business is a fun way to make an extra money for ordinary entrepreneur during the holidays and who knows this might be the start of your big business dream.
Note: description and photos are taken from its source site.
Sources: streetdirectory.com, allfreecrafts.com, kaboose.com, craftideas.info
Do you like this Money making Business Ideas? then please consider subscribing to our RSS feed and have new articles sent directly to your inbox.