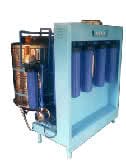 If you are looking for a business to start, a water station business is a good choice. Why? because every Filipino needs a clean drinking water in their homes. With just a small start-up capital of P150,000, you can now start your own alkaline water refilling station business anywhere you want.
According to Electromex, Inc., their Electromex UHP500 water refilling station is a hi tech filtration system similar to what viva and summit and EVIAN is using. Full time HEAVY DUTY OZONE GENERATION, microfiltration and UV sterilization. It will work with deep well except for wells with salt water and oil contamination.

The UHP500 is an environmentally friendly water refilling equipment and doesn't need any expensive membranes and salt which throws away 7 out of 10 gallons of water like the obsolete backwashing of REVERSE OSMOSIS which is not only unprofitable but is slow and expensive to operate at 3 Pesos per gallon vs the UHP500 at 30 centavos per gallon.
The ELECTROMEX Model UHP500 is a self-contained transportable water filling station designed to comply with the World Health Organization (WHO) standards of performance that must be met by all water purification systems worldwide. The UHP500's production capacity for ultra-high purity drinking water is a salient feature not found in other water filling stations using a different process.
The UHP500 is perfect for your home or business!
– Only P150,000 with 1-year warranty
– Can be carried by 3 men and would fit in any small pick up truck
– Fully assembled and comes complete with the stainless tanks, pumps, filters, ultra violet germicidal lamp and the heavy duty ozonator which kills bacteria and removes heavy metals (lead, mercury etc) on contact
– Stand alone, skid mounted 4ft x 3ft x 6ft 180kgs uses 2hp of 220v and 1 garden hose from your MWSS or deep well source, a true transportable plug and play system
– Perfect for small businesses to start in your homes, garages, kitchens, etc
The UHP 500 alkaline water station business can be set up easily in schools, restaurants, offices, busy streets, subdivisions, hotels, resorts, churches, malls, hospitals and other areas that needs a clean and healthy drinking water.
For more information, please contact:
Electromex, Inc.
2nd Floor, PET Tower Building, EDSA, Guadalupe, Makati City, Philippines
Website: electromexinc.com
Email: ozonatorgermkiller[at]yahoo.com
Telephone: +63 2.473.6144 , +63 2.474.2744, +63 2.572.2692, +63 2.572.5431, +63 2.381.0690
Mobile: +63920.568.5071
Do you like this Money making business ideas? then please consider subscribing to our RSS feed and have new business ideas sent directly to your inbox. (Once you entered your e-mail address, you need to login to your e-mail account and click the link to confirm your subscription).