"It is not the beauty of a building you should look at; it is the construction of the foundation that will stand the test of time," David Allan Coe.
This quote tells you how important the foundation of a structure is. Whether you are trying to create a foundation for the building or an online retail store, you should focus on making it stronger.
While building a foundation of an online B2B e-commerce service, you should look for robustness, flexibility, scalability, and overall load handling capacity.
It does not matter, whether you have a small business or a large enterprise, the fundamental principle related to the foundation of an online store is the same.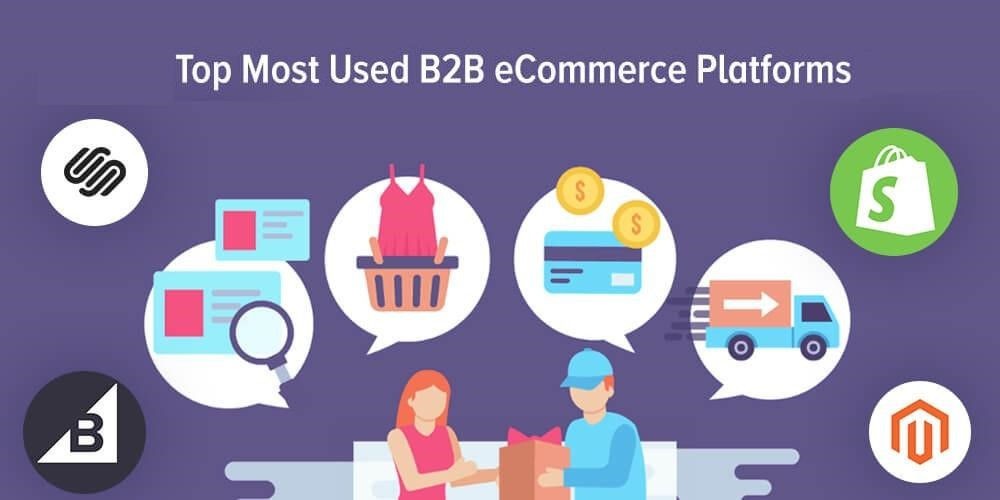 When building the website or mobile app for an online retail store, your primary task should be to establish the brand of your company and reach your target audience to showcase your product and services in the digital store.
If you are a small business owner and want to venture out into the digital world then you can start small with the right B2B e-commerce platform featuring only a few merchandises which the visitor can see and then over time add more products, payment gateways, and vendors as and when the demand increases.
Before you choose the right B2B e-commerce platform for your company, make sure that it provides you with the choice to integrate the latest services in it.
Some of these services are AI integration, machine learning, analytics, digital wallets, and virtual reality. Furthermore, a good e-commerce platform should have the ability to handle multiple tenants, currency conversion, and load-bearing capability.
To complete this, you will need the help of an experienced e-commerce development company that has the matching skills and exposure which are required to build a highly functional e-commerce app.
You can develop an app like Amazon too if you choose a great strategy and hire professional and skilled companies or developers to do so.
To ensure that you can do all of these things easily and without any great changes to the fundamental of the website or mobile app structure, you need to choose the right B2B e-commerce platform for your company's website.
In this article, we have listed some of the most popular B2B e-commerce platforms that are widely used by companies worldwide to connect with vendors and their customers.
Shopify
This is a Canadian e-commerce company that is known for providing an excellent shopping experience both from social media as well as mobile platforms.
The popularity of this platform comes from its easy-to-use architecture that combines a huge amount of built-in features that allow developers to build a sophisticated and engaging e-commerce store.
This platform also has a large number of online developer community supports which comes in handy if you hit some roadblock. The main features due to which this platform is so widely used for e-commerce services are as follows:
It provides a subscription-based model which allows you to integrate it with your Facebook account and convert it into an e-commerce store.
It gives you the advantage of more than 2000 apps for marketing, shipping, and accounting purposes.
This platform is optimized for a mobile-friendly experience
It helps you to provide your clients with different sales channels like a Facebook module or POS for an optimal shopping experience
Magneto
This is another popular e-commerce platform that is known for its flexibility, high-end security, extensive features, stability, and scalability.
If you are looking for a very robust platform that will give you a superb foundation for creating an online B2B e-commerce store, then this platform is just right for you. This platform allows even a layman and to build an e-commerce store for the company.
However, we suggest that you take the help of an expert e-commerce developer to build the store based on the magnetic platform. An expert has vast experience in developing similar stores.
Therefore, they are in the best position to know which features to optimize so that your B2B e-commerce retail store will function flawlessly. Some of the main features of this platform are as follows:
This platform comes with a varnish cache that allows it to load faster and also customize better with more than 9000 plug-ins
It is optimized for smartphones
It has a highly secured directory
Allows you to improve your SEO strategy through improved navigation, sitemaps, URL as well as social media extension.
BigCommerce
This is a subscription-based model with a large number of features like newsletters, analytics, shipping, coupons, and many more. One important feature of this platform is that it gives you an interface with eBay, Google Shopping, and Facebook and comes with more than 80 paid themes to design your website.
This B2B e-commerce platform is perfect for both small and big companies who are looking for a secure, stable, and highly functional e-commerce store. The main functions of this platform are as follows:
This Platform provides a wide range of payment options and is also mobile responsive
It has a large number of responsive themes that allows an amazing user experience
It has a subdomain and hosting space for your B2B e-commerce store
It allows you to use a very powerful analytic module to check your e-commerce store activity
It provides purchase finance and also information regarding abandoned carts