To better understand it, according to wikipedia, a blog (a contraction of the term "weblog") is a type of website, usually maintained by an individual with regular entries of commentary, descriptions of events, or other material such as graphics or video. Entries are commonly displayed in reverse-chronological order. "Blog" can also be used as a verb, meaning to maintain or add content to a blog.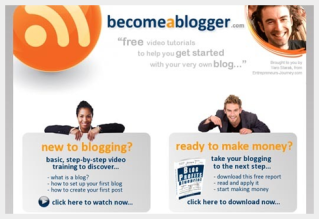 Way back in 2009, while searching the Internet looking for steps on how to make a blog, I'd encountered one site that interests me a lot. It's about how to become a blogger authored by two prominent blogging gurus, Gideon Shalwick and Yaro Starak.
It was from their videos that I learned how to start a blog starting from registering a domain name, choosing a web host to setting up a WordPress blog. The videos were simple and easy to follow. Anyone could make a blog in as easy as 1, 2, 3. It will teach you the basics on how to start and make your own blog. For those who want to become a blogger, you don't have to learn advance programming because the steps were simple. The instructions in videos were clear and concise. After watching those series of videos, I was super excited to make my own site that I could hardly wait to start.
So, the next day I registered a domain name, web host and started making a blog. First, I chose a niche or topic that interests me. Choosing a niche for your blog should be something you are passionate about or what's interests most of your readers. You could blog about anything depending on your passion or the niche you've chosen. You can start from a personal blog, video blog, sports blog, business blog, news blog, even company blog and many more. And If you will try to search on Google about showbiz, music, sports or politics, you will find many blogs on the first page of the search engine. It only shows that blogs are prominent nowadays.
So here, I will give you the source where you can start blogging in less than an hour. Anyone can do this as long as you understand the basics. I hope this will help many people who want to make extra money online. Most of the bloggers I've known were already full time in this kind of venture.
Become a blogger- Get Started!
This could be a profitable business for you once you've already established and learned how to monetize your site. Consider this as your hobby and you will enjoy and learn a lot of things along the way.