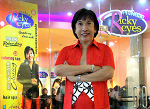 The story of hair and beauty guru-turned-entrepreneur Ricky Reyes is a classic rags to riches tale. From a floor sweeper in a hair salon to a neophyte hairdresser who opened his first shop in San Juan in 1973, Reyes has established a beauty empire that has pioneered in many hair technologies in the country.
Today, Ricky Reyes Holdings, Corp. stands as a testimony to this honor student in the school of hard knocks, with a successful chain of 43 salons all over the Philippines; a manufacturing firm for his patented salon products; a world-class resort and spa (the Golden Sunset Resort and Spa in Calatagan, Batangas); his very own learning institute; and now, a nomination to be the Philippine representative to the prestigious Ernst & Young Entrepreneur of the Year award.
Reyes' first shop was actually the corner of a laundry shop in N. Domingo, consisting of a wall mirror, a shampoo chair, a bowl, and a dryer. It wasn't much, but to Reyes it meant everything, as it was something he could call his own. In two years, three more shops were to open on Legarda, Taft Avenue, and Blumentritt.
In 1985, Reyes would change the landscape of the local beauty industry when he opened the first mall-based salon at SM North EDSA. It was also the beginning of a long-standing friendship with taipan Henry Sy.
"They say I am Henry Sy's lucky charm," Reyes quips. "I am always one of the first to be offered prime space in his malls, probably because I have never treated him as a landlord. We would do the rounds of his malls, and he would point out things to me, little details such as keeping merchandise at the right height, or ensuring all bulbs are working properly, and I learned a lot from him. Even today, he personally calls me to ask how business is doing."
Over the years Reyes has also brought in the latest trends in hair and beauty, including milk rebonding, digital perm, hair reborn, hair shine, hair detox, eyelash extension, and many more, as he scours the best technology among foreign chemists and pays a premium on royalties to use these technologies exclusively in his salons.
"I learned the value of discipline early in life because I was determined to succeed," he states. "To this day, I have not taken out a single centavo out of the cash register, preferring to roll money into the business to make it bigger. I sign every cent of my disbursement, and I am 100 percent debt-free."
Business of emotions
"I was not aware I was an entrepreneur — it wasn't a buzzword yet back then," adds Reyes. "I have always considered myself a practitioner rather than a businessman. My business is not a dry heap of paperwork; it is a business of emotions and an investment of myself."
Reyes spends much of his time "mothering" at his salons both in Metro Manila and in the provinces, instructing hairdressers on the spot, pitching in with the services when needed, and even posing for pictures with admiring customers.
Giving back
Despite his monumental success, Reyes still believes in sharing his blessings, starting with his 1,200 employees, for whom he provides a housing facility for each salon branch.
"I don't really believe in return of investment," Reyes professes. "I am even proud of the fact that most of the country's hairdressers all started with me. When I train people or give livelihood programs, there are no obligatory contracts that bind the beneficiaries into repayment."
Despite the demands of his flourishing business, Reyes remains tireless in his prosperous crusade to transform society, into one that is beautiful inside and out.
"I don't have any plans to stop working, or to stop helping," says Reyes. "I love my business and I want people to discover that love for work, to do something they can earn from but are happy doing. I know what it feels like to be at the bottom of the wheel, and I take pleasure in helping those who want to help themselves."
Source: by Blooey P. Singson (The Philippine Star October 12, 2009)
Photo: philstar.com
Do you like this Money Making Business Idea? then please consider subscribing to our RSS feed. You can also subscribe by email and have new articles sent directly to your inbox. (Once you entered your e-mail address, you need to login to your e-mail account and click the link to confirm your subscription).