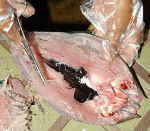 Fe Majia-Vidal started her now popular CBN Bonuan Boneless Bangus products 14 years ago with only 20 pieces of bangus (milkfish) and P500 capital. CBN are the initials of the name of her three children.
At the start, people knew about her products only by word-of-mouth, but over the years, her fame has spread far and wide, from the province of Pangasinan to different parts of the Philippines and even to other countries. Her products can now be found in malls, restaurants, hotels all over the country.
One day, she recalled, during a convention of certified public accountants at the mayor's office, she hung a streamer in front of her residence upon the prodding of her friend who believed in the potential of her product.
To her surprise, convention delegates stopped by to taste her delicacies, and bought her products.
When she would accompany her children to school, she would tell her fellow mothers she had bangus products. She brought samples and they sold out immediately.
From an initial 20 pieces of bangus, Kagawad Fe – as her neighbors call her, since she was a former barangay kagawad (councilor) – is now the biggest producer of boneless products with average daily production of 30 banyera (tubs), each tub containing 120 pieces of bangus.
During peak season starting September, CBN produces daily as much as 50 to 60 banyera of boneless products like daing, tinapa, belly, relleno, lumpia, kilawin, longganisa, nuggets, burger and siomai.
She used to have a Taiwanese client who brought her products to Hong Kong and Singapore and ordered one ton of boneless bangus twice a month.
Balikbayans are among her loyal clients who bring her products to different countries.
Dagupan City's biggest mall CSI, which has many branches in the province of Pangasinan as well as in La Union and Candon in Ilocos Sur, sells boneless bangus products made by CBN.
Vidal, a former teacher, employs 40 workers who help her meet the rising demand fro her products. During peak season, she hires more helpers. Her workers process the fish manually, but they are certified hygienic, she shared.
While competition is tight in this business, she said she has the edge because of the quality of bangus she uses – only the best and the freshest, and only those that are grown and harvested in Pangasinan.
Looking back, Vidal said she and her husband Renato are blessed with their business and are able to give their three children a good education. They were also able to acquire several properties through their hard work.
She is thankful to their products' official carriers, Victory Liner and Dagupan Bus, for helping them deliver their products promptly to their clients, who pick up the boxes and crates of their bangus at bus terminals in various parts of the country.
"In this business, trust is very important, and I maintain this with my clients," she said.
Asked why she does not put a brand on her products that will make people identify the products, Vidal said, "So that my clients who sell our products will also have the chance to earn, otherwise people will go straight to us."
"In this life, it is important to share your luck and blessings with others," she added.
Source: "A Hobby Goes Big Time" Eva Visperas (Philippine Star, Sept. 6, 2009)
Do you like this Money Making Business Idea? then please consider subscribing to our RSS feed and have new articles sent directly to your inbox.