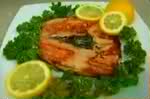 Fish bacon using boneless bangus is another mouth-watering recipe that every mother can prepare for the whole family and can also be a good additional business idea for carenderia and restaurant owners. You will surely love this fish bacon recipe.
Fish Bacon
Ingredients:
Boneless Bangus
1 Tbsp refined salt
1/2 tsp curing salt
1 Tbsp refined sugar
1 tsp phosphate
1/2 tsp Vitamin C powder
1 Tbsp Bacon powder
1 Tbsp Isolate
1 tsp Carageenan
1/4 tsp Meat enhancer
2 Tbsp Honey
1/2 cup cold water
How to Make Fish Bacon:
1. Put all the ingredients in a mixing bowl and mix thoroughly.
2. Put the boneless bangus in the mixture and make sure to spread evenly the marinade on both sides of boneless bangus.
4. Cure the boneless bangus for 8-10 hours in the refrigerator.
3. Heat oil in a non-stick pan. Fry the boneless bangus until golden brown.
4. Serve the fish bacon.
Source: Lulu Rivera – Ultima Entrepinoy Forum Center, Kabuhayang Swak Na Swak