Technology is reshaping the world in every aspect. Designing an application for your business is a dire need of an hour.
As the world is growing, real estate is booming day by day. Real estate mobile app development is what you must embark upon if you want to operate any enterprise.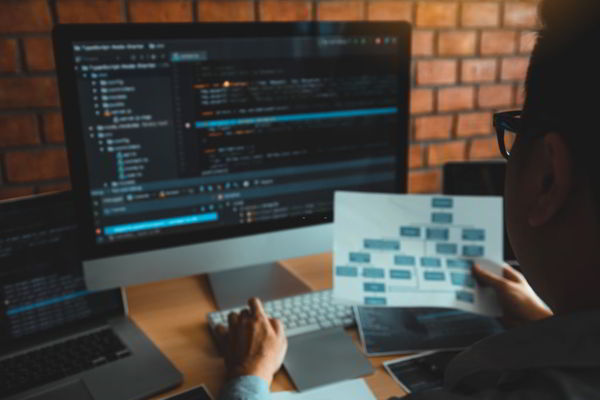 If you want to be successful and looking for the prosperity of the clients then you need an app for your business for long term success.
It serves both owners and clients by securing housing in a long-term investment. However, prices may vary considerably in different countries and cities. It is an ever-lucrative trade to move.
Developing real estate phone apps is a great way to boost awareness about the housing market as well as revenue. You can hire a mobile app developer for app development. The app benefits customers, agents, realtors.
But it is very important to know what factors need to be considered before developing an outstanding app. Here in this article, we are going to review an in-depth analysis to develop real app of your dreams.
Different Factors Need to be Considered to Develop a Real Estate App
Designing Customer Panel
Designing a customer panel is very important for app development. For designing an app, you need to consider some factors like:
Signup and login: It help in registration where new users or previous users can both online and offline create more trust.
Map view for housing listings: The map API's can be very beneficial for the users because it provides some extra information about public areas like school, college, mall and more.
Property search: This is the basic parameter for designing any mobile app like location or property type and currently available property to customers.
Push notifications: The push notification shows the information on the property such as history, photos, videos, 360 virtual tour, and full details.
Chat Feature
It is very essential to create easy-to-use and detailed property profiles. However, the functionality of your real estate app depends upon the interactions between your agency, your real estate agents and your clients.
This shows that you must have a chat feature in your app for communication. The interaction between the three parties must include the sending of audio and video files.
You can also consider the following features to enhance the communication process:
Sharing of property profiles with multiple users and the ability to add comments.
Auto-responder and call-recording functionality is a great feature that can personalize your interactions with clients and keep them engaging.
Relevant Neighborhood Information
While buying a home, the client considers the number of important things such as infrastructure, crime rate, or close availability of sports facilities. This type of information must be available in your real estate mobile app to give the best customer experience.
When selecting the right property search criteria, you must first identify the categories of neighborhood information that are more likely to be of interest to the user. This information must be made searchable.
It would be smart to implement a separate screen that displays neighborhoods with similar characteristics and allows the user to select one of them to get a close-up.
The app helps the user's family, friends and places of interest make a good neighborhood. The users must be given the ability to define in the case of mobile app development for Real Estate or rather draw their boundaries and display the neighborhood information for the drawn area.
24/7 Online Service
Generally, every age group people spend most of their time online so this is the demand of time. This demand for housing together with the love of digital technologies and good bargains may result in real estate mobile applications' popularity.
It means that property is expected to be the best. Thus, brokers should be accessible all the time for their clients to find the housing of their dreams and remain satisfied with what they get and how well the agent has been able to deliver the services.
Add Powerful Search Functionality
Powerful search functionality is prominent for most real estate apps. You must make the company profiles searchable using different criteria. Must include some specific factors like location, year, on-site parking, availability of some sales etc. You can enhance the functionality of your app with Artificial Intelligence and Data Science.
Data Science analytics can help you to analyze the search-related data for your app. The AI-techniques can enable your real estate application to analyze search queries at much greater depth.
Natural language processing can give your app the ability to understand the meaning of entire search queries rather than that of individual keywords. The "long tails" of search queries that include important information on your visitor's preferences will not be disregarded.
Real estate helps to give better and refine search results and choose those that suit your visitors' needs best.
Add Graphic Elements in the Mobile App
The property-related information that is displayed on the app must be presented to the user in the form of graphic elements and information. Be prepared to spend some part of your development budget on creating a large number of icons and other graphic elements, compelling and easy on the eye.
Add 360-degree View
It is very crucial in real estate applications to give 360 degrees views about the location, space etc. The video tours also help the clients to see the right information of the location. The view must be completely compatible with iOS and Android applications.
A property view gives the proven advantage to an enterprise with the help of technology. It helps to connect prospective buyers with the latest visual technologies like 3D Technology, Virtual, Augmented and Mixed Reality.
Add Admin Portal
The admin portal is very important while developing an app. To manage the customers, staff, revenue etc in any company, an admin portal is required. Admin portal manages the things listed below:
Property management: It can be submitted or removed using the admin panel.
User management: It manages both brokers and tenants. The admin can edit, and update the user information according to the activities.
Revenue management: Admin monitors and controls the money management that is received as a result of property deals.
Customer support management: Admins are oftentimes responsible for delivering quality support for the users.
Insights: The admin page manages reports and analysis.
Wrapping up
Above we have discussed different ideas to develop an app for your real estate business. Purchasing a new home or taking property on lease is very easy with mobile app development for real estate.
The process of creating such an app will become a success and you can eventually contribute to making the customer happier. So, if you want to improve the customer experience, do consider these steps before creating an app.
Hopefully, this article would be beneficial for your real estate business.
If you have any queries, feel free to ask the question in the comment section.
Thank you for reading!!
About the Author
Morris Edwards is a Manager at Awebstar, a website design and development company in Singapore which is dealing with digital marketing, mobile app development, google adwords advertising and more. Connect with him on Facebook and Twitter or visit Awebstar.com.sg.