When we talk about electronic appliances, we often think about Samsung. Here is why even Samsung TVs have become the go-to LED TVs for consumers around the world. It isn't wrong to say that certain brands dominate markets during certain periods, especially when we talk about TVs.
For instance, back in the late '80s and '90s, Onida dominated the Indian TV marketplace. The brand became a household name, and any new buyer thinking about purchasing a new TV first thought about the Onida TV.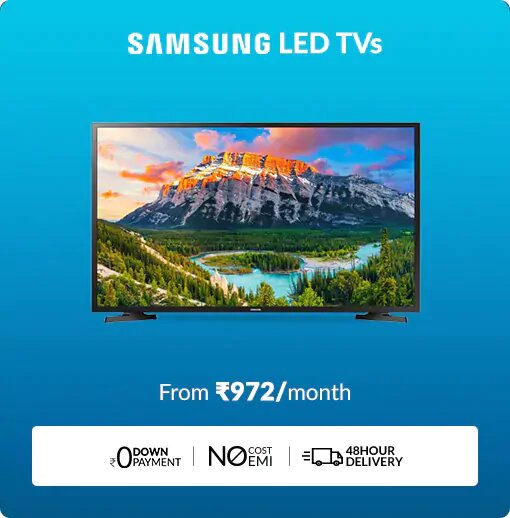 The same can be said about different brands in different countries. However, today, the entire TV landscape has changed, and popular brands are no longer confined to specific markets.
The best example we can think of is Samsung. The South Korean electronics giant has been a mainstay in the consumer electronics segment, and is one of the most popular, and widely-known brands in the world.
It comes as no surprise, then, that Samsung's LED TVs are the most popular models across the globe. This is especially true in the smart TV segment, with Samsung TVs becoming the first-choice of consumers globally.
To truly understand Samsung's reach and why Samsung TVs have become so popular, let us take a closer look at a few factors that have helped the brand reach the top of the LED TV market.
Brand name
As a brand, Samsung's legacy and history is unparalleled. Samsung has been a leader and pioneer in the home appliances and consumer electronics segment, and as such, its products are some of the most vaunted and highly sought-after devices and appliances.
Samsung LED TVs are no different; the brand promises TVs of the highest possible standard and quality, while Samsung TV are feature-rich, which, given Samsung's incredibly high standards, is a given.
Operating system
Talking specifically about Samsung's smart TVs, they do not run on Android OS, much like smart TVs offered by other brands. Instead, Samsung smart TVs run on Tizen OS, which guarantees superior performance. Furthermore, Tizen OS is fast and responsive, and facilitates smooth scrolling, something that has been an issue with smart TVs that run on Android operating systems.
Stunning features
Samsung LED TVs come with impressive features and specifications, especially the brand's smart TVs. For instance, the Samsung 80 cm (32 inches) Wondertainment Series HD Ready LED Smart TV UA32TE40AAKXXL can be used as a personal computer, and users can remotely access their office files, and transform their smart TV into their new work station!
The smart TV also comes with voice assistants like Alexa built-in, along with other smart features, including Smart Things App, Home Cloud, Live Cast, Screen Share, and the feature to turn their smart TV into a music system!
With HDR support, and personalized list of content that is curated as per you're watching habits, Samsung LED TVs are truly remarkable.
Decent price
Last but not least, Samsung offers its LED TVs at affordable prices. While Samsung, similar to Sony, is known for its premium LED TV models, the brand caters to different price segments.
For instance, the Samsung 32-inch Wondertainment Series HD Ready LED Smart TV is available for just Rs. 16,500, making it one of the best low-priced LED TV currently available in the market. Depending on your budget and requirement, there is a Samsung LED TV model available for you.
Furthermore, Samsung also offers OLED and QLED TVs with 8K resolution, and best-in-class features. Samsung is also known to offer exceptional customer support, with numerous service centers spread across the country.
With such impressive models at affordable prices, and customer support readily accessible to consumers, Samsung TVs have become popular across the globe, with consumers wanting to purchase the brand's LED TVs.
Now, you too can buy your favorite Samsung LED TV model by shopping on the Bajaj Finserv EMI Store. Choose the model you like, and pay for it at no cost EMIs by using the Bajaj Finserv EMI Network Card. You can also get the Samsung TV delivered to your doorstep within 24 hours of placing the order on the EMI Store!