Can we truly predict where the content marketing industry is going? It seems like the trends are pretty consistent: high-quality content is still the king, and writers are still preferred over spinning software. Nevertheless, the current trends guide us to specific anticipations about the way content marketing will look like in 2017.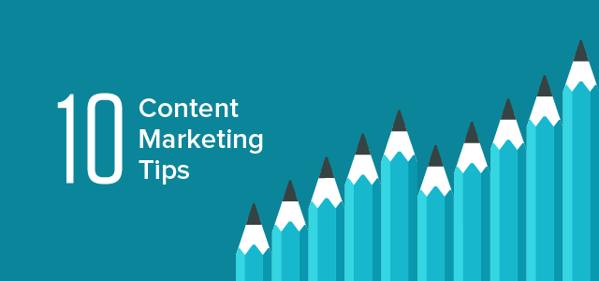 Are you interested in the insights? Keep reading; we offer 10 expert content marketing tips that will boost your campaign in 2017.
You need a rock-solid strategy
Every single content marketing guide you've read told you the same thing: before you get engaged in content marketing, you need a documented strategy. Even though you think it's easier to go with the flow and do what everyone else is doing, it's not. When you develop a planned approach that gives structure to all your actions, your audience will consistently get content that keeps them engaged.
Here's the first thing to do before 2017 comes: develop a content marketing strategy! Define your goals, encompass them in specific short-term aims and actions, and start acting in accordance with the plan. Don't forget to review the strategy on a regular basis and update it to meet the latest trends. Check what does and doesn't work, and make the needed corrections to comply with the expectations of your audience.
Give purpose to your campaign
Joe Pulizzi, head of Content Marketing Institute, has already shared his predictions on the 2017 content marketing trends. One of the most interesting points on the list is "purpose-driven marketing." You need to understand why you are creating the content and why you want your target audience to access it. When you understand the purpose, your content will gain character. The audience won't see it as another piece of the global marketing scheme.
Measure and track!
You need to measure and track all content you share. Here are the most important questions to have in mind:
Why are you creating all that content? How does it contribute towards your strategy? What changes do you need to make to improve the strategy?
The basic metrics give you the answers. Google Analytics gives you information about the number of unique visitors and total number of pageviews. If you haven't been taking these metrics into consideration, it's time to make that drastic change in your content marketing routine. 2017 will be all about advancement, and you can't reach new heights without being aware how your previous pieces are doing.
Use the power of the Millennials
The Millennials are the generation of 18 – 34-year-olds, who have huge influence over the online audience. They are responsible for a great deal of online spending, and they are going to be the main workforce of the future.
They are the ones who are always connected through smartphones, tablets, and other devices. They are ready to accept recommendations and read content of all types, and they are always looking for something cool to share. If you're looking for ways to expand the outreach of your content, you should target this audience.
Give more value to the audience
The audience wants value, and you need to give more of it during 2017. The first thing to do is make a list of questions and problems your audience has. Then, give the answers through individual, unique blog posts connected in a series.
Make sure to publish these posts in accordance with your posting schedule, which will suit your content marketing strategy.
Outsourcing
The competition will keep delivering more content than ever, and the audience will keep asking more of it. No matter how many articles are being written on current and evergreen topics, the users are always interested to get more.
Bloggers and businesses are already having troubles to meet the demands of the market, so they are outsourcing content marketing to professional writing service. If you still haven't found a reliable writing service and you know you need it in order to realize your content marketing campaign, it's time to make your choice.
Visuals are better than text
Infographics, videos, concept maps, photos, and other kinds of visual content are on the rise. Gifographics are a relatively new form of visual content that's getting more popular by the day. When you're developing your content marketing strategy for 2017, think of a way to present your ideas through visuals.
You will still need to write few elaborate textual posts, but don't forget to add a visual boost to them, too. Use lovely images and clean screenshots that grasp the essence of your post, and make sure to arrange the content with headings, lists and bullet points, which would make it easier to read.
It's all about engagement
With every new day, you get more possibilities to engage your audience in sharing, commenting, liking, and reacting. The focus on engagement will be even greater in 2017. Through these activities of your audience, you will be getting the most valuable result of content marketing: attention.
There are few ways to leverage engagement, but the calls to action are still the core principles. Don't forget: when your audience gives you something, you need to give something in return. Respond to comments and tweets, and treat your loyal audience with eBooks from time to time.

One word: readability!
The world doesn't care about spinned content with no point. The readers don't like keyword-stuffed articles, and they absolutely hate 'eloquent' posts that would require a dictionary to understand. 2017 will be all about readability.
Hemingway Editor is a nice online tool that will keep your content in the limits of readability.

User-generated content is the key to the future
You'll be creating a lot of content in 2017. It will come in many different forms, and it will be supported through a planned promotional strategy. However, you should also focus on generating content from your users. Smart marketers understand that a happy customer's recommendation is more persuasive than any other article they promote. Focus on getting as many reviews as possible!
Was your content marketing strategy successful during 2016? If the answer is yes, then you just need to keep up the good work and update your plan with the current and upcoming trends. If you're about to develop an entirely new strategy, you have more work in front of you. Everything is possible when you invest enough effort, so don't waste your time and start developing your strategy today.