What is in aloe vera? Aloe vera is not only a natural healer, it's also a growth enhancer in poultry. Hearing that, one might think, it's too good to be true. Essentially, the leaves of aloe vera are often for external uses only, they are not meant to be taken in. But with the study of Bejar and Colapo, it's now clear that it's safe for animal intake. Thus, it is important to know what's in the aloe vera that makes it both a natural healer and a growth promoter in chickens.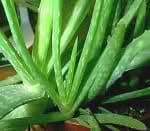 Physically, the leaf of an aloe vera is composed of three layers. The first layer contains a clear gel, which is contained within the cells of the generous inner portion. Then there's the anthraquinones contained in the bitter yellow sap of the middle leaf layer and the fibrous outer part of the leaf that serves a protective function.
The content of the aloe vera leaf is just 0.5 – 1.5% solid, with an average pH value of 4.55. This solid material contains over 75 different nutrients including vitamins and minerals. Aloe vera is rich in vitamins and minerals. Specific vitamins include: Vitamin A (Beta-Carotene), Vitamin B1 (Thiamine), Vitamin B2 (Riboflavin), Vitamin B3 (Niacin), Vitamin B5, Vitamin B6 (Pyridoxine), Vitamin B12, Vitamin C, Vitamin E, Choline, and Folic Acid. The vitamins A, C, and E are responsible for the aloe's antioxidant activity while vitamin B and choline are involved in amino acid metabolism and vitamin B12 is required for the production and development of blood cells.
Among the important minerals found in aloe vera are: calcium, chromium, copper, iron, magnesium, manganese, potassium, phosphorous, sodium, and zinc. These minerals are essential for good health and are known to work in synergistic combinations with each other, with vitamins and other trace elements.
Aside from vitamins and minerals, aloe vera is rich with enzymes (help the breakdown of food sugars and fats), hormones (aid in healing and anti-inflammatory activities), sugars (i.e. glucose and fructose that provide antiinflammatory activity), anthraquinones or phenolic compounds (aid absorption from gastro-intestinal tract and have antimicrobial and pain killing effects), lignin (increases the blood circulation), saponins (provide cleansing and antiseptic activity), sterols (antiseptic and analgesic), amino acids (basic building blocks of proteins in the production of muscle tissue), and salicylic acid (works as a pain killer).
Other recent, important uses of aloe vera
With the build-up nutrients and capability of aloe vera both as natural healer for humans and growth promoter in poultry, it's not surprising that the scientific community finds interesting and effective uses of this plant wonder.
In Spain for instance, researchers at the University of Miguel Hernández in Alicante have developed a gel from aloe vera that could prolong the conservation of fresh produce, such as fresh fruit and legumes. This gel is tasteless, colorless and odorless, and is safe and environmentally friendly and can be an alternative to synthetic preservatives such as sulfur dioxide.
Some preliminary studies have also suggested that it may be a powerful antiviral agent, and potent immune system enhancer. It is being tested as a possible treatment for certain types of cancer and conditions as serious as diabetes. Although promising studies like this are still waiting validation, still, it's good to know that a house plant as ubiquitous like the aloe vera could create such potent effects.
————–
This article was based on the study, "Growth Performance and Sensory Evaluation of Broilers Supplemented with Aloe Vera (Aloe barbadensis) Extract in Drinking Water" by Feliciano R. Bejar of the Samar State College of Agriculture and Forestry, San Jorge, Samar and Ms. Remedies P. Colapo of the University of Eastern Philippines, Catarman, Northern Samar.
The paper was presented during the "23 PSAS Visayas Convention", 17-19 August 2005, Bacolod City and won the Best Paper Award. It was also presented during the "42 PSAS National Convention," 20-21 October 2005, Heritage Hotel, Manila.
For more information please contact: Mr. Feliciano R. Bejar, lead researcher and director for External Affairs and Special Projects, Samar State College of Agriculture and Forestry, San Jorge, Samar.
Article by Rita D. Dela Cruz- bar.gov.ph