The evolution and combination of oriental and western culinary arts led to the proliferation of indigenous or exotic culinary herbs in the Cordilleras specifically within the Baguio-Benguet production areas. Placing the different culinary herbs in local markets has been the challenge of local farmers today. Although these come in small bulk, assurance of stable production is still of primary concern. Specialized herb farmers make it a point to produce the requirements of consumers including restaurants, shops, and hotels who are into the culinary business.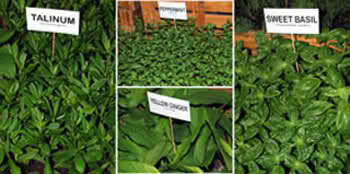 The entry of culinary herbs in local markets is creating waves especially if these are produced by well known farmers or farms which are into health and wellness program and organic farming. In the same manner, farmers who are into business have combined entrepreneurial skills and management to make these a balance competitive endeavor.
Culinary herbs grown, produced, and cultivated
Quite a number of herbs have been identified by specialized farmers who are into the culinary band wagon. Combined with the demand of consumers, herbs are cultivated and produced mostly through the practice of organic farming or those who use minimal inorganic fertilizers and or into pesticide-free management. In order to produce such products, the farmers must adhere to such production management to command high price vis-à-vis their quality produce.
As defined, culinary herbs are those crops either used as fresh or in dried form during cooking process to add flavor and aroma in every dish. Most often, these are chopped thinly or others are boiled and used as broth on specific food preparations. The commonly found herbs in the market are parsley, basil, coriander, cilantro, chives, rosemary, mint, oregano, lemon balm, tarragon, sage, and thyme.
The herbs are planted in plant boxes or trays and some on elevated plots which are well drained and managed. Because of their special agro-climatic requirements, these crops are ideal in semi-temperate areas. In the Cordilleras, these are found in households and in commercial scale in sub-urban areas of Baguio like Green Valley and nearby farming barangays in Mount Sto. Tomas and Irisan, La Trinidad particularly in Longlong, Ambiong, Balili, Shilan, Tawang and Alno barangays, Tublay and Itogon municipalities of Benguet. These areas produced the required demand of Baguio market including those of nearby provinces and in Metro Manila.
Competitive edge of culinary herbs
The limited supply and increasing demand of culinary herbs coming from Cordillera led other provinces to produce and cultivate the crops. With the proliferation of restaurants and hotels, the culinary herbs have created a market of its own. Locally, consumers go for the fresh produce because it spices up food served in every table. In Metro Manila alone, the culinary herbs post high demand because a lot of preparations now use these to entice the changing food preference and preparations of the Filipino people.
Before, people just add simple spices like garlic, onions, tomatoes, and ginger for taste. Nowadays, culinary herbs are brought into food preparations and share a story of the culinary process. Included as fresh or dried, the herbs make every meal mouth watering and something to crave for. Culinary herbs make it a top of the list of cooks, chefs, and households for a delectable feast.
Overall, culinary herbs post higher price and created a niche in the market. Whether in small stalls or fresh deli in supermarkets, these are surely a hit to buyers. Because of their high-end characteristics, they created the competitive advantage over other commodities. This also led specialized farmers to engage and produce the desired and assured quality products.
Some of the farms that are into the competitive mode outside Cordillera are found in Tagaytay City, Bacolod, Cebu, Cagayan de Oro, and Davao City. These places are usually the key cities across the archipelago that address the culinary herb demands. As such, the increasing specialty farms provide and serve the required demands. Although not in similar agro-climatic condition like Cordillera, these places have invested resources and now practice protective agriculture just to meet these demands. These factors taken together made the culinary herbs more competitive over other commodities in the market.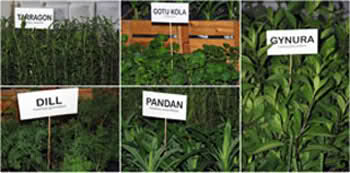 Future of Philippine culinary herbs
Although demanding a competitive advantage over the other Philippine products, the culinary herbs must be given enough support in Philippine food and culture. The utilization of these crops in every cuisine is a result of the integration of traditional and modern food preparations.
Research and development must play an important role in the development, promotion, dissemination including commercialization of the crops. Specific research could focus on marketing, processing, business or enterprise development, community development including farmer-consumer partnership. At the same time, the continuous food discoveries and preparations should be developed more within mainstream culinary art.
In order that more farmers will be engaged in this crop production system, support of the government is a must. Consumers demands must be institutionalized so that farmers will do their share of making all culinary herbs grown and produced the natural way. As new cuisines are developed and served, these must tell a story of production, people's culture and lifestyle including the process of managing, processing, packaging and marketing. With this in tow, a simple full story of culinary herb value chain will be shared to every Filipino that is competitive in every ways.
Source: Marlowe U. Aquino, PhD – bardigest
Photos by Rita T. dela Cruz