A successful blog is a profitable blog. That is probably why so many people are starting blogs right now, hoping that someday they'll earn their financial freedom.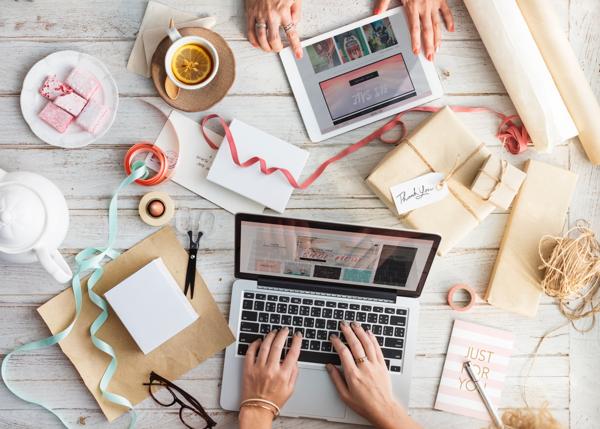 A hobby blog is very different from a business blog. When you want to make money by blogging, you enter a different environment, which is the business environment. You'll face competition, struggles, and a lot of issues along the way.
You'll have to invest time, money, and energy on a consistent basis because blogging is not a do-it-once activity. To thrive in today's blogging competitive marketplace, you'll need to keep developing and providing relevant content, take care of your monetization technique, and optimize your work.
In today's post, we're sharing the top 5 ways to monetize your blog effectively. Each blog owner has his strengths and weaknesses, including you. Depending on what you enjoy and what you're good at, choose a monetization technique and stick to it until you master it!
1.   Create a Membership Website
One of the best blog monetization techniques involves the creation of a membership service. Basically, a built-in business platform that offers exclusive access to valuable content to members.
To effectively monetize your blog using a membership website, your value offering must be extremely tempting and important to a specific group of people. Keep your target audience very narrow and be relevant only to specific people.
PROs
Recurring income – weekly, monthly, or yearly, depending on the plans you offer.
A loyal database of customers who can't get enough of what you're providing.
An all-in-one platform that you use to store content, engage with members, and share information.
CONs
The costs of maintenance are often high. Content development, software management, marketing, they all add up, and it often results in a scary active expense.
Running a successful membership website is a very demanding job in terms of time and effort.
Convincing your blog readers to commit to a recurring subscription is way harder than convincing to buy one-time products.
2.   Sell Other People's Products and Services (Affiliate Marketing)
Affiliate marketing is surely the most popular ways to monetize your blog, mostly due to its beginner-friendly advantages.
Everyone can start promoting products because there are so many cheap or even free documented ways to do it. Choose a product or service that your audience would be interested in and promote it on your blog, on social channels, and also directly.
PROs
You can start making money immediately, without having to develop your own products.
It's the perfect practice that helps you gain the necessary knowledge, skills, and experience to move on to the next level, which is creating and selling your own product.
You can sell more than one product, and as long as your blog gets unique visits, you'll make passive income.
CONs
Your control is limited. If the company closes or the affiliate offer is no longer active, you'll need to change your strategy and promote something else.
You have no control over your payments. Some merchants might even steal commissions or miss payments.
Instead of building your own brand that'll last you a lifetime, you're building it for somebody else.
3.   Sell Your Own Physical or Digital Products
If you want to play the hard game, developing and selling your own product is the most appropriate choice. Whether you're creating physical products like clothes, furniture, or hand-made jewelry or you're developing and digital eBook, an online course, or a film, you're still becoming a product owner.
"Your blog can serve as an educational resource for those who aren't yet ready to purchase your products. It can also serve as a valuable knowledge provider for those who're seeking to learn more about certain topics." – Terry Digweed, CEO at essaygeeks.co.uk.
PROs
Your product is your lifetime asset. You will benefit from the integral profits and the applause of your readers.
You are able to share unique and valuable solutions that will change other people's lives for the better.
Selling your own products generates authority and respect.
CONs
Crafting, launching, and promoting your own products is initially expensive, and requires many resources such as other professionals, paid tools, knowledge, and skills.
The outcome is risky. You can't know whether your products will be successful or not.
You're responsible for everything, including your customer's satisfaction, your employees' productivity, and your blog's reputation.
4.   Promote Your Professional Services
Your blog can help you monetize your professional skills. Whether you're good at writing, coding, or designing, your blog is a powerful tool that can illustrate your knowledge and skills. Employers will treat you more seriously and you'll reap competitive advantage benefits whenever competing with other freelancers or employees on the same gig.
PROs
You'll have an online resume that works better than any physical resume
You're eliminating third parties (freelancing platforms, recruiters, etc.)
You are developing a personal brand that'll serve you a lifetime
CONs
The competition is fierce in many niches
Your income is limited to the amount of time, energy, and attention you're willing to dedicate to your work.
5.   Sell Native Advertising Space
Selling ad space on your blog is a recommended way of monetizing your content. A native ad is a non-intrusive advertisement that "fits" the style of your blog, meaning that it'll look very natural to the eye of the reader.
For example, certain links throughout the content may be sponsored, yet no reader will be able to tell whether those links are sponsored or not. If your blog is popular and well-respected in your industry, selling native ads is a terrific way of creating a passive source of income.
PROs
Native advertising is an additional way of monetizing your blog while other monetization techniques are active at the same time (affiliate marketing, selling your own products, etc.)
Native ads are the less intrusive advertising technique. If done well, people will hardly notice the difference between a sponsored and a natural ad.
You're maintaining full control over your content and blog.
CONs
If native ads are too obvious, you'll risk damaging your reputation.
If native ads are done improperly, the reader's trust will decrease.
Tips & Tricks to Succeed with Blogging
Takeaways
Launching a blog is really easy. Set-up the domain and hosting, create a few articles, and you're done. However, monetizing a blog effectively is entirely different, mainly because hobbies are different from business. Both activities require passion, yet the latter demands strategies, hard work, consistency, and patience. So, let me ask you…are you really up for it? Are you ready to do real business?
Author Bio:

Jennifer Sanders is a writer and an editor from London. She loves sport,  to listen to music, and to communicate with different people. Find Jennifer on Twitter and Facebook.