Don't let the banana peelings go into waste. There's still so much we can do with its peelings by turning it to homemade banana peel vinegar or composting it to make organic fertilizer. This kind of livelihood project lessens waste generation in the community and at the same time providing additional income.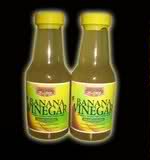 I. Estimated Investment Cost
Production Cost/ Capital Outlay
Materials
Sliced banana saba peeling (150 cups) – 0.00
Brown sugar (8kgs. @31/kg) – P248.00
Soap (powder, 1 box) – 45.00
Water – 8.45
SUBTOTAL – P301.45
Tools/ Equipments
Plastic carbouys, 50 pcs (1 gal. cap. @ 8/pc) – P400.00
Cheesecloth (katsa) 5 pcs @ P15/pc – P75
Cotton (1/2 kg) – P25.00
Kerosene gas (2 liters @ P29/L) – P58.00
Plastic pails, 2 pcs (5 gal. cap. @ P175/pc) – P350.00
Earthen jars, 10 pcs (5 gal. cap. @ P200/jar) – P2,000.00
SUBTOTAL – P2,908.00
Labor cost – P285
Electricity – P21.10
Transportation – P100
ESTIMATED TOTAL INVESTMENT COST – P3,615.55
*Based on February 2009 NCR prices
II. Procedure
1. Wash the saba peeling to remove dirt. Drain and cut into pieces approximately 1/2″ x 1/2″.
2. Measure the following ingredients and place them in each of the earthen jars:
– 15 cups sliced banana saba peeling
– 5 cups brown sugar dissolved in 2.5 liters water
– 5 teaspoons baker's yeast (optional)
3. Fill the earthen jars with clean water to at least 1 inch from the rim.
4. Cover each jar with a piece of cheesecloth, securing it with a plastic twine.
5. Let the mixture stand undisturbed for 1 week.
6. After 1 week, stir the mixture in each jar with a clean ladle for at least 5 minutes daily. Do this for 1 week. Make sure to cover the jars after stirring.
7. Let the mixture in each jar stand undisturbed for another two weeks. After then, the vinegar should be ready.
Caution:
– Do not use plastic containers for fermenting vinegar as this will affect the quality of the product.
– Do not expose the earthen jars to direct sunlight during fermentation.
8. Strain the mixture with a clean cheesecloth to separate the saba peeling from the vinegar.
9. Store the vinegar in a clean plastic pails for further fermentation.
10. Set aside the fermented saba peeling for later use as an organic fertilizer through composting.
11. Boil the strained vinegar for 10 minutes. Allow to cool.
12. Pour the vinegar into clean PET carbouys (galunan) through funnel filtered with cotton.
13. Cap the carbouys tightly and prepare for marketing.
14. Clean the earthen jars in preparation for the next batch fermentation.
III. Estimated Costing and Pricing
A. Product Costing
1. Direct Cost
Materials (banana peelings, sugar, plastic carbouys, cheesecloth, cotton, soap) – P793.00
Kerosene gas – 58.00
Water (11 cu. m/month @ P23.05/cu.m divided by 30 days) – P8.45
Labor cost (P47.50/hr. x 2 hrs/day x 3 days (based on P380 daily wage rate in NCR) – P285.00
Total Estimated Direct Cost – P1,144.45
2. Indirect Cost
Electricity (100kwh/month @ P6.33/kwh divided by 30 days – P21.10
Transportation
Processing implements* – P100.00
(plastic pails, earthen jars) – P195.83
*Applied cost/month (P2,350 divided by 12 months)
Total Estimated Indirect Cost – P316.93
3. Production Cost
Total Estimated Direct Cost – P1,144.45
Add: Total Indirect Cost – P316.93
Estimated Production Cost – P1,461.38
B. Product Pricing
Total Estimated Production Cost – P1,461.38
Add: 30% mark up – P438.41
TOTAL – P1,899.79
Estimated Selling Price per gallon (Total production cost + 30% mark up divided by 47 gallons) – P40.42
Market Price/gallon – P75 or more
Assumption: Production recovery= 95% or 47 gallons output from 50 gallons input. The producer may opt to sell vinegar in bottles of varied size. The higher the mark up, the higher the profit margin.
Laws and Restrictions:
The product must be submitted to the Bureau of Food and Drugs (BFAD) for approval to ensure safe human consumption. For commercial vinegar production, there is a need to secure business permits from concerned government agencies.
IV. Business registration, Permits and Licenses here.
V. Funding sources for your business here.
Sources: DENR "Sustainable Livelihood Options for the Philippines", trc.dost.gov.ph
Photo: dar.gov.ph