Crepe is a type of pancake cooked very thinly and served with a variety of fillings like for meal crepes include: cheese, asparagus, ham, spinach, eggs, mushrooms, and various meat products. They can also be filled with various sweet toppings, including sugar (granulated or powdered), maple syrup, lemon juice, whipped cream, fruit spreads, custard, and sliced soft fruits.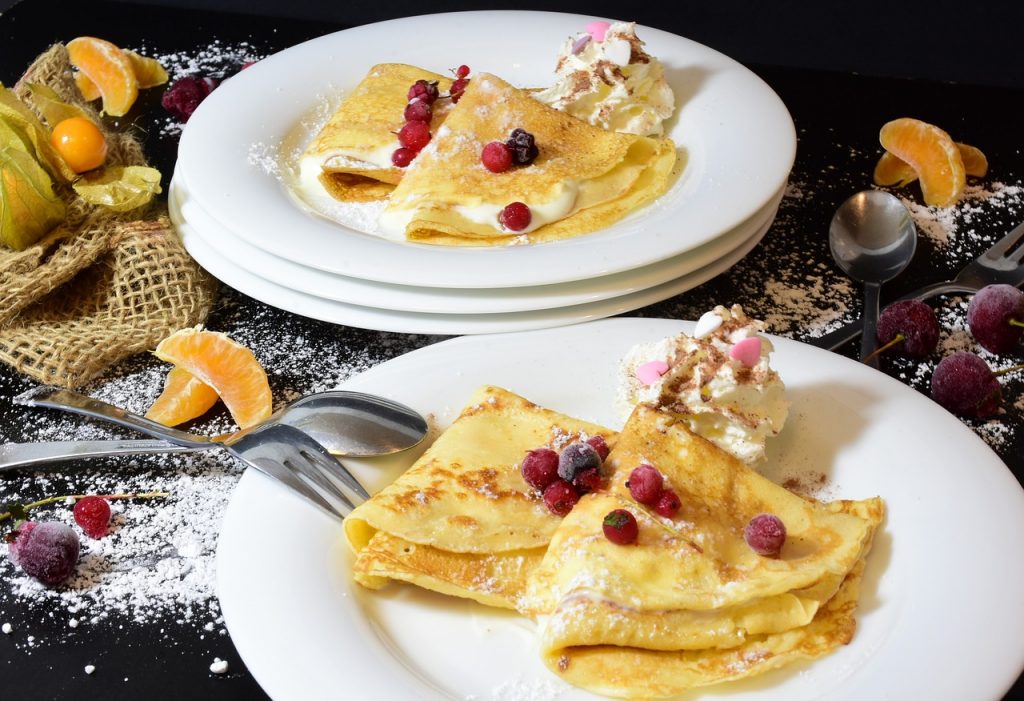 Crepe originated from Brittany, a region in the northwest of France, their consumption is nowadays popular throughout France and they are also becoming popular in the Philippines.
With the current boom of call-center industry in the Philippines, crepe business is an ideal way to start. Call center agents and young working professionals are good target market for this kind of business maybe because they are much more familiar with the product and the classy image of it will appeal to them. Careful planning and researching are still an important first step to take to ensure the success of the business.
Steps on how to start a Crepe Business:
1. Create a business plan or feasibility study.
– Research/ survey the proposed business location to make sure your idea is viable and to see if there is enough demand for crepes. Look if there are other crepe businesses in the area. Try other places. It will also do well in areas with high foot traffic, such as malls or other shopping centers. Ask how much would be the cost for renting.
– Define your products. What do you want to sell? Crepes for meal, dessert crepes or both? How about complementary drinks? Create a unique crepe recipes to draw more customers in. Make a menu and list all the ingredients, equipments, tools, packaging and other things needed. Don't forget to ask your suppliers about the cost of raw products/materials.
– Business Name and Store theme. Be creative. Design your own logo and outline the design of your store. You can ask the help of a professional designer for this and also ask the price so you can project the costing.
– Marketing strategy. How will you market your products? Make an advertisement, send out brochures and flyers, and offer promos and discounts.
– Startup capital. How much do you want to invest? This will depend on the cost of items you have listed above.
3. Register your business, License and Permits
For more advices on how to start a crepe business, visit foodbytesforum.
Basic Crepe Recipe
Ingredients:
3 medium eggs
¼ cup of flour
1 tablespoon of sugar
1 ¼ cups of milk
¼ teaspoon of salt
2 tablespoons of melted butter
Utensils:
A whisk, wooden spoon, fork, electric mixer, or eggbeater
A bowl to mix the crepe batter
Plastic spatula
8 inch non-stick skillet
Directions:
– In a large mixing bowl, whisk together the eggs and milk, stirring to combine. Then, gradually add the flour into the wet mixture, add the salt and butter; beat until smooth.
– Cover the batter and chill for at least an hour.
– Add extra milk before cooking if too thick.
Cooking the crepes:
– Heat a lightly oiled griddle or frying pan over medium high heat. Pour or scoop the batter onto the griddle, using approximately 1/4 cup for each crepe. Tilt the pan with a circular motion so that the batter coats the surface evenly.
– Cook the crepe for about 2 minutes, until the bottom is light brown. Loosen with a spatula, turn and cook the other side.
– Serve hot with fillings or keep the cooked crepes covered and warm if using immediately or cool completely then stack with waxed paper and refrigerate or freeze.
Chocolate Crepe Recipe
Ingredients:
4 medium eggs
1 cup of milk
1 cup of water
2 cups of all-purpose flour
2 tablespoons of cocoa
4 tablespoons of cooking oil
1 teaspoon of granulated sugar
¼ teaspoon of salt.
Follow the Cooking directions on basic crepe recipe.
In making your own crepe recipe, you can experiment and be creative with crepe batter, or use one of these variations.
Herbed Crepes: Add 1 teaspoon chopped fresh parsley and 1 teaspoon chopped fresh chives to the Basic Crepe batter.
Espresso Crepes: Add 2 teaspoons instant espresso powder to the Basic Crepe batter.
Buckwheat Crepes: Omit 2/3 cup all-purpose flour and add 2/3 cup buckwheat flour to the Basic Crepe recipe.
Cinnamon Crepes: Add 1 teaspoon ground cinnamon to the Basic Crepe batter.
Sources: wikipedia.org, ehow.com, creperecipes.net, allrecipes.com, cookinglight.com
Photo: crumblycookie.net