Promotional activities are vital for every business. Promotion allows your business to increase its brand awareness, provide appropriate information about your offerings to the general public, increase customer traffic, and build sales and profits. Promotions can also help your business stand out from the competition, making it very easy for you to attain long-term success in the industry.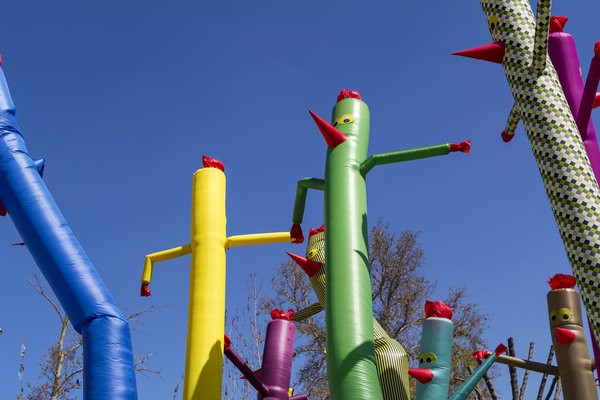 However, for small and new businesses, coming up with an effective promotional campaign can become tough. Being a neophyte in the business arena will make it challenging for you to promote your business as you likely won't have any idea how and where you can start. Fortunately, investing in a custom inflatable from well-known brands, such as Inflatable Anything, can help with these kinds of problems.  
What Is A Custom Inflatable?
In simple terms, an inflatable is an object that can be inflated using gas, along with helium, hydrogen, air, and nitrogen. Inflatables can come in different shapes and sizes, such as castles, boats, and basically any object you can imagine. Some inflatables are also used for entertainment purposes, like air-supported domes.
The purpose of custom inflatables has changed through the years—from being children's playgrounds to becoming a medium for promotion. More and more businesses are now investing in custom inflatables to promote their products and services. This is because aside from being unique, these items can be made based from the brand, logo, or target audience of any business.
When you buy a custom inflatable today, expect that you'll be given a professionally designed custom inflatable made from high-quality materials that can withstand extreme weather conditions. Custom inflatables also come with a user manual, blower, and carry bag. If your budget allows it, you can even pay for a custom inflatable that has removable banners, LED lighting, and battery solutions.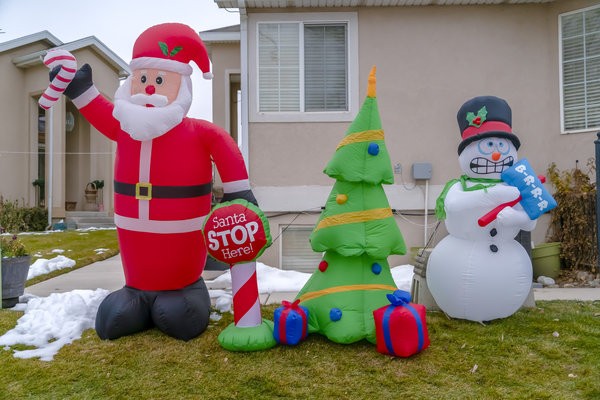 How Can You Use A Custom Inflatable To Promote Your Business?
How you promote your business can make or break your ability to acquire new customers and earn profit in the long run. Effective promotional activities can become your ticket to attaining success in the industry even if you're still a new player in the business arena. These are just some of the reasons why you should continually seek for innovative ways to promote your business to the general public.
However, do you have any idea how you can use these custom inflatables for promoting your business? Are you aware of how you can utilize these items to stand out from the competition? If you're planning to use custom inflatables to promote your business better, this article can surely help.
Listed below are some simple yet effective ways you can promote your business using custom inflatables:
Product Or Service Replica
As a new player in the business arena, your goal is to inform as many people as you can about your existence. It'll be challenging for you to entice the general public to buy from you if they don't even know that your business exists.
If you want your business to become more popular in your area, use custom inflatables and have them shaped just like your business's products or services. For example, if your business recently opened a taco shop in your neighborhood, customize your inflatable to look like a taco. If you offer pet grooming services in your city, have your inflatables take the shape of pets or common pet grooming tools.
Placing a giant product replica near your location is a great way to promote your brand and ensure that you actually get your message across. With its size, your product replica will surely grab the attention of passersby, and even those who are merely driving around the block where the inflatable is placed.
Holiday Promotions
When promoting products and services, packaging them according to the season is essential. Your offerings will become more attractive if you actually offer perks based on the season of the year. For example, if you're selling apparels for men and women, you can highlight matching shirts during Valentine's Day. On the one hand, since Thanksgiving is a time of the year for families to spend time together, you can utilize this season to offer bundled food packages to your customers.
It'll be easy for you to keep up with the times when you use custom inflatables. You can have your inflatables customized based on the current season and, then, have them placed outside of your brick-and-mortar store or in high traffic areas.
If you're giving out huge discounts during the Christmas season, invest in custom inflatables in the shape of Santa, reindeers, and snowmen. If you want to boost sales when the school year starts, place some custom inflatables of books and other school supplies outside of your store.
Aside from grabbing the attention of people, using custom inflatables apt for particular seasons will also create an impression that you're a fun and exciting brand that never runs out of marketing ideas all year long!
Support Your Local Sports Teams
Supporting local sports teams by sponsoring events is a great way to build brand awareness and drive excitement towards your offerings. Moreover, supporting local sports teams can also help your business increase sales, expand to new geography, and launch new product and services.
However, because supporting your local sports teams is a common marketing method, don't expect that engaging in one will immediately give you positive results. Countless businesses have been doing the exact same thing for years, which means that you'll have to exert more effort to ensure that your promotional activity stands out from the competition.
If you want to support your local sports teams in a unique way, include custom inflatables in your efforts. Aside from sponsoring their games and paying for their supplies, you can invest in custom inflatables in the shape of a football, basketball, baseball or even soccer ball. You can place these inflatables in front of your shop or outside of the venue where the game will be played.
Showing support to your local sports teams through custom inflatables is a great way to show the public that you're giving back to your community and you're actually allocating resources to engage with a different target audience. Your efforts in using custom inflatables will surely earn your brand some plus points, making it very easy for you to haul in new customers and retain old ones.
Make A Unique Sign
Signs are common for business establishments. Regardless of the nature and size of a shop, businesses will always choose to invest in signs to make their shops more visible. Signs are crucial, especially to a business that just recently opened in a new location.
However, because all businesses have signs in their shops, having one for your own will not make your business any different. In fact, customers will expect a sign outside of your shop, and seeing any will not create a significant impact on them. If you want to excite customers through your sign, let a custom inflatable work for you.
Instead of paying contractors to design, build and install signs made from metal, or wood, use a custom inflatable for this purpose. Custom inflatables with your business's name and logo on it are a new twist to common (and sometimes boring) business signages. Aside from letting the public know about your business's name and logo, a life-size custom inflatable used as signage will also create a buzz about your business.
Market Your Sales And Promos
Promotional marketing can help your business succeed in many ways. When done properly, offering sales and promos to your customers can help increase your customer traffic, build sales and profits, and strengthen your business's marketing efforts. Regularly coming up with sales and promos will also entice your old customers to continue patronizing your business.
However, regardless of how discounted your products and services are, you won't be able to see any results if no one knows what you're offering. How can you earn more profit if none of your customers knows that you're holding a sale? Do you think you can get more customer traffic from your website if no one knows that you're giving out freebies for a limited period of time?
If you're planning to conduct a huge sale soon, use custom inflatables to send your message across. Using custom inflatables is a great way to inform your customers about your new offerings and entice them to buy from you. This is especially important if you're holding a huge sale for the first time.
If you want to gain more customers through the promos you're offering, place your custom inflatables in busy streets. This will make it very easy for your business to attract new customers because offering a sale is a great motivator for the general public to try out your brand.
Stay Patient
Regardless of how colorful or enormous your custom inflatable is, don't expect that you'll immediately see results from your efforts overnight. Promoting a business requires time, which is why you should be patient with your efforts, audit regularly, and improve as you move forward. Patience is key for your business to make the most out of these custom inflatables!