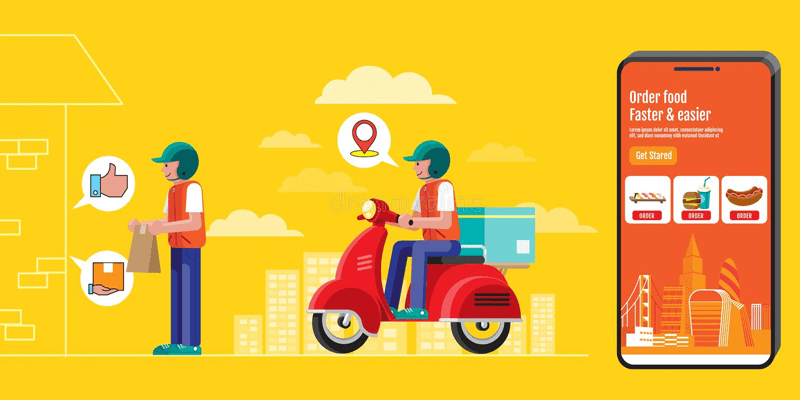 The Restaurant industry has been going through a transition phase where it faces multiple challenges to prosper as coronavirus has shattered the restaurant business all across the globe.
But as it is said, there is always a ray of hope even if darkness is all around; the same goes with the restaurant industry.
Due to coronavirus, restaurants were unable to offer indoor dining, which caused the loss of revenue. But many thanks to the food delivery apps that have proved to be a boon for restaurant business owners.
Consumers are now turning to food delivery apps due to strict dining instructions as they have to follow corona guidelines. And to validate my point, let me put before you the stat that shows how significantly food delivery app users have increased in the last few years.
As per a report, the number of food delivery app users in the US alone has grown from 36.4 million users in 2019 to 45.6 million users in 2020, growing up to 53.9 million by 2023.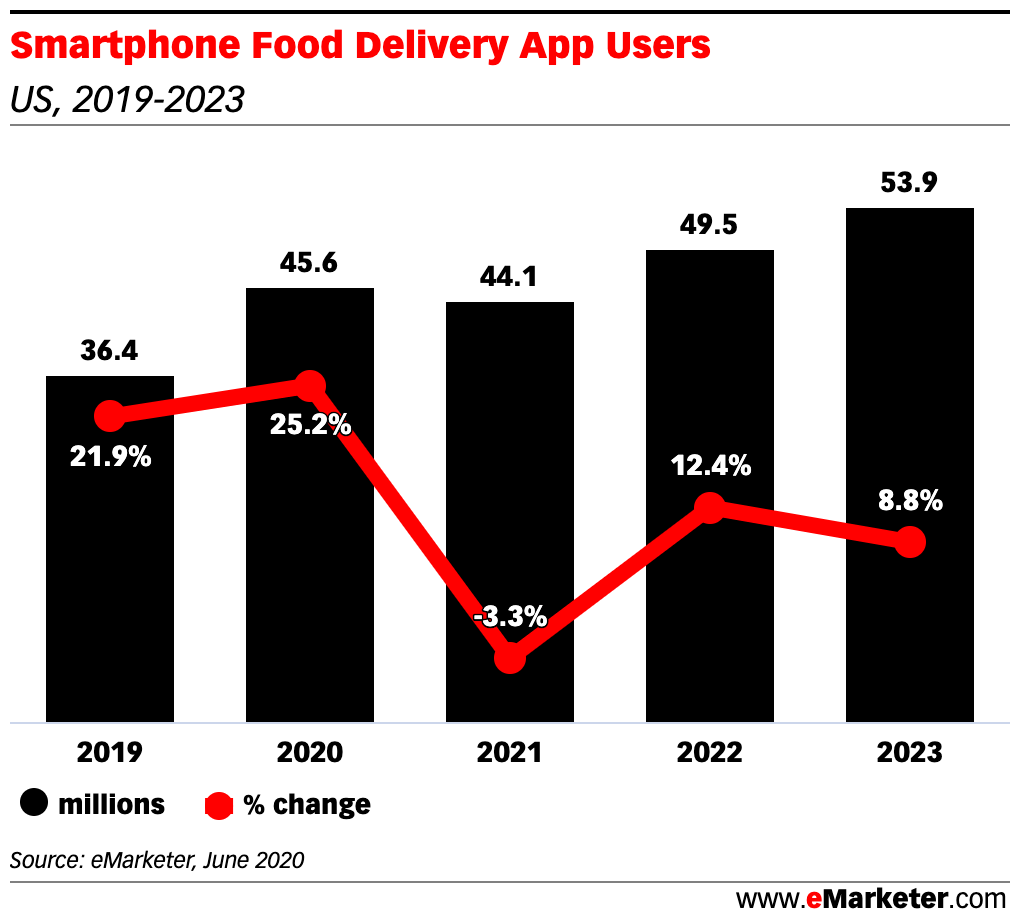 It's high time for you to leverage the food delivery app's benefit to increase business growth and get higher ROI. Moreover, you must have understood the above facts and figures that your business may grow if you contact the best mobile app development company to integrate food delivery apps into your restaurant business.
Now in this blog, I will explain to you in detail the compelling reasons why restaurants should invest their time, effort, thought, and money in creating a mobile app for their business. Also, you would get to know the tricks to woo your consumers to visit your restaurant frequently.
Let's GO!
Significant Reasons to Create a Food Delivery Mobile App for Your Restaurant Business
Easy Ordering and Payment
Having an app for your restaurant makes the consumer's tasks easier for ordering the meal. Moreover, it is beneficial to a greater extent as it offers multiple features, including 24×7 availability, secure transactions, and smooth operations. As per a recent development stat, these are the reasons why 85% of users prefer mobile applications over websites.
Customers expect a seamless delivery experience when they order food through the food delivery app. Moreover, they desire easy access to everything from the user interface to cashless payment. You can easily integrate the latest technologies to quicken up the ordering process.
Location-based Marketing
Since technology has discovered innovative easy tracking through GPS-enabled locations, you can track consumers when they pass nearby restaurants. You can send them notifications that could be about the discount offers or special meals that are available in your restaurant.
To better understand the concept, you can pick the example of technologies like iBeacon, through which you can determine the proximity of a user to the physical location of your restaurant.
Thus, you can send beautiful, automated push notifications to consumers in your location's physical proximity to entice them into your restaurant by using proximity data.
Include Reservations
This is the most advantageous factor that helps you to grow your restaurant as a famous brand. When people dine and don't get a seat according to their comfort zone, they tend to quit the restaurant and prefer to go to some other restaurant.
But if you allow them to reserve a seat before they move out of the house, You will have a higher probability of luring customers to dine in your restaurant.
Amplify Customer Base by Targeting Millennial
Millennials play a significant factor in increasing your revenue and business growth. Now you must be wondering how? Well, the reason is these people are office goers who have hectic schedules. And a fully-featured food delivery app can make their lives easy by delivering them fresh food on time.
Hence, they will love to dine in your restaurant, and you will have increased revenue. You can also hire app developers to get your food delivery app developed.
Social Media Integration Helps In Marketing
Who is away from social media today? I guess hardly anyone as it is an inseparable part of our life. Whatever we do wherever we go, we often share the moments. In this way, the world is full of social networking apps where each person loves to share their meal.
Moreover, As per the latest development stat, there are 4.33 billion social media users across the globe at the beginning of 2021, which suggests that more than 55% of the global population use social media.
Now you can easily comprehend that your consumers will click the picture of the meal and share it through any of the social media platforms, whether it is Facebook or Instagram. Doing so has become a kind of custom nowadays which is fruitful for the growth of your business.
They will also tag your service and rate your restaurant. Thus, your restaurant will have the full potential to be a worldwide brand.
Run Referral and Loyalty Programs
Food delivery apps will prove to be more successful if you integrate referral and loyalty programs because people love such features that lure them to visit your restaurant frequently.
Moreover, consumers can do this through SMS or by referring friends through social media platforms. You can understand it so that the payment processing apps like Google pay provide their users referral points when any user shares the platform with friends to use it.
Hence, food delivery apps will increase customer loyalty, and consequently, your app users will multiply within a short period.
Improve Service Delivery
Each restaurant owner wishes to improve service delivery from time to time as It helps them grow business by leaps and bounds. It is as simple as buying something in exchange for money.
Similarly, if you provide satisfactory services to your customers, it will help you retain the old customers and bring new ones.
You can also earn through delivery charges according to the distance covered to deliver the meal. Hence, delivery charges are one of the primary revenue generation sources of all food delivery apps.
Better ROI During Special Occasions
Since most people go out to dine with their near and dear ones during special occasions, you can offer discounts coupons to consumers or even cook special meals during these times. Such special offers will surely attract more consumers and will consequently increase ROI.
Now you must be thinking of ways to offer coupons to the consumers? Well, It's quite a simple method to do the same. You need to send push notifications on special occasions or weekend nights as it tempts hungry customers. By going through the messages, they will surely think of visiting your restaurant.
In such a situation, location-based notifications will prove to be icing on the cake. So, you can also take the help of location-based notifications. Moreover, you can also send personalized notifications as per user analytics to find out customer's preferences and customize notifications accordingly.
After discussing the food delivery app factors to improve restaurant ROI, let's throw light on revenue in food delivery.
As per a recent development report, the revenue in food delivery will increase with an annual growth rate of 17.7%, resulting in a market volume of $234.206 million in 2022.
Summing Up!
Since each entrepreneur opts for mobile apps for their respective business to grow exponentially, you must also get a food delivery app for your restaurant business to improve restaurant ROI.
You can calculate from the above-discussed reasons that the food delivery apps have thriving potential to let your business reach an unexpected height with higher ROI.
Moreover, several popular brands like Starbucks, Foodpanda, GrubHub, and Zomato have integrated restaurant apps to provide their customers with ease in ordering food online. They also keep an eye on the market trend to lure customers by offering discount coupons and loyalty programs.
Hence, you can also stand along with these world-famous brands soon by having a food delivery app. So, get ready to have your app developed by an online food delivery app development company in India.
Frequently Asked Questions
Q: How does an online food delivery app work?
The process consists of several aspects, including a customer choosing the restaurant of his choice, scanning the menu items, choosing a thing, and ultimately choosing for delivery. After that, payment comes into the customer's scene through credit card, debit card, or cash.
Q: What are the advantages of mobile apps for restaurants?
Food delivery apps provide several advantages, which of them are the following.
It makes the ordering process more accessible.
It efficiently manages customers and their orders.
Food delivery apps allow you to stay ahead of the competition.
Food delivery apps assist you with better customer data.
Q: How can a restaurant owner market his food delivery app?
There are multiple ways to market your food delivery apps. Some of them are the following:
At first, define your target audience
Use Social Media
Create the list Of database
Use content marketing.
Create a unique selling proposition
Q: How often should the mobile app be updated?
The update of an app depends on several factors and some of the crucial ones are as below.
The advent of new technology that your mobile app may utilize.
It depends how your competition is performing.
Look upon negative feedback that highlights your app's weaknesses, which you then have to address.