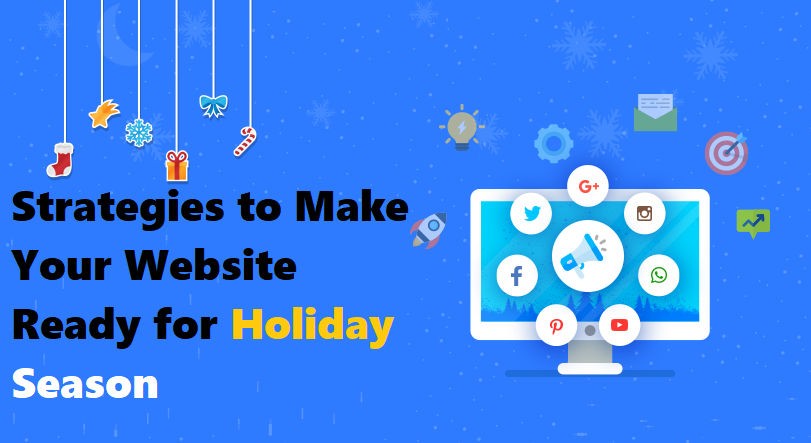 Online resources such as social media pages and websites are the critical source of business for many organizations. Marketers spend their hours researching the ways to boom their business throughout the year. But there is a time when they get the best payback.
The holiday season is considered the golden time for launching new products, campaigns, and offers. We will soon step into the season when we get the most favorable outcomes of our efforts.
So, what does it take to win over your competitors in making your website a growth magnet in the holiday season?
From preparing engaging content to enhancing your website's performance, there are several things that you can do to enable your website to leverage what is around the holiday season.
Let us explore different marketing strategies to make your website ready for the holiday season.
1. Mobile-Friendly Website Is a Key
As per Statista, 54.8% of the global website traffic in Q1 of 2021 was generated from mobile devices (excluding tablets). It means that you cannot overlook the essence of focusing on a website's mobile experience. You can analyze the website's layout and navigation if they meet the high-quality standards of mobile experience.
You can enhance your website's mobile checkout experience by indulging in third-party payment and data-collection features.
2. Make Sure Your Website Loads Fast
As per Google, an increase in page load time from one to 10 seconds excites the bounce rate to 123%. And, there are plenty of other such statistics that indicate that low page load speed will always hamper your website's performance and additional topical insights such as Core Web Vitals. Thus, it is significant to keep your website lightweight and user-interactive.
3. Keep It Ready to Handle Loads of Traffic
Even if you manage to get a good amount of traffic on your website, your website infrastructure should irritate the visitors with a bogus user experience, slow processing, unnecessary pop-ups, and many other things. The first thing you want to focus on is to provide visitors with a welcoming experience on your website, and things need to be simple yet attractive.
You can avail yourself of the best website development services to make your business website capable of handling heavy traffic during the holiday season. You can hire service providers who would help you implement the required changes in your website more effectively.
4. Content Is Crucial
Creating engaging and comprehensive content can help you navigate the visitors easily. You can do your research before carving range and putting it on your website because destructive content is harmful. You can post interactive images conveying your brand's message.
It takes good research and an intent to read through your customers, understand what they need and personalize things on your website accordingly. All customers want is to know a little about you and more about how you can help them. And, the only way you can comprehend it is through sophisticated and credible content.
5. Don't Compromise on SEO
Search engine optimization is a tool to optimize your content to appear in the search engine page results. During the holiday season, many people prefer a simple Google search and pick one website they want to try on. What if you lose the SEO game and do not even get the chance to indicate your existence?
There are plenty of ways to get your website a good search engine ranks locally and globally. You can target high-volume keywords, run advertising campaigns, and post relatable content on your website.
6. Use Marketing Automation
Marketing automation is an efficient, effective, and feature-packed option to create, launch and manage marketing campaigns. You can collect and sophisticate your website visitors' data ad utilize it to plan your marketing strategies.
This approach can help you make your marketing strategy more result-oriented and earn high revenue with assured productivity.
7. Special Offers Make You More Special
The best way to get your customers' worthy attention is to tell them what special you can bring to their business. Can you offer them something unconventional in the complete service package? Can you provide unique cuts in your charges since it is the holiday season?
Releasing such offers is about creating the benefit factor in your sales and creating the credibility that you care for your customers and their interests. And, what is better than an occasion where you got a reason for doing so.
8. Never Underestimate the Power of an 'Existing Customer'
It is always simpler to invest your time in carving marketing strategies for existing customers. You know them already, and they trust you for your services. You can ask for their most genuine feedback without doing many experiments.
Retaining customers is an art of its kind that takes your brand credibility to the next level, and you can establish yourself as a customers' company. So, do not work on your website only to grab new customers and enhance the experience of existing customers.
Wrapping Up
As we conclude this blog post, it is essential to understand that there is no best or worst marketing strategy. Anything that brings results is suitable for your business when adding something new to your marketing plans. It means that everything we discussed in this blog can be crucial for your business, but only if you can get the plans right.
Following the marketing strategies discussed in this blog with a creative and proactive plan will not benefit you, and you will discourage yourself. So, be creative, add something new to what you have right now and see the magic. Marketing is no magic; it is only about presenting your offerings uniquely and effectively.