Are you planning to launch your eCommerce platform? You might be confused in preparing your mind are deciding to finalize a platform on which it is better to build the highly functional, bug-free, user as well as search engine friendly eCommerce platform. Before reaching a decision, you have to conclude that how many products you want to list in your online store. The quantity of products and items matters the most.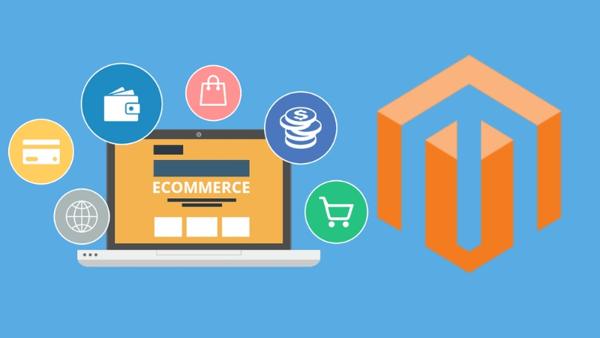 If you have millions of goods for your online store, you should prefer Magento for your eCommerce Web Design and Development as it offers a broad range of benefits to both store keepers in managing the stock and users in convenient browsing. But if you possess a limited quantity of items you should prefer some other platforms such as Bigcommerce, Shopify, etc.
From my point of view, Magento is an unbeatable option for small eCommerce startups because of its highly extendible features and its comfortable and easy availability of resources. It is vast and fast-expanding technology as compared to all the other eCommerce frameworks.
Magento community edition can be accessed free of cost, so both small to mid-size entrepreneurs can instantly download it reaching the official website of Magento and can go for custom eCommerce Development.
As you build your e-commerce website, further you can create a multivendor marketplace using Magento where various merchants can trade their goods, services, and products to their potential customers.
Being a startup, I undoubtedly recommend that initially have a marketplace visit to know which is either available with no cost or accessible at a meager price, first experience all the situations with the multi-merchant marketplace software system and then after updating your marketplace to Marketplace Platinum version with some valuable peculiarities for your eCommerce website.
So beginning with the community edition and a fundamental marketplace, you can commence your e-commerce website with no cost and further improve your store with the technologically enhanced and feature-rich enterprise version of Magento with the thoroughly fledged platinum edition of the multi-merchant marketplace.
Why Choose Magento Over Other eCommerce Platforms?
Easy-to-use and simple features
Functions of E-commerce Magento platform custom development are quite simple, versatile, and quick. Users can survey easily, buy conveniently and experience services adequately.
Upgrades the website automatically. This unprecedented facility is ordinarily not accessible on other e-commerce platforms.
It assists in building scalable websites
It supports multifarious websites to recommend products and services, across various domains.
It benefits in balancing up current websites
In the year 2013, Magento was acknowledged as the most successful eCommerce platform in the world.
In the year 2014, despite having the fibrous and expanded competition, the Magento's market share is among the 30 most famous eCommerce solutions. On an average, it is 30%.
More than 200000 online distributors have picked Magento as their online business e-commerce platform.
Benefits of Magento eCommerce Web Design and Development –
Extensive Range of Features:
Magneto comes stuffed with the features promoting layered navigation, wish lists, advanced search, favorites, multi-store functionality, product comparisons, email list, grouped products and reliable CMS for static pages as well as the better performance of SEO. An e-commerce website features are the bases giving customer satisfaction and extended user experience, and as far as Magento is being discussed about it is surpassing in this job.
Highly Flexible:
Based upon the size, budget, and requirements of every profession, the versatility of Magento can be used to get the version-based resolutions. For instance 'Magento Go' suits small-size enterprises, whereas 'Magento Enterprise' assists large and mid-size companies excellently. The availability of various templates and themes in Magento have added an aspect of the corresponding flexibility. Every industry has something unprecedented for them.
SEO Edge:
'Magento SEO' has resolved multiple problems by promoting better optimization of an e-commerce website. Landing page, duplicate content, Page traffic, indexing, etc. are most efficiently handled for an enterprise e-commerce platforms market created on Magento.
Developers Friendly:
With the extension in business, the need to modify the website also arises, and the website needs to be upgraded consequently. And using Magento, developers locate it simpler to modernize content, add new web-pages and attach pages to the main or sub-navigation, thus saving a considerable measure of time.
Carting:
The development of Magento shopping cart assists users to follow the procedural approach for buying the aspired product. Moreover, to give users multiple choices, a business can pick from approximately fifty payment gateways to combine with its Magento e-commerce website.
Multiple Store Management:
Before Magento, operating various stores from the individual supervisory panel was either inconvenient or cumbersome. Though, now with Magento, every online store can be set up precisely with its unique product description. Controlling and administrating online business 24*7 has grown stress-free by several such benefits.
Google Services with Magento:
The platform has established itself adequately in productivity and performance by swaying hands with the search engine behemoth Google. Various services of Google such as Google Checkout, Google Analytics, and Google Base can be employed with Magento. It, therefore, promotes in uploading content, tracing traffic, and processing orders set by clients. As an outcome, businesses can grow up with sounder plans to pull more of their potential customers.
No Geographical Constraints:
Currency and language are two significant parts when an e-commerce store serves to broad geographical users. Magento with its unique peculiarities removes these limits and makes it possible for the users to shop from almost every edge of the globe.
Mobile Friendly Interface:
In this extended era of mobile modernization, Magento mobile will authenticate a satisfying brand experience for users who utilize their mobile gadgets, and smartphones to connect anywhere at any instance of time.
Order Management:
One of the advantageous conveniences Magento allows businesses are taking care of client orders in a headache-free approach. Using the Admin panel, the administrator can create, view, edit and satisfy orders, raise bills, issue printed packing slip, compose email notifications & RSS feed for a new order, and formulation of reordering, etc.Author Bio: Manan Ghadawala is the founder of 21Twelve Interactive which is one of the best mobile app development company in India and the USA. He is an idealistic leader with a lively management style and thrives raising the company's growth with his talents. He is an astounding business professional with astonishing knowledge and applies artful tactics to reach those imaginary skies for his clients. Follow him on @twitter