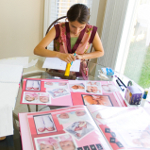 How To Start A Scrapbooking Business
By Mindy Benkert
Have people commented on what great scrapbook or memory pages you make? Do they ask your opinion on what they should do with their pictures? If you have answered yes to either of these questions, you may want to consider a scrapbooking home based business. People are realizing how important their memories from a wedding, birthday, vacation, or just everyday life are. Having their photos and other important memories sitting in a drawer isn't a very satisfying feeling. Creating lasting, beautiful scrapbooks is a calling, but it isn't for everyone.
Starting a scrapbooking business is a great way to use your talents and earn some extra money.
How Do I Start a Scrapbooking Business?
The first step to starting your business is to making a portfolio. Gather all of your best scrapbook and memory book pages together, and compile them. This will give your prospective clients something great to look at when they are considering your work. Once you've done that, the next step is to find clients.
You may want to consider signing up as a consultant with a scrapbook supply company as well. To ensure that your scrapbooking business is profitable, you will need to purchase your supplies at discounted or wholesale prices. Creating unique, quality scrapbook pages will require a variety of supplies including stickers, paper, embellishments, etc… Make sure that you always have a wide variety on hand to help create fantastic scrapbook pages.
How Do I Find Clients?
The first step to finding clients is to let people know about your new business. Tell all of your friends and family and encourage them to let others know as well. Consider writing and submitting a press release online and in your local community. You can also do a bit of simple advertising. Make a cute flier, and stick it up on the bulletin board at your supermarket, church, or art store. Once you have a few clients, you might want to consider giving discounts if they refer someone, or coupons for a discount off their next order.
How Do I Expand My Business?
If you want to expand your scrapbook home business, consider teaching others how to scrapbook. You can set up classes and teach them how to preserve their own memories and make them look great at the same time. Just imagine how much fun it would be to get together with a group of people and share your experience, while making a profit.
Making a scrapbook or a memory book is something that will last a lifetime with proper care. When you advertise your scrapbooking home business to prospective clients, let them know that their photos and memories will last a lifetime with your help. It should be your passion to save those photographs that are jumbled in a drawer somewhere, and create lasting memories for your clients.
If you have the talent and passion for creating beautiful scrapbook pages, you definitely should consider a scrapbooking business. To create lasting memories for your clients, and get paid, you can't beat that.
About the Author: Mindy Benkert is a successful business owner devoted to helping others find their Perfect Business! Visit her website for the latest Creative Business Ideas today!
Source: www.isnare.com
Permanent Link: http://www.isnare.com/?aid=226611&ca=Business
Do you like this money making business idea idea? then please consider subscribing to our RSS feed and have new business ideas sent directly to your inbox. (Once you entered your e-mail address, you need to login to your e-mail account and click the link to confirm your subscription).