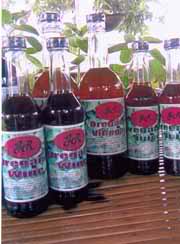 To many Filipinos, oregano is well-known as a medicinal herb or even as a condiment to their food. Oregano, plant rich in Vitamin A and C, contains strong antioxidant properties and possesses antibacterial, anti-inflammatory, antifungal and antiviral properties. Popularly, oregano is believed to relieve coughs.
But more than these therapeutic uses, oregano is now being popularized and commercialized into wine, juice for human, juice for poultry, tea, and vinegar. These were packaged through the project titled "Development of Special Product Lines from Philippine Oregano Coleus aromaticus Benth". by Dr. Estela C. Taño, Ms. Rhodora M. Huelva, Ms. Annabel P. Masongsong, and Mr. Emilio M. Mejia, Jr. of the Quezon Agricultural Experiment Station, Lagalag, Tiaong, Quezon.
The Bureau of Agricultural Research (BAR) under the leadership of Director Nicomedes P. Eleazar provided the financial support to the project through BAR's National Technology Commercialization Program (NTCP). NTCP serves as one of the bureau's flagship programs in lieu of Secretary Arthur C Yap's drive on "making business from agriculture." It aims to create job opportunities and income growth through yield-improving technologies generated from research and development (R&D).
The potential products from Philippine oregano are the results of an indigenous technology documentation research effort. This aims to develop innovative products from indigenous plants, increase awareness and promotions, and create market, likewise generating income and sustainable community-based livelihood. The group is now seeing the potential of producing nata de oregano (a microbial cellulose) and oregano herbal soap.
In producing the products, Dr. Taño assured everyone that the postharvest processing and procedure entail raw material washing. "We make sure that there are no foreign elements present assuring its freshness prior to processing," Dr. Taño added.
Postharvest and processing procedures are standardized to achieve optimum product yield and quality. Product samples are then sent to an independent government-recognized laboratory for analyses as required by the Bureau of Food and Drugs (BFAD).
Promotional strategies
The various product lines from oregano are already showcased in the BAR Agri Trade Fair and at the 2007 Agrilink sponsored by the Department of Agriculture (DA). Secretary Arthur C. Yap commended the product as one viable industry in the Philippines. As per the Secretary's suggestion, the group has improved its labeling to open its products to local and foreign markets.
Dr. Taños acknowledged BAR, independent laboratories, Department of Trade and Industry (DTI), local government units (LGUs), and the Department of Agrarian Reform (DAR) for the support while developing the products.
Agriculture is business; Oregano is business
Dr. Taño sees the great potential of making oregano products as a new agricultural business in the country. From personal testimonies she got from their clients, they are confident that the success of the oregano industry is not hard to achieve in their hands. The group is now documenting the reported beneficial effects of oregano products on consumers.
"In the very near future, the farmer groups whom the researchers trained on the merits of growing oregano organically will benefit because we will buy the raw material," Dr. Taño said. On the other hand, those who do not have jobs or have little income can earn additional income on a commission basis. These people will be tapped to market the different products.
R&D on postharvest and processing technologies
Worldwide interest in oregano is increasing just as it is becoming popular in Southeast Asia, as reported from a thesis work of an agricultural engineering studentwho worked with the group in developing oregano tea. The demand, however, is not great enough to warrant large-scale commercial production. More research must investigate the possibility of cultivating and creating a market for oregano in other countries in Southeast Asia.
In the Philippines, oregano is largely cultivated for the fresh herb market. Annual consumption of about 1.6 tons was recorded based on purchases of several food service establishments in Metro Manila.
"This fact makes it more exciting on developing an oregano industry in the country because this is where R&D in relation to postharvest and processing technologies will be most significant," Dr. Taño proudly mused.
She added: "If one wants to increase the demand for raw materials, then there should be processing industries. What the industries then will need are new technologies generated through R&D which they can use to turn the raw materials into consumer products."
Expressing her gratitude to BAR, she said: "I am very pleased that BAR gave us the chance to develop the technologies on processing some products from the ordinary oregano plant."
Economic and social reward
According to Dr. Taño, postharvest and processing technologies pursued through the BAR's NTCP prevent wastage of raw materials, serve as value-adding, and optimize their utilization.
"We are able to create new agribusiness enterprises, helping farmers to have more options on what to do produce at a given time," she attested. Product processors would be able to avail themselves of developed technologies and generate jobs in the processing and marketing force while providing a wide variety of finished products for the consumers to choose from.
On social reward, Dr. Taño asserted that the production of various products from oregano would enable the country to move away from colonial exploitation.
"Through NTCP, we can use our natural resource, feed our own industries, and feed our own people with our own products," she concluded.
———-
References:
BAR introduces potential product lines from Philippine oregano. Rita T. dela Cruz, BAR Chronicle, Vol. 8 No. 10, October 1-31, 2007.
Torrecampo, E.T, 2006. Drying and milling of oregano Coleus amboinicus Lour. leaves for optimum quality of tea beverage.
http://www.philippineherbalmedicine.org/oregano.htm, retrieved 28 April 2008.
http://www.associatedcontent.com/article/489485/oregano_a_natural_cold_and_flu_remedy.html, retrieved 28 April 2008.
http://natural-health-news.blogspot.com/2007/12/oregano-not-just-adding-spice-also.html, retrieved 28 April 2008.
Source: Ma. Eloisa E. Hernandez, Bar Digest, January-March 2008, Volume 10 Issue No. 1
Photos by Ma. Eloisa E. Hernandez, Rita T. dela Cruz and DA-QAES