When it comes to promotions, eCommerce is the best and the most popular business strategy. The thing is that there is no difference in which business niche you cover. All of them require a professional and visually-pleasing website. By eCommerce statistics, here is what we can see in 2019:
at least 85% of shoppers conduct online research before making a purchase,
more than 80% of all US online users made at least one purchase online,
there are between 12M to 24M eCommerce sites in the world,
the total value of global retail eCommerce sales reached $3.45T in this year,
by 2040, around 95% of all purchases are expected to be via online shops,
PayPal had 267M active registered accounts by 2018,
online shopping on mobile increased from 8% to 15%, while on desktop dropped from 78% to 63%.
There are only a few numerals, but I guess you can see the point. No business can stay afloat without a professional website. That is why there are so many ready-made products, like Joomla news templates, WordPress photography themes, Shopify food & drinks themes, etc. So, let's imagine you already chose a suitable theme and started creating your website for business. The question is how to make people notice it?
Without a doubt, now your main task is to make the online business recognizable. I created the selection below to assist you. Here are my personal tips on how to make your online store remarkable. All the pieces of advice are illustrated with modern themes and templates. You can run their free lives to see how different features work in action.
Woostroid2 – Multipurpose WooCommerce Theme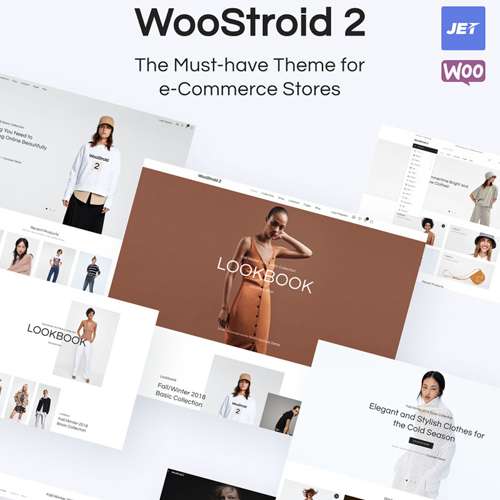 Before everything else, to make your online business recognizable, you should make it unique. Still, it does not mean you can't use the ready-made templates, like Woostroid2. It is easy to use product that comes with many pre-designed layouts. Obviously, you can simply fill them out with the needed content, but I recommend you to craft your inimitable pages. It is possible for users of any skill levels.
Long story short, Woostroid2 is an Elementor theme. It has the newest drag & drop page builder which provides you with WYSIWYG site-building experience. There will be a live preview so that you can see all the performed changes. Inside the package of Woostroid2, you will find tons of different content elements. Each of them is pre-made for you. What's even more important, this multipurpose WooCommerce theme has a fresh Magic Button. It allows changing the appearance of the website at the drop of a hat and provides you with:
1000+ unique sections,
various page templates,
layouts for any topic,
wholly customizable UI & UX elements, etc.
Strem – Sports Store ECommerce Minimal Elementor WooCommerce Theme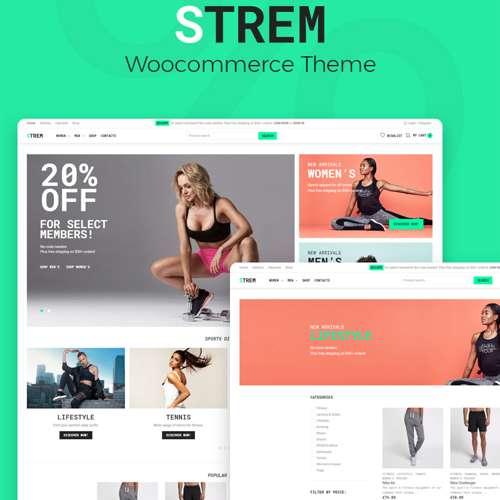 When it comes to sports-related business, a professional website should be #1 on your to-do list. All in all, we live in the age of comfort. Therefore, your would-be-customers are expecting you already have a site. So, how to make it a go-to place? First things first, the business site you build should be customer-oriented. I mean, there is no matter why people came to you. Whatever your prospects are looking for, they should be able to find it ASAP.
Needless to say, in 2019, you can get such a website without coding and Stream is an excellent way to do it. By choosing this sports eCommerce theme, you get all the necessary features to set up a visitor-friendly website. For example, Strem comes with a helpful mobile-first design. It starts creating the site with its smaller version. You have a mobile website ready-to-work even when the desktop one remains in progress.
Big Box – Wholesale Store Multipage Clean Shopify Theme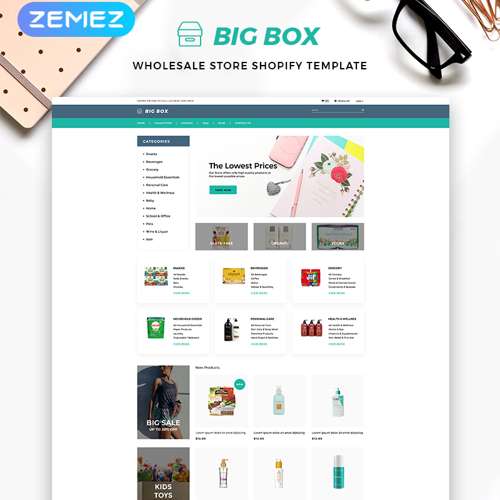 Are you going to run a wholesale store related website? Well, it requires special attention if you want to stand out from the crowd. Once again, let's make your online project as customer-friendly as possible. Fortunately, Big Box has everything you may need for it and even more. Here are only a few features you'll find in the pack of this multipage Shopify theme.
You get a handy Wishlist, Cart, Compare option, etc. based on Ajax. It means that users will be able to perform changes without reloading the page.
Your Search will also be Ajax-based. It shows the results when a user is typing their request. Thanks to the feature, your customers will quickly find exactly what they are looking for.
There are Google maps in the pack of Big Box. They will show customers the shortest way to your office or shop.
Product Quick View feature allows visitors to get the main product info immediately.
Finally, there is Brands feature. It allows you to sort products by a brand to create comfy navigation.
Storex – Stationery Shop Clean Shopify Theme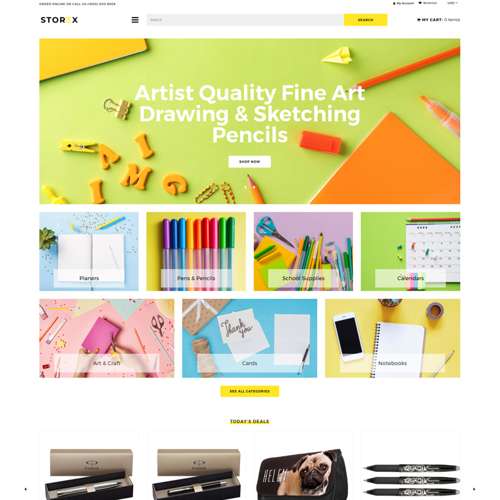 What else can you do to make your business online project easy-to-recognize? Actually, a lot of things and one of them is making your website multilingual. Firstly, it is the right way to build a trustworthy relationship with customers. Even that you may think that English is a standard language for eCommerce sites, many people will disagree. Statistics show almost half of today's shoppers prefer to purchase from the native-speaking shops. And they will go there even if they speak English. Shoppers should feel comfortable to check feedback and understand product description.
By making the website multilingual, you show your business is customer-focused. With it, you can improve visitor engagement, increase traffic, and turn casual clients into regular shoppers. According to the Bureau of Labor Statistics, translated content will bring your sales a 42% increase. Talking about Storex, this product is not just multilanguage. The theme is multi-currency as well so you will get even more visitor-friendly website for business.
Jedi – Multifunctional Joomla Template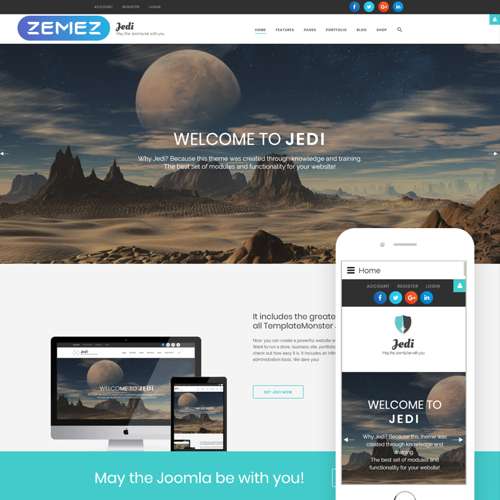 When working on your business or personal website, don't forget about social media. As you can see, nowadays, it influences lots of things, and website building does not make an exception. SM became a tremendous part of our lives. Customers all over the globe visit SM platforms every day. So, here is what we have in 2019:
1 billion users visit Instagram the platform every month,
500 million of them use Instagram on a daily basis,
under-25-year-olds use Instagram 30+ minutes a day,
Facebook has more than 80 million pages for small and medium-sized businesses,
6 million businessmen regularly advertise on FB,
FB is still the top platform for B2B and B2C businesses,
78% of US shoppers say they discovered some products to buy on FB.
In 2019, nearly 2 million companies say their sales received a 50% increase thanks to social media integration. That is why Jedi comes with this feature and everything else you need to connect with SM.
Flash – Digital Marketing Agency Joomla Template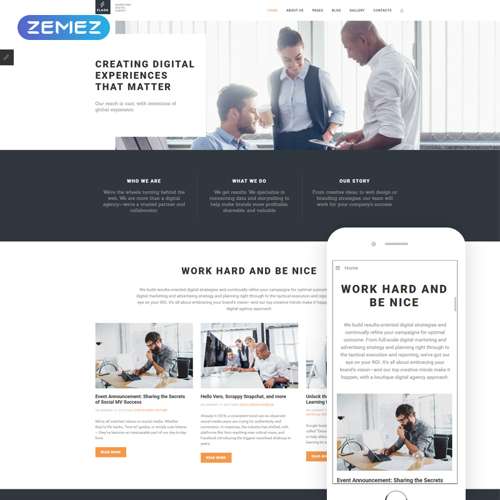 Back to the navigation of your website, there are more features to improve it. Keep in mind that every detail matters. To attract people to your business site, you should take care of all of its parts. Below you can see several must-have features Flash comes with.
Before all else, there is a quick and easy-to-use the Contact Form. With its help, the visitors of your site can contact you anytime they have questions. The answer will go to their email, which means you can enlarge the client base and use it for newsletters.
By making your site cross-browser compatible, you let people visit it anytime they need.
Flash comes with a premium MegaMenu plugin. It may be the most popular WordPress addon. In a word, MegaMenu allows you to craft any design you want. You can style the menus of any complicity with the plugin. Add images, animations, visual effects, videos, and create as many categories and subcategories as you want. There will be nothing complicated because it is a code-free plugin.
Amalgam – Wholesale Magento Theme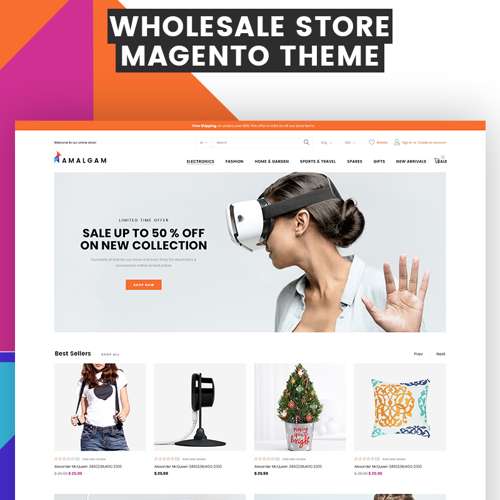 Multiple sorting options is another must-have to manage a shopper-ready online store. The feature provides your visitors with different product display options. It furthers the shopping process and helps people find the needed items or pages. As a result, when visiting your business website, a person can shop by:
color,
size,
price,
country,
manufacturer, etc.
They can sort your goods by best-selling, opt for a list of grid-based results, and more. The next must-see option you get with Amalgam is Back-to-top button. Being quite small and simple, this web design element will improve website navigation. Believe me, people hate online projects with endless gallery scrolling, so you don't want to build one.
What else will you get by choosing Amalgam for a business website? This clean Magento theme contains:
3 homepages,
3 header styles,
3 footer styles,
3 product page styles,
Ajax Catalog and Ajax Search,
Layout Switcher, etc.
Shopee – Premium Marketplace Responsive Magento Theme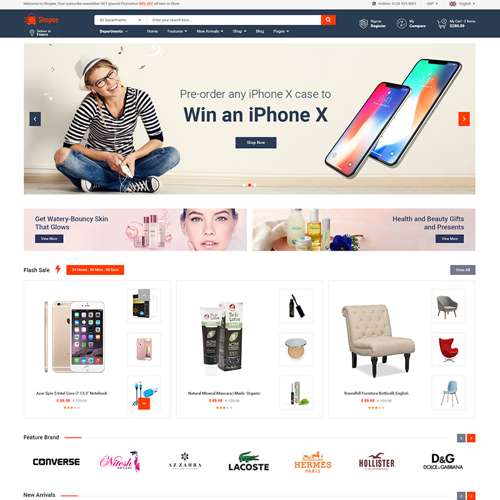 Before we get started, I should mention that you save over $200 by buying Shopee. This eCommerce Magento theme contains many trendy features to enrich website look. To say more, there are also a lot of powerful extensions, like MegaMenu, QuickCartPro, or Listing Tab.
What are the other features to look for? Here are the things that will certainly help you to design a successful web store.
Mobile Menu is the vertical menu, which makes your website easy-to-use via mobiles. Nowadays, globally, more than half of the traffic relates to mobiles. And you don't want to disappoint your shoppers, do you?
In addition, there are 3 voguish Mobile Listing Layouts you can switch in one click.
Thanks to a powerful Admin panel you have permissions to configure the shop. You can update it anytime you want without touching a single line of code. In fact, keeping your website up-to-date is what you should do all the time to keep the audience engaged.
NextPrest – Multipurpose Clean Ecommerce Bootstrap PrestaShop Theme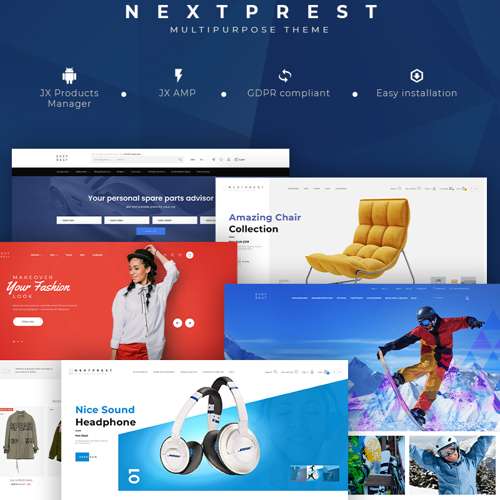 Shortly, NextPrest is a multipurpose PrestaShop theme that was made for eCommerce purposes. It has a clean and ultra-responsive design which fits every screen. Would you like to forget about the limits of time and place? In this case, your website for business should be 100% responsive.
What are the other options NextPrest provides its owner with? Here are the most important features. Add them to the design of your site to make customers love it.
Right to left language support will enlarge the audience of your site. It makes the shop available for RTL-speaking clients.
Show clients that you care about them with the help of an online chat. Thanks to the feature, people can get a consultation and ask questions directly on your website.
NextPrest provides you with Testimonials feature. It is a trendy content element to showcase customer review beautifully.
Vente – Multipurpose PrestaShop Theme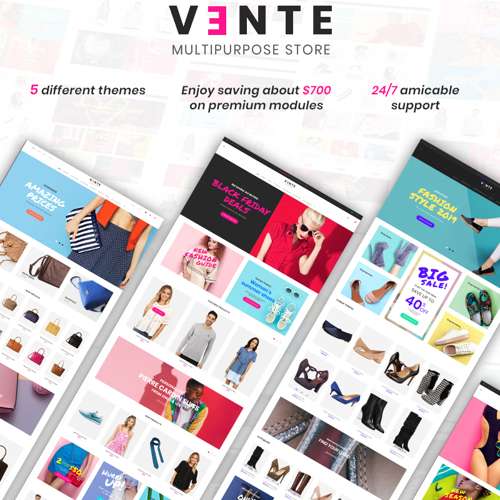 To end with, let's take a quick look at Vente. Being well-featured, this multipurpose PrestaShop theme comes with a broad variety of apparel-oriented topics. There are numerous ready-made layouts to catch the eye of your prospect. As all the high-quality eCommerce themes, Vente is super easy in installation.
In case you want your business to stay afloat, make sure you use only eye-friendly typography. Vente already has built-in Google typefaces, but you can check these Bullet Journal Fonts and other pre-designed packs.
The theme is also easy-to-edit so that you can customize the design up to your taste. All the elements you find in the pack of Vente are 100% versatile. You can change any detail the way you want. What is more, you can do it in a few clicks and in a code-free way. Here is what you get by choosing Vente:
6 homepages,
easy installation,
mobile layouts,
online chat,
Retina-ready design,
RTL support,
extra pages layouts, and more.
Summary
For today, it was all the information I wanted to share with you, so let's sum everything up! Needless to say, in 2019, website building is not such a big deal anymore. You can craft a magnificent, powerful website and make it rocket-fast without editing a single line of code. To say more, you can easily stand out from the crowd of your competitors. No matter which business niche you cover, there are many ready-made themes and templates to choose from.
To finish with, here are some tips to make your online business recognizable:
create a noticeable logo,
make sure your website meets your corporate style,
connect your business to social media,
create quick and comfy site navigation,
make sure you have all the must-have features,
let people enter your site via SM,
use newsletter popup,
add counters, timers, accordions, and other trendy web design elements,
make sales and special offers to get shoppers' attention,
use keywords to capitalize on new internet trends,
and make sure your shop is SEO-friendly.