The world is becoming digital and advanced day by day; it seems that the future of eCommerce and the doorstep delivery market is incredibly bright because people's inclination towards online ordering is increasing. Indeed, stepping into online business looks quite fascinating, but you equally need to invest time and efforts that help you achieve desired milestones.
Many people want to get started and run an online store but lack the technical knowledge or don't want to spend a huge amount on coding and development; their main goal is to sell products online. This is where Shopify comes to the rescue.
What is Shopify
Shopify is one of the best and most-used eCommerce platforms that allows you to create a store and push its launches without any hassle of coding and development. Attractive themes, advanced plugins, etc., let you create a nice online store for your digital venture.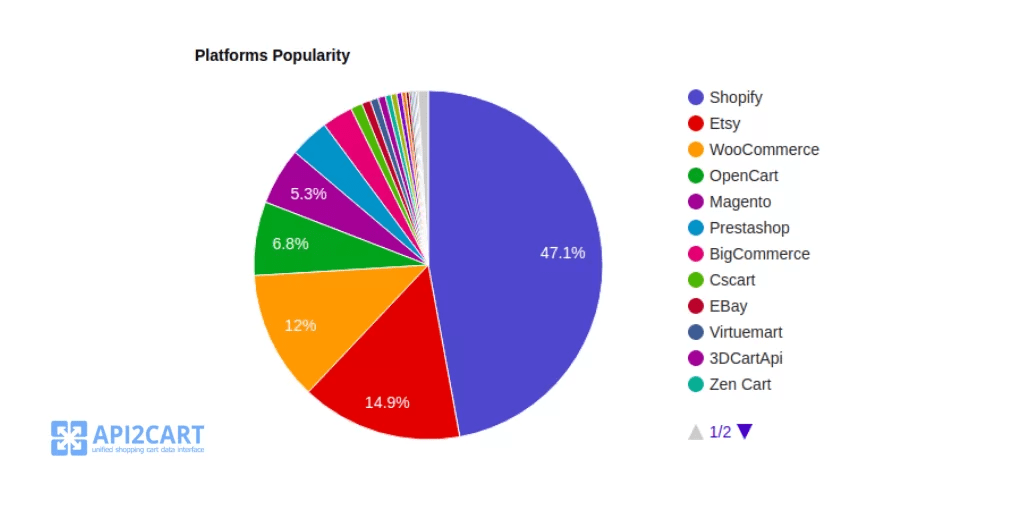 According to api2cart's research, here you can see how Shopify is taking the eCommerce market to the next level. And more than 47% of startup entrepreneurs prefer Shopify over any other platform. Indeed, Shopify is one of the best eCommerce platforms to set up and grow your online business.
If you are a beginner in online business and looking for a cost-effective solution for your business, your search ends on Shopify as it helps people to sell products online on multiple channels. From modern marketing tools to inventory management to payment integrations to shipping configuration- the platform has everything you need to set up, manage and expand your online venture.
Well, Shopify has become the number one choice for many entrepreneurs. With more than 60,000 online stores and almost 100 million online users, Shopify has clearly made its way into the eCommerce landscape.
But Why Choose Shopify Over other eCommerce Platforms?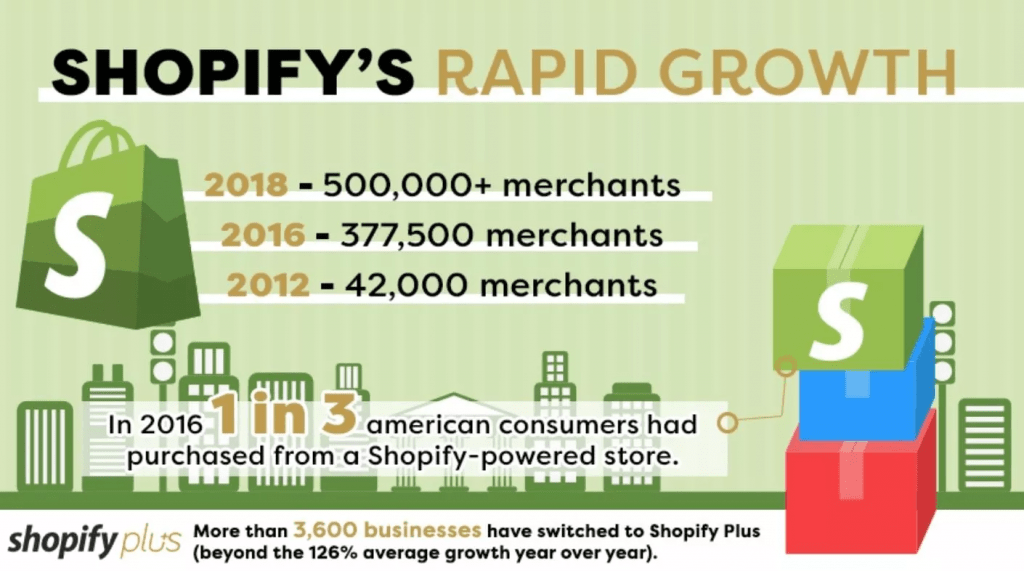 Shopify is a great choice and excellent solution for your well-established business and those who are novices to the online world and plan to build an online store for their business. (source)
One of the best advantages of Shopify is that it comes with all the modern features and tools you require to sell online products. Mobile-friendly templates, shopping carts, shipping options, advanced product management systems, marketing tools, etc., are available in-built. It means creating a website; it would be also easy for you to promote your store and reach a large audience.
We all know that the online food delivery market is exploding; according to a survey conducted by ShopifyandYou, after fashion and apparel, the restaurant is the second industry that uses Shopify and prefers to develop an app like ubereats for their strong online presence.
Shopify is the one-stop solution for them because it has plenty of modern features that you may not find anywhere else. Let's see which top features Shopify offers to your online store,
Multiple stores
Scalability
Manage high-volume of traffic
Easy customization
Attractive themes and lay-out
Advanced security
Easy-to-use plugins
Now you must understand why Shopify is a fantastic solution for the majority of small and medium scale businesses.
Explore What are Its Benefits
Shopify could be a great choice if you want to start an online store without the fuss of huge upfront expenditures. Shopify is a SaaS (software-as-a-service) tool it means you don't need to spend too much on hardware and installation; you only need to pay a monthly subscription based on your usage.
So, before you get into the online business, you should look at the perks of Shopify to ensure why it is the best choice for your business.
Unlimited Options for Customization
You are going to sell different products. Your business identity is different from others. You deal with different kinds of customers. Then obviously, your online business identity should be unique and convey a valuable message to your customers. This is why customization is important for you. Shopify's exclusive feature is that it makes it easy for you to customize your store as per your business standards.
With more thousands of themes(free and paid), unlimited customization options, modern social media and SEO marketing tools, the ability to get support from its community, and easy-to-integrate plugins- Shopify lets you personalize your brand from others.
Each theme is fully customizable; you can also add or remove features as per your priority. Therefore, creating an online store with Shopify is simple and lets you achieve results beyond your imagination.
Dedicated Customer Service
Excellent customer service is another primary reason that business owners and developers love to use Shopify. When you are about to develop an online store for your business all by yourself, quick customer support is inevitable when things go awry. If you ask developers or experts to fix silly issues, they charge more, and online forum websites are usually unresponsive when it comes to getting quick support.
Here, Shopify wins the debate as it has a section of FAQs, online email, chat support, and most importantly, you can directly call a representative for instant help. When you are focused on running your online business- having someone at your back to help you makes your work easy, and when it comes to quick support, Shopify shines brighter.
Multiple Payment Compatibility
Offering a secured and swift payment gateway to your customer is one of the basic needs you need to focus on while developing your online store. As compared to other content management systems such as Wix, SquareSpace, and BigCommerce, Shopify offers more than 100 payment gateways such as Stripe, PayPal, PayMill, and so forth. It means your customers can pay for products or services in their own way. Be it credit and local payment method or cash. It also lets you accept funds in several currencies.
Grow Your Business with Shopify
So, to summarize, to get your online store launched and off the ground within 2-3 days, there is no other option than Shopify. Before getting started, focus on certain parameters such as easy interface, reasonable pricing structure, stunning themes, etc.
With amazing features and functionalities, Shopify emerges as one of the best solutions for your online store. In the end, businesses must choose the platform that fits well with their business standard and model.
Author bio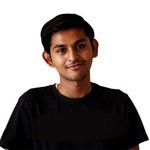 Nirav Parmar
Nirav is an online marketer and blogger having hands-on experience in crafting creative content. The skills he poses in creative writing is fantastic as his ability to write engaging content attracts the readers. His enthusiastic approach to researching the facts related to the topics is phenomenal. He knows all the latest trends of delivery business, strategies to digitalise SMEs, changing market dynamics etc.