Have you ever walked into a retail shop or a supermarket, picked a shopping cart, and filled it with items, only for you to leave it in the aisle? Have you ever wondered what happens next? Most probably you will get strange looks from fellow shoppers. The supermarket attendant will remind you of the cart you have left behind. If you are disinterested in the items you had picked, the attendants will return them to their respective shelves. However, when it comes to online shopping things are different.
Online shops don't have shop attendants who can attempt to close sales with a customer before they leave. However, abandoned cart automation is a concept online shops can implement and maximize a customer's intention to purchase a particular product. What is abandoned cart email, how can an online store implement abandoned cart recovery mechanisms, and what are the best strategies to retarget shoppers?
The problems retailers face because of abandoned shopping carts.
People add items on a cart on all online buying and selling sites from goods stores to service stores like datingjet sites, it happens.Adding an item to a shopping cart symbolizes the intent of a customer to make a purchase.  However, sometimes it doesn't translate to a sale. A few reasons may attribute to this, your customer may genuinely forget to make the purchase, perhaps they didn't have the required cash, or they opted to look for better options. There are a few statistics that prove how abandoned shopping carts negatively affect retailers.
Research proves that the global rate of cart abandonment averages at 75.6%.
People who shop using their mobile devices account for the biggest share of abandoned carts. They account for 85%.
Slow websites contribute to 75% of abandoned carts.
Ecommerce businesses stand to lose $18 billion annually in terms of revenue.
About 67% of abandoned carts can reduce the conversion rate of a brand by 97%.
Abandoned shopping carts leave retailers financially crippled. If the statistics are anything to go by, abandoned cart emails can change this narrative and help retailers recapture shoppers. Shoppers open 45% of the abandoned cart emails sent to them. Another 21% click on these emails. According to research, half of those who click on these emails end up making a purchase. Essentially, abandoned cart emails can help you regain the customers you had lost due to various reasons.
Definition of abandoned email cart.
Abandoned shopping cart emails are a series of emails sent to shoppers when they add items to shopping carts and fail to make a purchase. In most instances, the shopper leaves the e-commerce website without checking out.
Shoppers leave the website without making a purchase for various reasons even though they had expressed interest in that product. Abandoned cart emails remind shoppers about the interest they had shown towards particular items. Abandoned shopping cart emails are mostly automated. They get sent to shoppers when particular parameters get triggered. Setting these parameters will require studying the behavior of the customers. Track the time the shopper starts the checkout process and also track the time when the shopper doesn't complete the order.
Send your automated abandoned cart email when a shopper checks-out and fail to make a purchase. For this strategy to be effective, you need to set a limit on the number of emails that will get sent to shoppers, otherwise, you might end up spamming their emails. Experts recommend sending 2-3 reminder emails. Two factors you should consider when setting up your automated emails is: open rate and click rate. The initial email enjoys a high open-rate of 10%. Also, the subsequent emails, second, third, and fourth, enjoy a high open-rate. After that, open rates significantly drop. Click rate also operates the same way as open-rate. The first sent email enjoys a 12% click rate. The second, third, and fourth emails also have encouraging click rates. One email may not be quite enough to capture the attention of your shoppers. At the same time, sending more than four emails may not achieve the intended results.
Another important thing about automated emails is the subject line. A subject line catches the attention of the shopper. With an interesting subject line, your open rate increases. A subject line such as "you forgot something behind" has an open rate of almost 48%. A subject line that focuses primarily on discounts easily captures the attention of shoppers. Subject lines with a dollar sign or containing the phrase "free shipping" have an open rate of 38%. 38% is below the average rate however, such subject lines increase your open rates. The best strategy is when your subject line relates to the abandoned cart. "Seems you forgot something", "your shopping cart is about to expire", "you have something in your cart" are some of the subject lines that you can use in your automated email.
Sending automated emails is one thing. On the other hand, you need these shoppers to complete their purchases. How will you go about that? How will you motivate your shoppers to complete their checkout? How long will before you start following up with shoppers with abandoned carts?
Having an integrated form to collect shoppers' email contact is significant in creating automated emails. It will get easy to follow up with shoppers who have abandoned their carts.
Practices and strategies to retarget shoppers with abandoned carts.
Losing shoppers who had shown interest in particular items is something that worries any retailer. However, there are strategies and techniques that one can implement to bring back shoppers who had checked-out without buying the items. Understanding why shoppers leave their carts will inform you of the best strategies that you can use to win these shoppers back. According to research, the top three reasons for abandoned carts are;
Extra costs such as taxes, delivery/shipping fees.
The website prompts shoppers to create an account before making a purchase.
Complex checkout process.
A good number of shoppers abandon their carts because they weren't ready to purchase, they were simply "window shopping". There are email marketing that one can use to address these concerns and ensure that a good number of shoppers who checkout end up making a purchase.
Offer the customer a discount.
Offering a discount to shoppers with abandoned carts is a method of luring them back to your website. Perhaps the product price doesn't fall within their budget at that moment. Offering a discount of a certain percentage might entice the shopper to complete the checkout process. This strategy also offers you an avenue to incorporate other abandoned cart email best practices. On top of including the item in the email, also include the link to the product page. In the email, you can also include products related to the item in the shopper's cart. It's a way of increasing the options of the shoppers.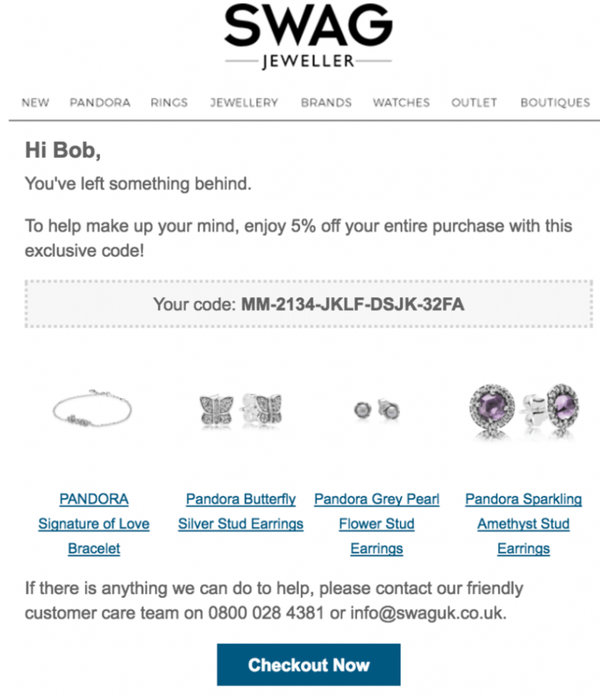 Free delivery of items.
The cost of shipping or delivery is one of the top reasons why shoppers abandon their carts. Customers who abandon their items because of this reason can easily get recaptured. Offering free shipping is the best way to regain such shoppers. When you combine this strategy with creating urgency it becomes efficient and effective to retarget shoppers. By indicating a statement like, "the sale of this item is limited" you create urgency within the shopper. The shopper will take advantage of the free shipping offer and purchase the item they have in their cart.
Sending reminders to shoppers.
When shoppers add items to their carts, sometimes, for various reasons, they are not ready to buy those items. However, if you follow up with them, you can change their minds. Sending reminders to shoppers reignites the interest and it entices them to make a purchase. The best practice is to feature the product the shopper had added to their cart. Attach an image of the product. If they were several items, attach their images separately. Remember to use an attention-capturing subject line in your email. Lastly, have a call-to-action that leads them directly to the product.
Making one item the center of attention.
A good number of shoppers on e-commerce platforms are digital window shoppers. They will add products they like to the cart. These are products that are appealing to them, and they will likely purchase them in the near future. Some shoppers will add as many as 10 or 15 items to the cart. It's not safe to assume that they will purchase all these items. Having abandoned cart emails that remind that shopper about the 10, or so items in their carts defeat the purpose of email marketing strategy. In such a situation, you can turn your abandoned email strategy into your sales and marketing person. From the item list in the cart, select the product that is best-selling or has the highest rate, and focus your attention there. Inform the shoppers about the unique benefits of this product. Adding reviews from previous buyers of that particular product will increase interest in the shopper. It adds more objectivity to your marketing strategy, and it gives the shopper a deeper understanding of the product.
Showing related items.
When a shopper adds an item to a cart, it's not a guarantee that they are fully convinced that's the best choice there is. There are other related items on your site that a particular shopper might find interesting. It's an opportunity for you to showcase the other products that a shopper can explore. The best practice is recommending products related to the items in the cart. You can also promote the best-selling items. It's an opportunity for shoppers to explore items they didn't know exist on your platform.
Illustrate credibility through your emails.
There are a lot of cases of shoppers getting scammed through online shopping sites. For online shopping platforms, especially new shops, getting shoppers to trust your brand is a crucial thing. Having social proof is the best method to use to convert skeptical shoppers. Shoppers who haven't brought from your shop before will look for proof of credibility before they purchase. Showing product reviews and ratings is a good practice that makes shoppers have faith in your platform. Statistics say that almost 90% of shoppers say that review and ratings influence their purchase habits. You can use this social proof in your abandoned shopping cart emails. There are two ways you can effectively do this;
Remind your shoppers they forgot a highly-rated item in their cart. The subject line of your email needs to be catchy. You can write something like "you have a 5-star rated item in your cart". It will be a way of increasing your open rates.
A good number of abandoned cart emails include the items a shopper has left behind. Instead of sending these emails with the product name, features, price, and image, you can add something more. When you add the rating and number of reviews, your item becomes more enthralling. When a shopper sees "Rating 4.5/5 (50 reviews) in the email, they will get convinced to continue with the purchase.
Have a loyalty program.
Sometimes online platforms may get reluctant to offer free shipping or discounts to shoppers. There's still another way to retarget shoppers when they abandon their shopping carts. You can encourage shoppers to redeem their loyalty points to make a purchase. While many abandoned cart email strategies focus on first time buyers, redeeming loyalty points is a great way of retaining your already existing customers. You can send an email reminding the shoppers they can use the points that they have accumulated to complete their purchase. Also, include the number of points they have already. Include a "go to cart" link that will directly take them to the product.
Conclusion
In some instances, shoppers add items to their carts with no intention whatsoever to make a purchase. Others add to their carts waiting for better alternatives, while others the product price doesn't fit their budget. Others get distracted and forget about the purchase. However, if there's a way to follow-up with these shoppers, why wouldn't you do so? Abandoned cart email strategies help you retarget potential customers, and if they get converted, that's an increase in your revenue. Automated emails make everything simpler for you. It gives you a chance to focus on your other strategies that can improve your business. Implementing abandoned cart email strategies is a gradual process that involves many small steps. Picking one of the above strategies and implementing it with commitment and dedication, can bring a difference in your business.
Author's Bio
Since her teen years, Bethany Watson was always interested in writing and marketing, so she decided to merge these two passions by choosing the career of a journalist who mostly writes about trends in digital marketing and lifestyle advice. She regularly contributes to the major media publications in the niche and serves as an editor for datingjet.com.