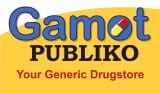 The demand for affordable and quality medicines along with the government's efforts of lowering its prices paved the way for aspiring entrepreneurs to venture into selling generic medicines.
Generic medicines are always less expensive, it cost about thirty percent to eighty percent lower than the branded medicines. Quality and efficacy of generic medicines now are guaranteed by BFAD. Thus, it means more choices and great savings for consumers. This is indeed a big help for those taking several medicines on a daily basis.

Such demand for generic medicines opened a great business opportunity for those who want to start a business of their own. Putting up a drugstore requires a minimal space, low initial investment and standard government licenses and permits, it is easy to operate and has a big profit potential. As opposed to other types of business (ex. food carts, clothing) generic drugstores are not as many, there is still room for new players to meet the demand of consumers. Aside from profit, this type of business will also give you a different level of satisfaction knowing that you are promoting health and wellness in the community you are a part of.
For those who are interested to put up a generic drugstore business, Gamot Publiko Your Generic Drugstore is now being offered for franchise. Founded last April 2009, there are 18 outlets located all over Metro Manila, Cebu and Masbate. More outlets are scheduled to open this year.
Franchising Gamot Publiko will ensure you that start-up, stocks and operations are ready and in place. Franchise fee will include the right to use trademark name and logo, site evaluation assistance, store planning and design, training, opening assistance and ongoing guidance and support.
Initial investment can be as low as 550,000 pesos, including the Php 150,000 franchise fee and other considerations such as construction, leasehold improvement, fixtures and initial working capital, which may vary depending on outlet size and location. The outlet should be visible from main roads or thoroughfares, near residential or commercial areas, and with high foot traffic. Floor area should be a minimum of 15 square meters. All store designs and construction will come from Gamot Publiko. The initial term of the Franchise is 3 years, with subsequent renewals of 3 years and another 3 years, for a total of 9 years.
If interested in applying for Gamot Publiko franchise, just send the following.
1. Letter of Intent
2. Filled out application form
3. Proposed location (with sketch of vicinity map)
4. Resume with colored ID photo
For more information, about Gamot Publiko Your Generic Drugstore please visit www.gamotpubliko.com or call 723-2443.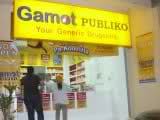 Gamot Publiko
Unit 202 STK Building
681 Aurora Blvd., Quezon City
Tel. (632) 723-8142
Telefax. (632) 723-2443
(updated)
Note: Pinoybisnes.com is not, in any way, related or affiliated to the business franchise listed in this post. The sole purpose of Pinoybisnes.com is to share information about franchising & business opportunities in the Philippines.
Do you like this Money Making Business Idea? then please consider subscribing to our RSS feed. You can also subscribe by email and have new articles sent directly to your inbox. (Once you entered your e-mail address, you need to login to your e-mail account and click the link to confirm your subscription).