For most people, the single largest investment they'll make in their lifetime is a home. Unfortunately, with the costs of homes ballooning all over the globe, buying one has no longer become a simple matter. It's imperative that the buyer make the right choice or a lot of money could be lost not only on the cost of the property, but also on other fees associated with the purchase.
Fortunately, educating one's self in the industry is much easier than what it were a few decades ago. In the past, buyers had to rely heavily on the information that their real estate agent provided. Today, information can be obtained over the Internet with a few strokes on the keyboard.
Real estate companies all over the world have websites that provide a lot of information about the industry. Such information include property listings, advice to buyers, excellent deals, and general news about the industry.
Since websites are often the sales front liners, real estate companies ensure that they are not only presentable and contain plenty of information, but also able to provide fun and hassle-free user experience. Whether you are looking for a townhouse or a condominium for sale, or just want to get some inspiration for your dream home, here are 15 real estate websites that are worth viewing.
RayWhite.com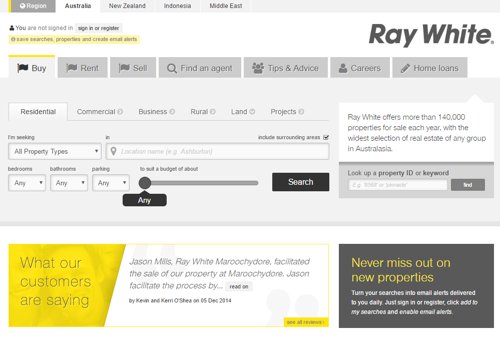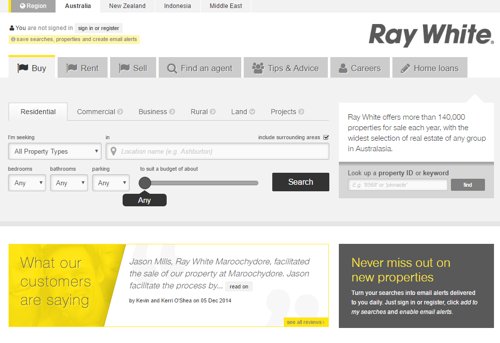 Ray White is one of the more popular real estate names in Australia. The family-owned and led company operates over a thousand offices in nine countries around the globe. It would seem that a company this large would have quite a bit of a problem presenting their products neatly on their website, but surprisingly, www.RayWhite.com provides all the information a buyer would need and more in a simple yet effective manner.
Zillow.com
Voted as the most popular real estate website for 2016 by eBizMBA, Zillow.com provides a simple way for real estate buyers to search for listed properties all over the United States. The site also provides all sorts of valuable information, such as an agent finder tool, home design ideas, and local mortgage lenders listing. Zillow.com attracts over 36 million unique visitors per month, thus ranking 207 on Alexa.

Realtor.com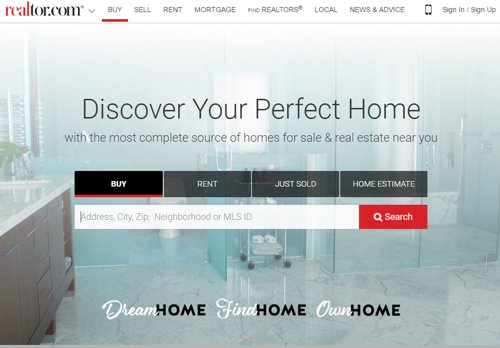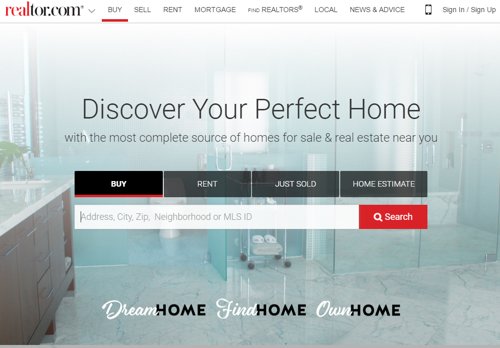 Realtor.com is another popular real estate website in the US.  The site offers information on thousands of properties in addition to priceless advice for homeowners and realtors alike. The site also boasts of a school search function that prospective home buyers can use to find properties near particular schools or universities in a certain location.

MichaelSaunders.com
Voted as the Best Overall Real Estate Website for 2015 by RealTrends.com, MichaelSaunders.com provides a refreshing way to browse through hundreds of listings all over Florida. Many of the properties are located along famous beaches, thus, creating a hassle-free search for visitors looking for beachfront houses on the site.

DMCIHomes.com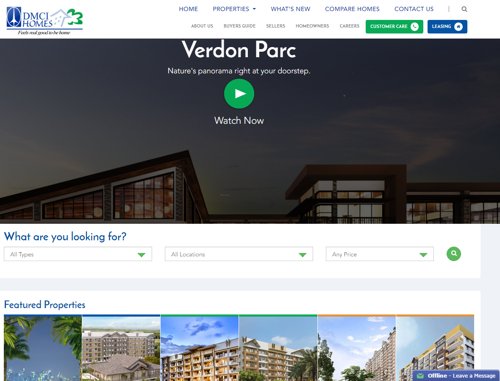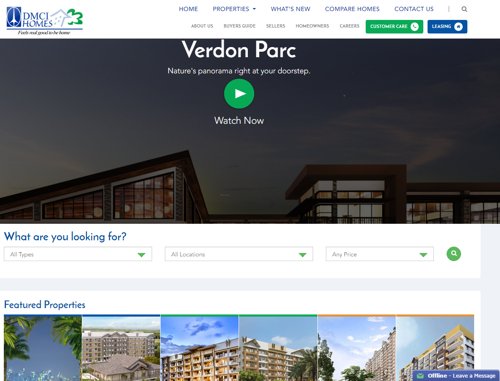 DMCI Homes, a real estate company based in the Philippines known for their upscale condo communities, operates www.dmcihomes.com. This well-managed website is designed to captivate the imagination and attention of its audience. The site presents all the necessary details about the company's properties on the market without bogging the reader with too much clutter. As such, interested customers can quickly find what they're looking for or peruse the entire line of property developments, and decide on particular models they would like more information for.
When they're ready, clicking a small chat button at the bottom of the page directs them to a real estate assistant that can answer their questions and schedule them for a consultation.
PropertyGuru.com
Known as one of the most trusted real estate websites in Asia, PropertyGuru.com garners over 3.5 million views per month despite of focusing mainly on properties in Singapore, one of the smallest countries in the world. PropertyGuru also provides a wealth of information on real estate activities not only in Singapore, but also around the world.
PropertyWire.com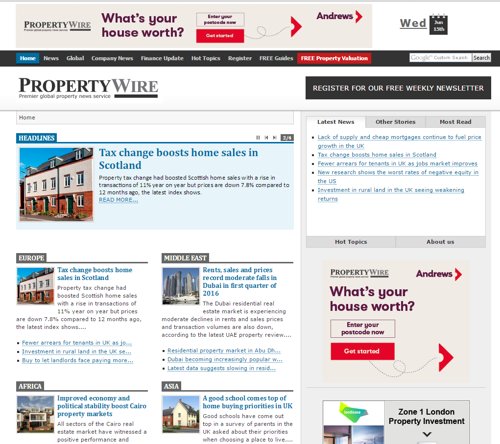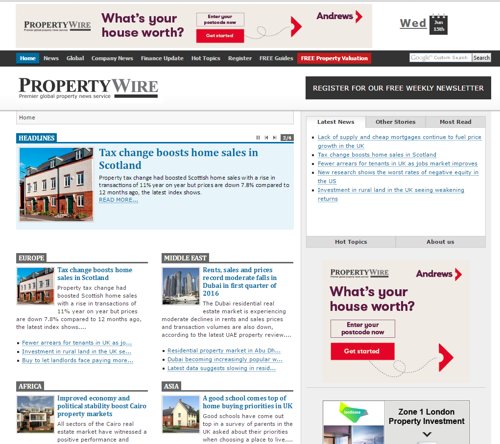 While majority of real estate websites focus on selling properties, there are also a select few that focus on providing valuable information for both homeowners and realtors. One of those sites is PropertyWire.com. With a collection of thousands of articles on the most current real estate topics all over the world, real estate investors or those who simply want a home of their own should definitely visit the site as often as they can. 

ImperioProperties.com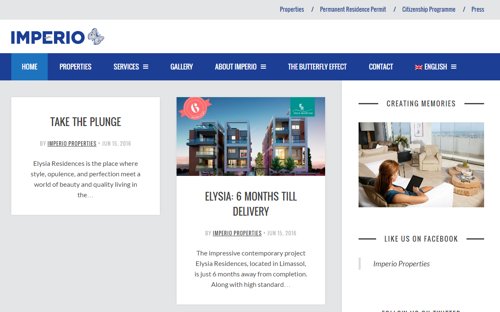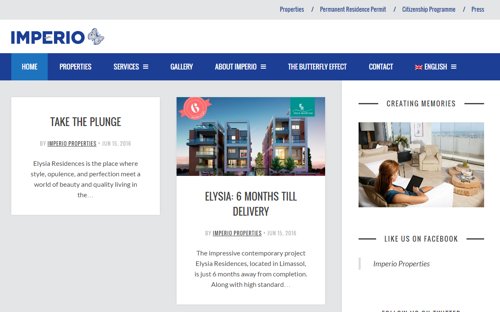 Many real estate websites present a wide range of properties or just about any available property within a certain area. However, there are also sites that focus on a specific range of properties, such as ImperioProperties.com of Cyprus. The site only features properties aimed at the upper-class buyer segment.
AFA-International.com
Prospective homeowners searching for properties in France can definitely enjoy browsing through AFA-International.com. The site not only presents plenty of information on available villas and luxury apartments but also on standard home purchasing practices in France and current French Riviera real estate news.
Hamptons-International.com
Although based in the United Kingdom, Hamptons-International.com provides information on properties around the world. The site not only caters to property buyers, but to sellers as well. With thousands of property listings, the site is surprisingly easy to navigate so finding the desired property promises to be a breeze.
SothebysRealty.com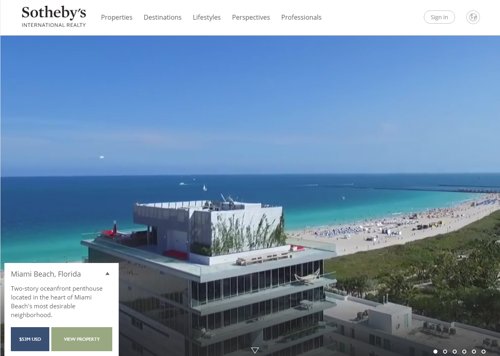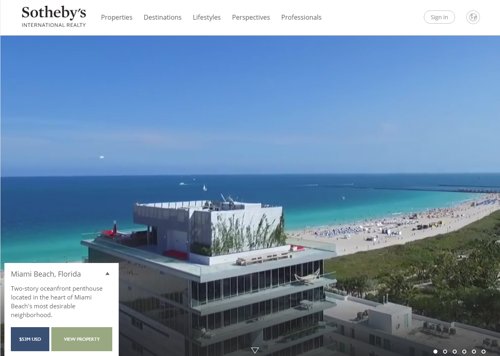 Sotheby's International Realty is one of the most prominent realty companies when it comes to selling luxury properties all over the world. Their website, SothebysRealty.com magnificently represents the company's desire to remain at the top of the industry. The site opens with a short video of some of their most interesting properties, thus directly communicating to any possible buyer the company's willingness to provide exactly what their customers need.
PrivateIslandsOnline.com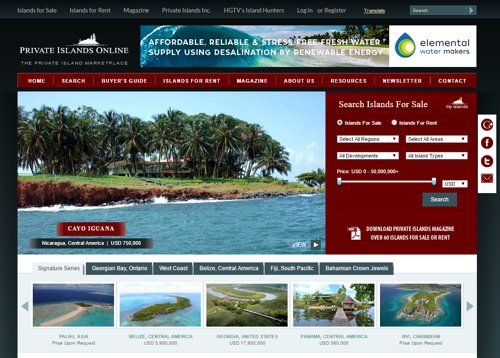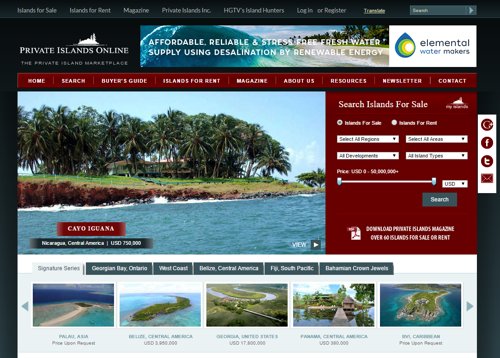 PrivateIslandsOnline.com is a website dedicated to the sales or rentals of private islands all over the globe. From exotic locations such as Palau, the Philippines, and the Caribbean, to islands in the United States, Canada, or Central America, the website has one of the largest listings of islands. The website also provides a buyer's guide on how to purchase an island and a magazine showcasing some of the best islands on the market today.
Yasin-Valimulla.com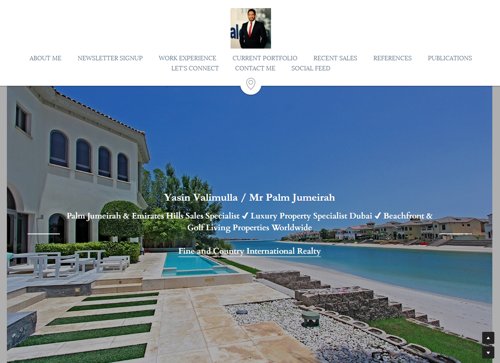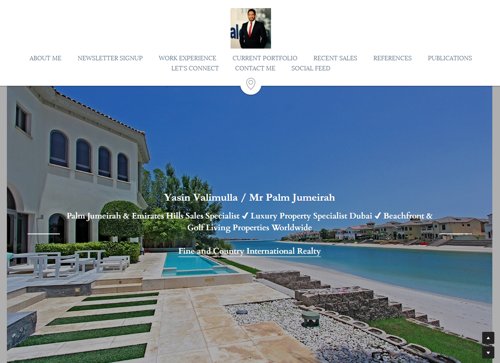 Yasin-Valimulla.com is the primary real estate broker for the Palm Jumeira properties in Dubai. However, they also market other high-end properties all over the world. The website contains a wealth of information on properties at the Palm Jumeira and other locations in the Middle East.
Aldar.com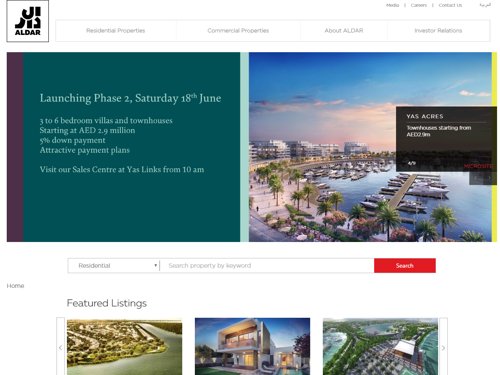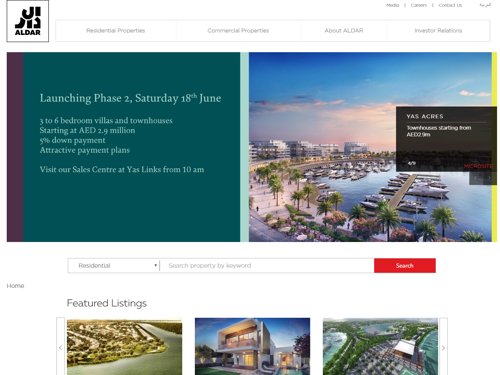 When it comes to high-end real estate properties in the Middle East, the United Arab Emirates certainly offers some of the most valuable locations today. Aldar.com lists a wide range of properties in Abu Dhabi including those on Yas Island, Al Raha Beach, Al Reem Island, and the Gate Towers in Shams.
Joycerey.com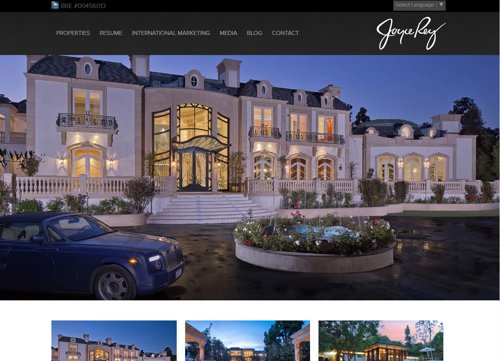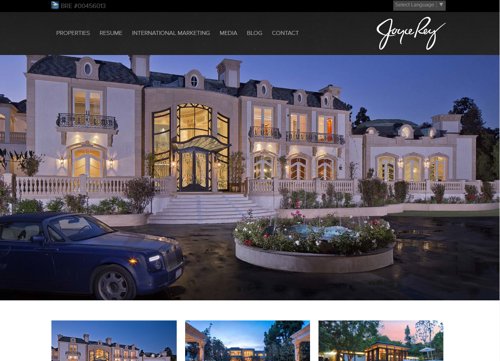 JoyceRey.com lists some of the most prominent properties in Beverly Hills, Los Angeles, Bel-Air, and other locations in California. The properties are some of the finest in the area and the company prides in being one of the most influential in the real estate industry.
Author Bio:


Jason is a manager of a family enterprise, property consultant and a writer. He has a niche blog for property leasing and real estate investment. He has been writing articles advising readers how to secure and invest in homes and business and also has varied background in real estate brokerage.