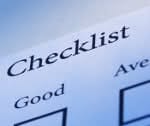 Starting a new business is an exciting venture to take. It's common that new businesses face many problems, from planning and licensing to funding, marketing and operating a business. Regardless of where you are in the process, this checklist can help you. Although starting a new business may seem simple at first, the reality of starting any business can be hard but not impossible.
The checklist below provides the basic steps you should follow in starting a new business. This list should not be construed as all-inclusive. Other steps may be appropriate for your specific type of business.
It contains a general, high-level listing of the tasks you need to complete in starting your new business. So, for example, while it lists "prepare a business plan" as one of the tasks, it does not list every step you need to take to create a business plan.
Included are the following:
* a listing of all the background steps you need to take, including establishing business goals, determining the best location for your business, and assessing your financial situation
* a listing of all the business transactions you need to take, such as registering your business, establishing a line of credit, and getting business licenses
* a listing of all the pre-opening steps you need to take, including reviewing building codes, joining professional business organizations, setting opening date
Checklist for Starting a New Business
Background work
* assess your strengths and weaknesses
* establish business and personal goals
* assess your financial resources
* identify the financial risks
* determine the start-up costs
* decide on your business location
* do market research
* identify your customers
* identify your competitors
* develop a marketing plan
Business transactions
* choose a form of organization (proprietorship, partnership, or corporation, for example)
* create your business (register your name, incorporate the business, etc.)
* obtain a business license or permit
* get a tax identification number
* get a social security system certificate
* get a PHILHEALTH
* register to department of labor and employment
* register to other government agencies appropriate for your specific type of business
* prepare a business plan
* set up a business checking account
* select an accountant
* apply for business loans (if applicable)
* establish a line of credit
* obtain business insurance
First steps
* Make a logo for your business
* build a website or blog
* get business cards
* review local business codes
* obtain a lease
* line up suppliers (if applicable)
* get furniture and equipment
* join a professional business organization
* set a starting date
Anything that you want to add?
sources: wbsonline.com, toolkit.com