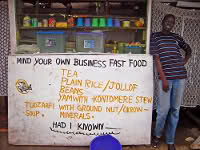 Choosing A Name For Your New Business
by: Alana Keane
Congratulations! After years of dreaming about being your own boss and signing your own paycheck, you've finally decided to take the plunge and start your own business. In this day and age, who can blame you?
It's a safe bet you're feeling pretty excited about all the new opportunities that lie ahead and you probably have a wealth of ideas to put to use. That's good, too, because you'll soon be facing a seemingly never-ending list of things that need to get done. All of them are important, of course, but there's one task in particular that you should put at the top of your list: a name.
What's in a Name?
Believe it or not, but your business name is one of the most important decisions you'll make in these first few months. What you ultimately decide to call your new business is going to affect the way your customers perceive you — whether you're fun-n-funky or Seriously Serious. It's important to choose a name that conveys the "feel" of your product or service and the "texture," if you will, of your brand identity.
If you already have a name in mind, that's great. If you don't, though, don't worry; it may actually save you some time. Think about it: your business is going to need a website. That website will need a domain name. And, ideally, that domain name should be the same as your business name.
Let's say, for example, you've decided to call your new business "Super Deluxe Widget Store." You get business cards printed up, you pay for a listing in the yellow pages and then you get to work on your website. But when you go through the domain registration process, you find out that superdeluxewidgetstore-dot-com has already been taken.
I don't need to tell you how that's going to feel.
Avoid an Identity Crisis
So how can you avoid such a disaster? Easy: when you're deciding on a name for your business, confirm its availability as a domain name first. You might discover that your first choice is available, which is great, but it's more likely that your initial choices have already been claimed. It can be a little depressing, especially when you're just starting out. But it's not the end of the world.
To overcome the frustration, grab a pen and a sheet of paper and start writing down every single possible name you can think of for your business. You'll be tempted to leave the "bad" ideas off your list, but write those down as well. So-called "bad" ideas often have a way of triggering a break-through. Just keep writing until you have at least 25 or so possible names. And, yes, variations count. "Super Duper Books" and "Super Duper Book Store" are two distinct ideas.
Now, when you have that done, take a break. Put your list somewhere out of sight for a day or two. Focus your mind on other endeavors and when your list has had time to simmer, go back and re-read it. Highlight or underline the names you like. Jot down any other ideas that come to you. Have fun with it!
Then, when you're ready, visit your favorite domain registration service and start testing your list of business names. If one you like is available, get it registered. If you don't, you could come back a day or two later only to find that competitor has nabbed it.
On the other hand, if you're not thrilled with any of the names that are available, don't settle. This is your business, after all. Just go back to step one and start over. Make a new list. Choose some new names. Try a new search. Repeat as necessary.
Call in the Reserves
It can be a lot of work. It's worth it, but if it sounds like too much to deal with or you just can't seem to come up with any names that really strike your fancy, consider hiring a professional copywriter to help you out. That's what copywriters are for, after all: to put the right words together.
No matter how it gets done, though, whether by way of sheer will or professional copy writing help, make sure you give top priority to choosing a business name that you can register as a domain. In the long run, you'll be glad you did. A clear, consistent business identity builds credibility and significantly enhances your market impact. And, besides, would a business of any other name operate the same?
© Copyright Alana Keane. All rights reserved worldwide.
Regularly published on a national basis, Alana Keane is a professional copywriter with over a decade of experience. Please visit Darn Good Copywriting to learn more.
Source: Choosing A Name For Your New Business
Photo: Flickr
Do you like this Money Making Business Idea? content"> then please consider subscribing to our RSS feed. You can also subscribe by email and have new articles sent directly to your inbox. (Once you entered your e-mail address, you need to login to your e-mail account and click the link to confirm your subscription).