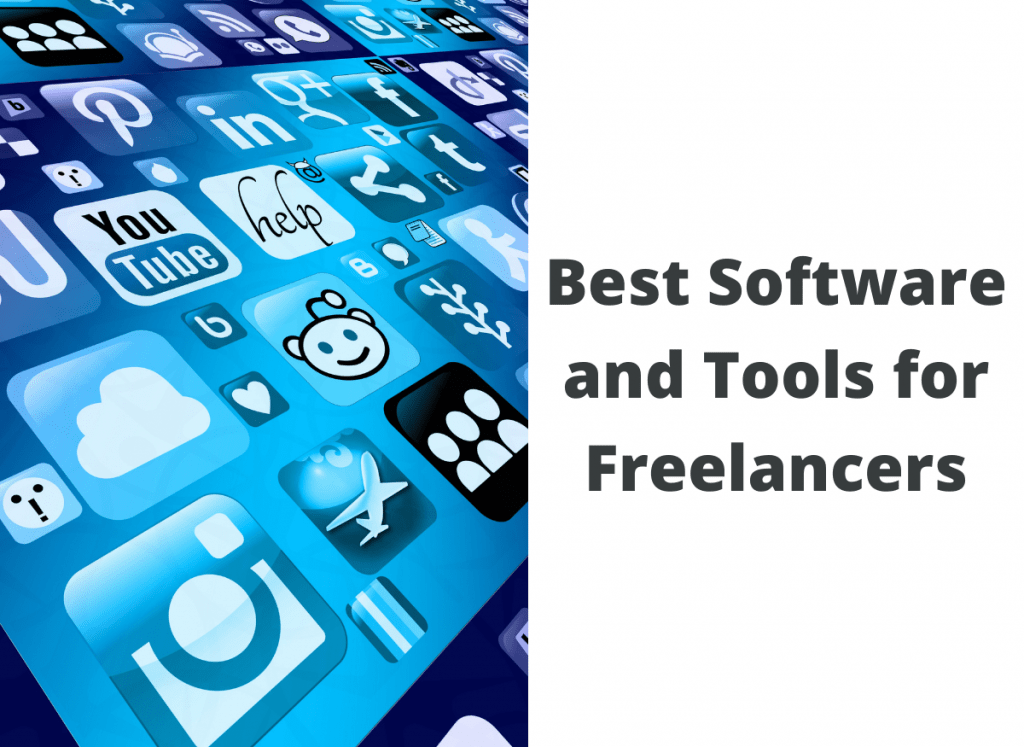 Working under self sounds amazing, but in the long run, it may not be that easy. You have to set up your own goals and look after them, i.e., be your effective lead. While freelancers enjoy the freedom and build plans to escape work pressure in their way, they need some backup and assistance from freelancer tools.
The help sought from an established office with many departments is somehow summarized in software and productivity tools designed for freelancers to benefit from them. These applications help you stand still and make your daily freelance work trouble-free, and the productivity tools speed up the work to meet required deadlines.
Why Do Freelancers Require Tools and Software?
Freelancers are self-guided and play many roles that are present in a company. They are the employees, employers, managers and are not bound to any organization for a long period. They need to manage time and need help from time tracking software.
Freelancers often have a lot going on inside their minds as they need the zeal and flexibility to play many roles diligently. They lack peace of mind as the time spent by a freelancer doing many jobs is equivalent to time spent by others doing only one.
To aid freelancers with various workloads, they come across problems like managing time, finances, being workless, and having a hard time enduring freelancing business. For helping freelancers plan and implement their daily work with management, it is a must for them to use the following tools and software.
Best Tools for Freelancers
Cloud Storage Tools
Every type of work needs a data and information warehouse. If not that complex, you need an app for note-taking. The database and hardware are replaced with Cloud storage. The cloud storages are great for storing, collecting, making changes, and recovering files with no doubt on security. Here are some tools for freelancers for storage purposes:
1. DropBox
Dropbox is free cloud software that offers users many features, like inviting others to join, expanding a team, opening it on multiple devices, and online syncing. For freelancers, Dropbox can act as a resource center for necessary documents. Some of the features are mentioned below:
Some Features of DropBox are
Accessible from all operating systems like Mac OS, Linux, or Windows and Android devices.
Storage and backup of files in the cloud are possible while using DropBox. When a freelancer uses this, there is no chance of misplacing files or losing important articles.
Users can sync to other devices. The files accessible from one device are available from another device.
File sharing with other members is possible. The large files are transferable through Dropbox. Available for desktop and on mobiles. The users can choose the one they prefer.
You can send priority emails from Dropbox. It is integrated with SSL/TLS encryption. It is compatible with other software like Slack and Canva, Google Teams.
2. Google Drive
Google Drive is among the top choices of users as it is easy and is available for free. It offers up to 15 GB of memory for free. Freelancers can easily save and retrieve files from Google Drive, and Google Drive works anywhere. Google Drive provides numerous options, and you can also use the Google Chrome extension to save the content of the web with screenshots.
Some Features Of Google Drive
Accessing files from anywhere is possible from Google Drive. Freelancers can travel around and yet reach out to the files from any location and access them from iOS and Android devices.
You can create documents, spreadsheets, draw and even make presentations, and share them with other team members who can contribute to the same sheet.
Google Drive allows you to share the email with up to 200 people, and they can be anyone. The Drive helps easily search for documents by typing the words or letters of the title or even date. This feature makes work easy for freelancers.
The Drag and drop feature allows users to drag and drop files or use the upload button.
Google Doc format is the readable format, and Drive converts the uploaded file in this format. Google sheets accompany Google docs, Google slides, Google form, and others.
Drive also supports other types of file formats, and freelancers can view any of them via Drive. One can access it via a Google account.
Time Tracking Tools
Time is the most valuable asset for a freelancer, and as freelancers, one must be careful of deadlines and time management. Freelancing is swift, and one can work from anywhere. While working from different places or away from the office environment, the worker can get distracted and forget to differentiate between personal and work life.
timeTracko
timeTracko is an application designed for tracking employees' time and what your employees are doing. You can get real-time reports and know about workers' productivity by analyzing daily, weekly, and monthly work hours. This tool is an easy-to-use and important tool for freelancers.
Some Features of timeTracko
You can detect how your employees are spending time working or how many hours they are active at work. You can give them feedback so that they give more outputs on time.
timeTracko lets you know what your employees are up to. It takes screenshots to keep you updated. You can figure out the progress of individual employees using this tool.
It classifies the URLs, Applications, software and provides an overall summary of actions and activities. From this, you can derive the quality of work and motivate those who are unmotivated to work.
Productivity Chart Generation
The chart makes it visually appealing and easy to analyze the overall productivity of employees and check where they spend most of their time.
Desktime
Desktime is a time tracking application that allows time tracking automatically. This application is useful to track time, and freelancers and offices can use it to track employees' time.
Some Features of Desktime
It provides the facility of automatic time tracking, and freelancers can track time even when offline.
Desktime tracks document titles, tasks screenshots and provide a project tracking time option.
This tool helps in cost calculation and integrates with a third party for derived conclusions.
Desktime also has a report generator that generates reports according to the time spent by the user.
Tools For Legal Work And Contract
Agreements and contracts are an essential part of any work we do. Freelancers should begin working only after agreeing with a client, and the formal document is necessary for future uses as proof of work. The documents ensure who is paying and who is getting paid.
1. Legal Zoom
Searching for a lawyer for business purposes is not always feasible while you need templates for certain legal work. Legal Zoom has templates for legal purposes, but with a minimum payment of seven dollars, and for attorney support, you have to pay more.
Some Features of Legal Zoom
For business, Legal Zoom provides support to LLC, Nonprofit organizations, sole proprietorships, and others. Freelancers can opt for a sole proprietorship.
It offers trademark registration, trademark search, patents, copyright registration, and others.
The legal forms and agreements include invoice templates, different legal forms, NDA, and others. For taxes and licenses, it has a Federal Tax ID, Business License, and many more.
2. Bonsai
Bonsai allows freelancers to easily create contracts and work on them. It has a fill-in-the-blanks feature that makes writing easier and less confusing for newbies. The bonsai app offers many options.
Some Features of Bosai
It has several templates: contract template, proposal template, invoice template, agreement template, quote, brief, and scope of work templates.
Freelancers can write proposals, report expenses, and track time with the Bonsai app. The time tracking feature is very beneficial for freelancers. Accounting and issues related to taxes are easy to deal with using Bonsai.
Design Tools
For standing up as a freelancer, one needs to have quite a lot of skills. If not, they are compelled to learn one or two as some skills are a must. One such skill is User Interface design for a better user experience. For designing, it is made easier by some design tools that have in-built creative designs. Here are two designing tools:
1. Canva
Canva is one of the most famous and widely used online tools. Canva helps in creating professional sketches and drawings in design, leaving an artist's impression. This application is very useful for freelancers who do not wish to hire anyone else, especially UI/UX designs.
Some Features of Canva
The application is used for content creation for social media posts and infographics right from the beginning.
Templates present in Canva are five thousand in number. With those templates, you can edit, re-edit, and make changes as per your wish. There is the addition of new templates too.
If you are a freelancer in photography, you can edit photographs by basic cropping and adjusting size, blurring pictures, making collages of different pictures.
Canva is equipped with a library of stock images, free fonts. If you click pictures, then you can upload and update your photo for creation.
2. Adobe Creative Cloud
Adobe creative cloud is a subscription oriented service that consists of tools for designing. It consists of tools for separate purposes like graphic designing, UI creation, video editing, animation, etc.
Some Features of Adobe Creative Cloud
Photoshop is one of the features available inside Adobe Creative Cloud to make beautiful pictures, patterns, and art. The acrobat pro-DC provides a package for working with PDF from mobile or pc, or web.
Under graphic designing, it includes Spark, Dimension, Capture, and many more tools. For photography, it offers tools like Photo Fix, Lightroom, Bridge, and others.
Video editing and motion are possible using Premier Pro, character animator, After Effects, and others. For accessing 3D and VR, it has XD, Animate, Dreamweaver, and others.
The illustration is possible by Fresco, capture, photoshop, and others. Social media adjustments include Premier Rush and Spark. Adobe creative cloud users have the benefit of accessing royalty-free benefits with Adobe stock.
Finance Tools
As freelancers, we are responsible for our spending and require someone to read our in-depth expenditure. They need planning, and balancing of expenditures, and taking care of spending via credit card. While they work remotely, trusted finance tools are a must. Handling delicate stuff like budgets and expenditures needs standards and proper resources.
1. PayPal
Freelancing is international and may involve people from different nationalities receiving payments in different currencies. Paypal is a medium for people to pay and get paid, and it is trustworthy and involves 200 nations supporting 25 currencies with exchange rates. This payment processing application makes the life of freelancers easy.
Some Features of PayPal are
It accepts online payment, and freelancers working on mediums like Upwork and freelancer.com can receive payments via PayPal. The task givers can pay using the same medium of cash transfer virtually.
The express checkout feature directs users to a secure site to input confidential data while making payments.
Paypal allows users to create a QR code for payment, and few stores like eBay, Expedia accept PayPal barcodes.
Paypal PCI compliance means that it fulfills requirements for data protection while storing crucial currency data and processing payments. Freelancers can link their card readers to PayPal.
2. Mint
Mint is an application designed for connecting and keeping a check on your financial activities. It falls under the parent company Intuit. Mint app lets you know the present situation of your budget and how it was before. There are other budget management applications available for freelancers too. It has features that are a perfect match for freelancers.
Some Features of Mint App
Freelancers can link all of the budgeting accounts at the mint and analyze accordingly.
Mint has a bill payment tracker that helps users track the expenditure freelancers make.
It sends notifications as a reminder of how much to spend. The credit score helps freelancers to save up for loans, credit cards, and also insurance.
The app alerts us if we overspend or spend suspiciously. It provides multi-factor authentication, and with security scanning, users can feel safe using mint.
Tools For Project Management
Companies endure loss due to improper project management or flaws in management. In the case of freelancers, project management software is important for the overall performance and results of the project. Here are a few project management tools handy for freelancers:
1. Asana
Asana is integrated with features that cover almost all needs in overall project management. A freelancer can get overwhelmed with the options available in this software, and it is best when utilized in a group.
Some Features of Asana
Asana has the feature of timeline building in which Gantt charts are created, and it has a board on which you can track your tasks.
Freelancers will not need a separate calendar app as Asana consists of calendars that will hold records of events.
It allows a reporting feature on which a newbie can report and look at the progress of work.
While you set strategic goals for the day, you can trace the progress in the Asana app under the Goals feature. The forms feature enables users to collaborate, submit and manage requests.
2. Basecamp
It is best used to manage many people for multiple tasks, exactly what a freelancer is up to. Freelancers need to be aware of simple invoices and require something for document management. A social media marketer can make good use of this tool.
Some Features of Basecamp
Basecamp app has a functioning message board on which users can post messages and look at the things posted. Basecamp provides a feature of group chatting, where all members can interact and discuss openly.
The schedule feature allows scheduling of events making the virtual office more systematic and productive. It also allows documents and files storage, which is a necessary part of freelancing or working remotely.
Conclusion
Freelancers require websites of their own for freelancing business. They can use the wp engine for website creation. Some tools allow users to video chat and make calls. Formal video calling is possible via common social media applications too. A successful freelancer does not hesitate to ask or learn.