Digital transformation can refer to anything from IT modernization (for example, cloud computing), to digital optimization, to the invention of new digital business models. Because digital transformation will look different for every company, it can be hard to pinpoint a definition that applies to all. However, in general terms, Digital transformation is a broad business strategy, to solve traditional business challenges and create new opportunities through the use of technology. Digitalization is imperative for all businesses, from the small to the enterprise.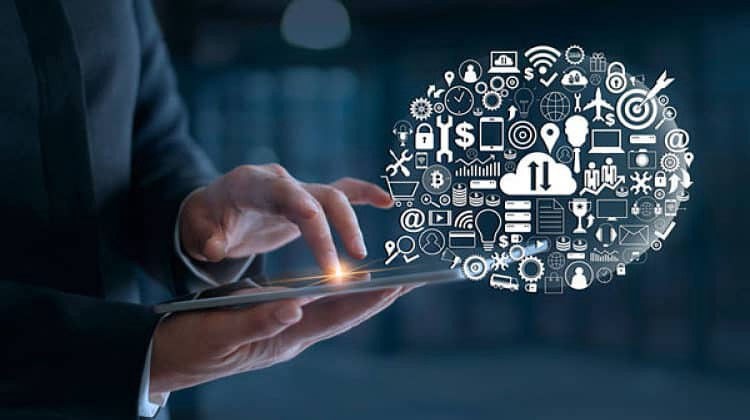 IT infrastructure services to help with digital initiatives that drive innovation, increase efficiencies, and improve customer engagement. The benefit of getting an efficient IT infrastructure support service in business processes is huge—starting from business expenses minimization to process improvement by having a competitive and flexible working environment. Here are some of the instances of how IT infrastructure can help businesses to perform better.
Cloud Migration
Businesses are widely adopting cloud migration to move their digital business operations into the cloud i.e., shifting the on-premise or legacy infrastructure to the cloud. When we talk about the digital transformation in the longer term, cloud computing is increasingly appearing to be a major contributor to the ever-changing business landscape. Enterprises across all verticals have their eyes on the digital revolution since it makes a huge impact, and cloud migration is emerging as one of the most promising ways to go about it.
Cloud migration requires quite a lot of preparation and advance work but in the end, it's all worth the effort as it saves cost and brings flexibility to your business. For smooth cloud migration, a Cloud IT Consulting company plays an important role to provide cloud migration services, advisory and managed hosting services.
Mobility
Mobility is a crucial factor in the current situation. Customers want anytime, anywhere access to technology and software applications. This way the IT infrastructure companies help the organizations to establish remote working infrastructure in place. Considering the increase of mobility in enterprise digital transformation, companies are challenged to create new opportunities to continue to keep customers engaged. Enterprise mobility also makes the various workflows and operations within an organization more productive.
Bolstered network security:
The rapid adoption of digital technologies helps to implement new and disruptive business models and processes. However every change involves risks – and cyber-attacks, data loss, and breaches are amongst the bigger risk factors. As IT and business fast-tracked initiatives like agile and DevOps to improve speed to market, security considerations were often left in the dust. With security regaining priority in digital strategies, IT Infrastructure Management companies are dispersing security responsibility throughout the organization and working to transform the IT culture.
Betterment of networking:
Managed IT services are working intensively for a comprehensive solution designed to create and maintain data networks, including WAN/LAN/WLAN. The next step for an improvement in the networking efficiency is critical in consideration of the balance between the projected increase in network operation-related work and the required investment in operating costs.
Innovation:
Outdated legacy environments require constant attention and can drain valuable staff time on critical incidents and unplanned outages. Companies are focusing less on putting out fires and more on finding innovative ways to partner with business counterparts to provide tools that will support revenue growth. Most commonly found cases when employees are facing power outages or LAN down issues while working from home affecting the revenue of the Organization and losing the trust of the clients.
Conclusion:
The pace of technology innovation and evolution requires rapid refresh cycles to adopt the most up-to-date technology. A successful transformation requires a culture that embraces change and is motivated to test and learn new technologies. Every transformation is different. The right partner will help companies renovate their IT infrastructures, we focus on specific areas—each one designed to improve performance, market competitiveness, and technical quality with the goal of making the environment more flexible, responsive, and business-driven.