Goa is amongst the top tourist destinations in India and if you have visited this smallest Indian state, you would know why. There is so much to see in this state that you will run out of options. From fantastic beaches, forts, churches, Portuguese influence in architecture, delicious food to thrilling parties, Goa has everything for everybody.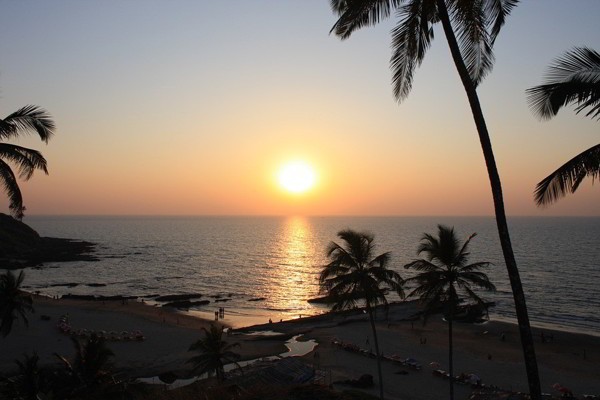 Every year, millions of international and national tourists visit this gorgeous state for a relaxing holiday. This is why many people look for Apartments In Goa For Sale. It is noteworthy that properties on the North Goan beach belt have a high rental yield. It is a lucrative location for people who are looking for extra income because one can obtain up to 15% additional income from these properties. The reasons why tourism is increasing in Goa are as follows.
#1 Relaxing Beaches
This state is lined with beaches. After every 10 minutes of travel, you will find a new beach with a new vibe. The beaches in the northern part of Goa, specifically Anjuna, Vagator, Baga, and Candolim, are loaded with shacks, restaurants, pubs, and exciting water activities. On the other hand, beaches in South Goa are silent, peaceful, and serene.
If you want to get away from the stressful city life and swim in the sea, read a book sitting by the seaside, and stay alone for the entire day, Palolem beach would be perfect. Moreover, you can be in the middle of nature here because this state has a lot of greenery, warm sunlight, breezy winds, and lots of water everywhere.
It is obvious that this state will offer exciting water sports. For more info on all kinds of water sports, you can visit Globo Surf. You will find a range of water sports from parasailing, snorkeling, scuba diving, banana boat riding, paragliding, kite surfing, etc. You can swim at almost all beaches. If your idea of a fulfilling vacation involves numerous beaches, water sports, and a lot of sand, Goa is a must-visit.
#2 Yoga and Meditation
The competitive lifestyle in the city may have drained you out completely. You may want to take a vacation in a place where you would find complete peace. Goa should be your choice because it is probably the most relaxing destination. The meditation and yoga centers in the state are run by professionals who have mastered the art of helping people unwind. There are even free yoga classes held in the morning by the beach. Listening to the calming sound of waves crashing against the seashore while meditating would put you in a state of trance and help you forget all your worries. By the time your vacation in Goa ends, your exhausted batteries would charge.
#3 Party Month December
Goa was ruled by Portugal until 1961 and this is why it has a high number of beautiful churches. Many Christians in India are settled here and almost everyone celebrates Christmas with joy. During the Christmas season, this state is stocked with tourists and the entire December is a party season. The Catholic community in Goa comes together during Christmas and celebrate it with lots of alcohol, merriment, delicious food, sparkling decorations, and melodious Christmas carols.
People generally come to Goa in December to escape from chilly winters and stay until January. However, many companies are now picking this state for their yearly corporate conferences. Also, because the prices of flights, stay, and all the other activities in Goa are lower during the summer, it is now open throughout the year. So, not just December but every month is a party month in Goa.
#4 Boozy Cocktails and Appetizing Seafood
Whether you are a beer lover or have a palate for expensive international alcohol, you will find all kinds of alcohol throughout the state at cheap prices. Every place in Goa serves a full range of alcohol at reasonable prices. Moreover, most of the beaches are lined up with shacks serving chilled beer and mouthwatering food throughout the year. If you love drinking alcohol, almost all the shacks on the beaches would serve you plenty of alcohol.
Also, Goa provides a lot of fresh seafood, vegetarian food, and cuisines from all over the world. Due to so much tourism, food of all kinds is available in Goa and you will find that almost all the dishes taste immensely delicious. Even the local cuisine here is a must-try.
#5 Groovy Parties
Goa is renowned for its party spirit. You may want to attend the headphones party or the trippy party that is held at beaches during the night. You may even want to dance endlessly in the clubs and pubs with your friends. Every pub and club here play peppy music that would force you to dance and show off your moves.
The above-mentioned reasons make Goa a perfect tourist destination offering a plethora of experiences. Whether you want to relax by the beaches or party all night, Goa has it all.