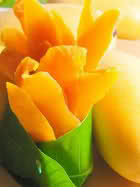 Dehydrated or dried mango is made from the pulp of ripe carabao mangoes dried through the principle of osmosis followed by drying with the use of a cabinet electric dryer. The finished product is golden yellow with a semi-translucent, plump appearance with a chewable texture that is neither crisp nor leathery, and a flavor characteristic of sweetened mango.
Dried mangoes can be eaten as is, as snacks or dessert, or used as ingredient for ice cream mixes and toppings.
In the preparation of dehydrated mangoes, several factors like choice of the ripe fruit, drying equipment and operating conditions must be considered, and hygienic practices must be observed throughout the procedure because these can significantly affect the quality, physical properties, and shelf life of the finished product.
What follows are the procedures needed in making dried mango.
Ingredients
* 10 kilos fresh & firm ripe carabao mangoes
* 1 ½ kilograms sugar
* Water
* Sodium erythorbate
* Confectioner's sugar
Procedures
1. Weigh and wash fruits thoroughly.
2. Peel mangoes using stainless steel knife or peeler.
3. Slice pulp diagonally at a thickness of about 5/16 of an inch.
4. Prepare 25% syrup by mixing sugar, water and pure sodium erythorbate at 0.01% of the mixture.
5. Heat the syrup up to 60 degrees Celsius, then add mango slices and continue heating for 3 minutes.
6. Soak mango slices in syrup for 16 to 18 hours.
7. Drain syrup and wash mango slices once with tap water and drain.
8. "Sweat" the mango slices on clean cheesecloth.
9. Dry mango slices at 60ºC until moisture content is 15%. Coat mango slices with confectioner's sugar.
10. Pack in polyethylene bags and seal.
Source: MS Rebecca C. Tubongbanua, OPA FITS Guimaras, wesvarrdec
Photo: cebu-food.com
Do you like this business ideas for entrepreneurs? then please consider subscribing to our PINOY BISNES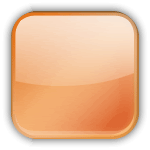 RSS feed. You can also subscribe by email and have new articles sent directly to your inbox. (Once you entered your e-mail address, you need to login to your e-mail account and click the link to confirm your subscription).