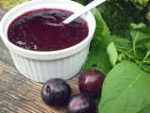 In Vietnam, ethnic minorities in the northern mountainous areas grow plum using the variety Prunus trifolium. The methodology of plum jam processing at the household level was developed to help farmers produce good quality plum jam that could be used for the whole year or can be sold in the market for additional income.
Steps in Making Plum Jam
Selection and Cleaning
Select soft ripened plum fruit, eliminating the diseased and rotten ones. Clean and dry thoroughly.
Ingredients:
– 5 kg plum
– 4 kg of sugar
Procedure:
– Pour plum into boiling pot for 15-20 minutes, then transfer boiled plum into a basket.
– Put the basket full of plum on top of the pot. Carefully crush the plum so that the meat could be filtered onto the bottom of the pot.
– Mix sugar with plum meat, boiling under low fire and stirring until the mixture is lucid. Good quality plum jam must taste sweet and smell good, while poor quality plum jam does not dissolve when dropped into water.
Packing of Plum Jam
– Pour plum jam into heatproof bottle with lid. Use spoon to fill up bottle with plum jam (leave 1 cm from top of bottle), then cover. Boil bottle with lid for 15 minutes.
Storing of Plum Jam
– Put the plum jam bottles inside a pot with leaves or rice husk at the bottom. Store in a dry and well ventilated place. Expiration is 6 months to 1 year; plum jam must be consumed within 5-7 days after opening the bottle's lid.
National Agriculture Extension Center
2 Ngoc Ha – Ba Dinh – Hanoi – Vietnam
Tel: (84 4) 8233485
Fax: (84 4) 7342554
E-mail: tthl_knqg@yahoo.com, 2004-08-01
Source: agnet.org Photo: veganfeastkitchen.blogspot.com
Do you like this money making business idea? then please consider subscribing to our RSS feed and have new articles sent directly to your inbox. (Once you entered your e-mail address, you need to login to your e-mail account and click the link to confirm your subscription).