No one will say no to ice cream. This sweet flavored frozen dessert, containing mainly of cream or butterfat, eggs, and nuts, has been a favorite and well-loved food by generations.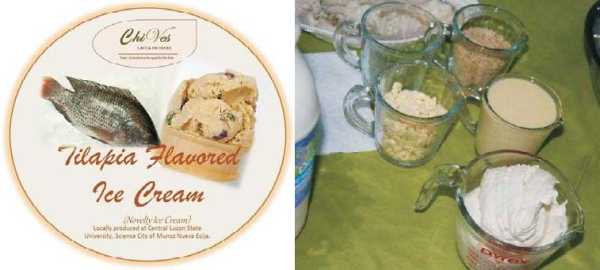 Best consumed after every meal, ice cream has been a consistent forerunner for anyone who loves desserts. It can also be eaten before or mid-meals depending on the person's preference.
Conventionally, ice creams are either chocolate- , cheese-, and/or fruit-based. These flavors are among the top choices. But, rarely do we hear of an ice flavor coming from a fish! Tilapia ice cream, anyone?
"The concept behind this endeavor started as a challenge posed by Dr. Tereso A. Abella, director of Freshwater Aquaculture Center at the Central Luzon State University (CLSU), to its Hotel and Restaurant Management faculty and students to develop and come up with various dishes using tilapia meat," explained Prof. Dana G. Vera Cruz during a seminar series organized and conducted by the Bureau of Agricultural Research (BAR).
The faculty and students took the challenge and were able to developed 40 tilapia recipes. However, the idea of the ice cream still did not prosper until the food sampling and photo shoots were done.
According to Prof. Vera Cruz, during the photo sessions for the recipe book and after the recipes have been tasted, a question propped: "Where is the dessert?" as commented by one of the members of the panel administering the recipe sampling. This challenged the group of Prof. Vera Cruz who initially came up with an ice cream dessert made from tilapia meat which eventually led to developing tilapia ice cream.
Research and product development conducted by CLSU's Department of Hospitality Management (DHM), College of Home Science and Industry, paved the way for the successful launching of the Tilapia Ice Cream during the 2nd Asian and Western Tilapia Cuisine Festival in September 2011.
Prof. Vera Cruz also presented the sensory evaluation to determine whether the ice cream was comparable to that of the commercially produced vanilla ice cream. Fifty respondents were asked to taste the product, to observe, and to see if the texture is close to that of the commercial ice cream. Most of all, the ultimate tasting aimed to determine if the ice cream has no fishy smell or an aftertaste that lingers.
Results of the evaluation indicated positive reviews. Prof. Vera Cruz reported that there were 12 parameters that were measured: color, aroma, overall-liking, mouth-feel, taste, intensity of fish aroma, intensity of sweetness, intensity of fishy taste, amount of fish flakes, intensity of after-taste, intensity of pleasant after-taste and the buying attention.
Although there were significant differences between the commercial and tilapia ice creams, initial results in terms of acceptability, liking and palatability concluded that the tilapia ice cream is close to the overall qualities of commercially-produced ice cream.
To assure participants who attended in the BAR seminar that real tilapia meat was used in the process, Prof. Vera Cruz conducted an actual demonstration on preparing and making tilapia ice cream. Ingredients: 1 kg. tilapia fillet steamed and flaked; 2 packs (250 ml) all purpose cream; 1 can condensed milk; 1 cup fresh milk; 1 cup chopped walnut and 1 cup cheese (cubed).
Free ice cream samples were also provided and given to the participants for them to try and taste. According to some participants, it tasted like the commercial ice cream and one can actually taste the tilapia flakes. Most of all, participants who have tasted the ice cream agreed that, "there is no aftertaste of fish."
The tilapia ice cream is available at Chives Café and Patisserie, CLSU, Munoz, Nueva Ecija.
The BAR seminar series is a monthly activity of the bureau which is being spearheaded by the Applied Communications Division (ACD). ###
Source: Patrick Raymund A. Lesaca, Bar Chronicle April 2013 Issue (Vol. 14 No. 4)