Tilapia has been a staple ulam for Filipino families for years. Tilapia farming in Philippines has contributed to the increased income of numerous households in both rural and urban areas. Numerous studies on tilapia farming have also been performed in order to increase the productivity and income of tilapia farms. Apart from all these initiatives on what is termed as the "21st century food fish", there are still other ways in promoting tilapia.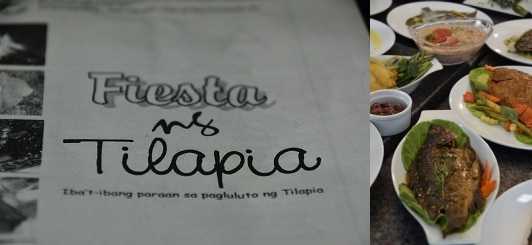 In full commitment to the promotion and utilization of tilapia, the Department of Agriculture – Bureau of Agricultural Research (DA-BAR) provides assistance in the production of the "Fiesta ng Tilapia" recipe book by the Bureau of Fisheries and Aquatic Resources Regional Field Office 3 (BFAR-RFO 3).
A compilation of 90 creative and unique tilapia dishes prepared by various contributors—from professional chefs to housewives—this recipe book will cater to the growing demand of new and creative ways in preparing and serving tilapia.
"We produced this booklet ("Fiesta ng Tilapia") a few years ago, thinking of the ways where we can promote tilapia in the region. And then we came across "O My Gulay" produced by DA-BAR. We were inspired and now, we're coordinating for a bigger publication of this recipe book," shared ARD and RFRDC Manager Lilia C. Garcia of BFAR.
A three-day photo shoot of all the 90 dishes ensued for this material. With the initial process of photographing all the 90 dishes accomplished by the Applied Communication Division (ACD) staff of DA-BAR through the assistance of Ms. Lanie RJ Lamong, information offier of BFAR-RFO 3, the pre-production of the book is underway.
Like the many coffee table books and materials produced by DA-BAR, this recipe book will be launched soon after the many processes of collaboration, editing and re-editing—all with the objective to provide sufficient and practical information needed for an effective and helpful printed material.
Assistance from DA staff bureaus come in many forms—from monetary to actual manpower. Production of such publications is one initiative of DA-BAR that continues to promote research and development efforts, and shares its outcome throughout the country. ###
Source: Zuellen B. Reynoso, Bar Chronicle November 2012 Issue (Vol. 13 No. 11)