Your start-up is ready and raring to go and now you are lining up business meetings to attract investors and so on. You would want every specific and important aspect of your meeting to be so strong that you want to leave a lasting impression on them. So, once the meeting is over, would you leave them with just the name of your business spelled verbally? Well, you might, but it won't be fitting to the conclusion of your meeting, where leaving an impression is all you want and want them to go with something that they are compelled to look at and think about your business and brand.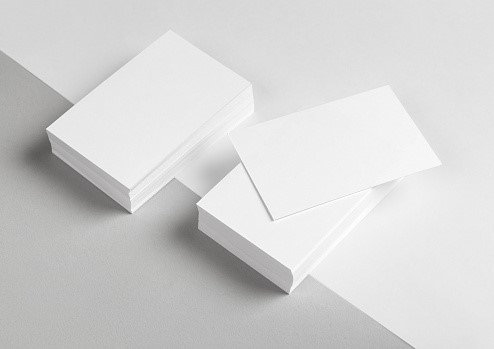 This is where a creative, bold, and statement-making business visiting card comes to the aid.
Value of Business Visiting Cards in the Digital Times
In today's times, when even a small factor could make or break your business potential, you wouldn't want to leave some things to mere possibilities. Your business identity is not just defined by you, your product or service, your idea that you pitch forward, your communication, your location, your digital presence but even with the print material that is extremely critical to your business's potential and worth.
In today's times of Instagram and LinkedIn pages and profiles, visiting cards do hold their worth and the potent power they bring about. Print mediums had been and are still an effective way to meet your business needs. These are by far an important product aiding your brand that helps people to remember who you are and also put you in a separate place ahead of competitors (depending on how creative you are).
Need for Unique Business Visiting Card Designs
Not all business cards are created equal, and what fits the need of one business doesn't mean that you have to go the same route. You have to carve your own identity, right from your business idea to product, service, channel, and much more, and your business visiting card shouldn't be any different from that.
Here, we have come up with 5 creative and unique business visiting cards design ideas that you should think over:
1. Visiting Cards with Unique Typography
The basic and foremost purpose of a visiting card is to include necessary information in the form of the name, business address, contact information, and much more. For all this, you need text. This is where going a bit unique and different to others can work wonders for you. Printing information is a work of art and how creative you can get with typography and make a statement is up to you.
Right from unique typography hierarchy, to font taking the center stage, text in an interesting layout, all this is effective to make a lasting impression.
2. Visiting Cards with Minimalist Design
If you follow the design principles of websites and apps, many of them want to keep it simple and create maximum effect with a minimalist form. Why not include that in your visiting card design. You work with just enough information, all presented in unexpected text layouts or color combinations that create a feeling of sophistication which reflects that your business and brand are all about being timeless and classic, an approach that is loved by all in today's times.
3. Visiting Cards with Maximalist Design
Opposite to minimalist doesn't mean that you are doing something wrong or you won't be generating enough buzz or positive vibes about your brand. You will, it's all about how you do that. Maximalist is also in fashion and is here to stay. Taking the bold and loud route with fun graphics, bright colors, and intricate detailing would speak volume of your business, especially if you belong to a creative field. Creating a bold statement with the right mixture of different elements will work great for you.
4. Visiting Cards in 3D Design
There is no chance that you wouldn't have heard about 3D printing. While this form of printing has made its way in almost all types of related printing segments the visiting card fragment will leave behind. 3D visiting cards give you something that has an added element of fun and creativity while also speaking emphatically about who you are along with all the other business information. Textured card stock or a raised logo can be subtly used in 3D card design. You can either go for a moveable piece of art or a foldable 3D shape, the decision is yours.
5. Visiting Cards with Photos in Focus
Sometimes what pictures can speak about and make a lasting impression, the text isn't able to do so. Having your photo, or your business place, your product, or anything else related to your business can provide a visual feel that is enough to make an impression nobody will forget.
Whatever visiting cards design you go for, make sure it speaks volumes of your brand and is a true identity of what your business stands for.