Across the country, more and more real estate properties are rising left and right. A type of property that is specifically demanded by the market are condominiums.After all, investing in condominiums offers numerous attractive benefits.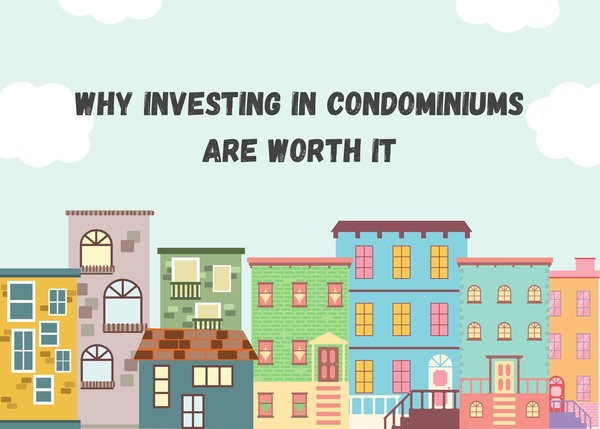 A condominium is a building that has been divided into several units. Each unit is sold to individual owners and comes with its own deed. So, if you're thinking about where to place your hard earned money, condominiums should be your top choice. Its advantages go way beyond a single-family home.
Read on to find out why investing in condominiums is worth it!
It Serves As an Excellent Stream of Income
While it's true that there are plenty of investment options out there, you should remember that not each one produces significant income returns. There are options that may even take years to breakeven with the initial investment made.
Such a scenario can be completely avoided if you invest in condominiums. Given that condominiums are physical assets, there are two ways to gain income from them.
If you want to gain a one-time large profit, sell it. But if you want to garner long-term passive income, simply buy a condominium unit, advertise it, and negotiate a contract with the tenants.
Condominium rents are typically paid on a monthly basis. This means you are guaranteed a stable amount of money at the end of every month.
It Has a Stable Market Value
Other types of investments are vulnerable to volatile market shifts. For example, stocks can easily be impacted by fluctuations. In the same way, if you happen to invest in vehicles, their value will depreciate overtime.
As shelter is a basic human need, the demand and value of properties such as condominiums will be endless. When market conditions change, its value remains consistent. History has long proven that properties offer investment security.
Strategic Location
In the country, it would be almost impossible to score a new home in major cities because of the high population growth.
This is why condominium developers build on key locations that are attractive for people from all walks of life. For example, top-notch developers like Megaworld Manila always think about whether the condo will be accessible for everyone.
Whether you're a student, career-oriented person, or a family seeking a residential property, condominiums will be strategically located to benefit you. From local markets, groceries, schools, offices, shopping malls, major highways, entertainment facilities, to hospitals – all essential establishments would be in close proximity.
There Is a Wide Variety of Choices
Real estate properties are booming in the country. With that, condominium developers are offering a wide variety of choices for buyers.
There are condos that are designed for those who prefer state-of-the-art facilities. In the same way, there are those that are created with bigger families in mind. The units range from studio type, executive type, one bedroom, two bedroom, to even penthouse suites.
Each one can vary from size, amenities, unit types, and design. Simply put, condominiums are built to cater to whatever your lifestyle is. Whether you plan on investing for sole profit or maybe residing in the unit, the choices are never ending.
You Gain a Sense of Security and Safety
One of the common features of condominiums included enhanced security systems. Most are geared with 24/7 closed-circuit TV (CCTV) monitors, security guards making regular rounds, and intercom systems that connect to the reception. Simply put, investors gain a sense of safety and peace of mind within the walls of their property.
You Get To Take Advantage of Premium Amenities
One can argue that the best advantage of investing in a condominium is that you get access to premium amenities.
Condominiums are known for having in-house facilities that owners can enjoy anytime.
Some of the amenities may include elegant swimming pools, fully-equipped gyms, spas, saunas, yoga centers, outdoor playgrounds, multiple game courts, and even children's daycare centers.
Hassle Free Maintenance
If you invest in a condo, you can take advantage of all the amenities without needing to maintain them.
Shared facilities in a condominium such as lobbies, elevators, parking areas, and gardens, are solely the developers' responsibility. They hire staff for utility, repair, and maintenance services that are all covered under your onset fees. This offers you the ultimate advantage of convenient living.
Key Takeaway
When it comes to investing, there's no doubt that condominiums are a smart choice. Whether you are planning to use the condo for either profit or residential purposes, it will prove its value long-term speaking.
So what are you waiting for? Search for the best property developers and make the wisest investment decision today!