Any time that you're starting a new business or even just trying to advance your corporate career, one of the most important things you can do is networking. That means going to industry-related conferences, going out of your way to interact with your company's customers, and the like.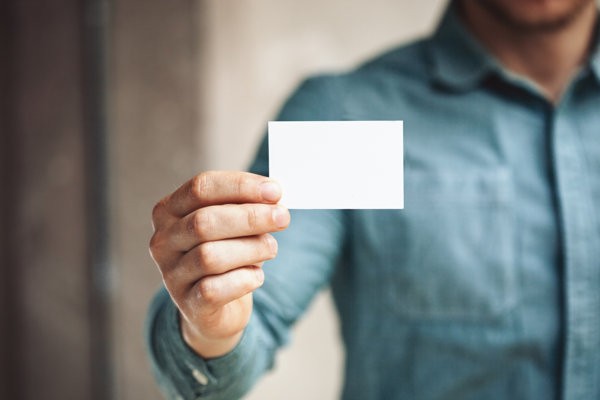 Once you're in that situation and meeting new people, however, you need some way for them to remember you. The best way to do that is with a business card. Knowing what to put on your business card, however, is another matter altogether.
Some people opt to go the extremely minimalist route with very little info, while others' cards look like the fine print of the New York Times. How are you supposed to know what's essential and what's not?
In this article, we'll help uncover the answer to exactly that question with a quick overview of everything that you need to put on your business card.
Full Name
The first and most important thing to put on your business card is (obviously) your name. There needs to be some way for people to identify and remember you whenever they're going back and looking at the cards they received from the networking event. Your name is the best way to do that because chances are if you have a memorable conversation they'll remember your name above all else.
Use whatever name you go by in the industry. This is the one that if they Google it, they should be able to find your LinkedIn page.
Your Services
Next up is the services that you offer. You should be able to succinctly describe what it is that you do for your customers. Make sure that you don't talk in terms of features — talk about how you solve customers' problems.
No one cares about what your product or service really does. All they care about is their personal problem and whether or not your product or service can solve the issue. Keep that in mind.
Your Portfolio
Your new contacts will want to gauge your ability to perform the services listed on your business card. The best way for them to do that is to look up your previous work. Provide a link to a portfolio of your best samples to let them see what you can do.
Your Contact Info
Last but not least, you need to include your contact information on the card. It should have your email at the very minimum. However, if you're comfortable, then you should also include your phone number as many people prefer to operate in live conversation rather than email.
If social media is a big part of your business, then include links to your relevant profiles as well. Use a service like new era print solutions to get the right work done to print your card.
Know What to Put on Your Business Card
There you have it — now that you know what to put on your business card, all that remains is for you to create your own!
For more career and business advice, be sure to check out the rest of the articles on the website!