The restaurant industry might have hit a few bumps on the road last year, but it's clear that it got back up on its feet so there isn't any time to waste if you want your restaurant business to get on the fast track as soon as possible. You might think that your secret recipe will be enough for your business to make a splash, but the truth is that today, the market is already so oversaturated that you'll need to do much more to stand out. It's time to utilize your businessperson-like skills and think about your restaurant in a more practical way. Here are a few killer strategies that will help you out.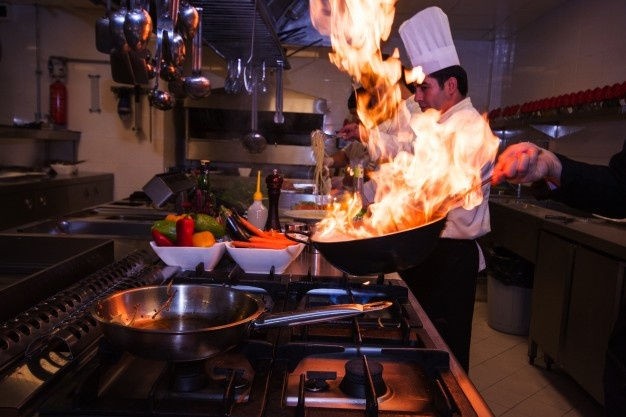 Pick the right location
Location is more important for some businesses than others, and there is no doubt that restaurants are some of those businesses where it's absolutely crucial. Your restaurant not only needs to be in a place where there is adequate foot traffic, but it also needs to be easily accessible with ample parking nearby. Don't hesitate to go out and walk around the area to get a better feel of what it's all about.
Define your concept
If you yourself are not sure about who exactly your restaurant is targeting and for what occasions, everything will get lost in ambiguity. Research your area and find out what people are interested in. Is it a busy area where fast food does well? Or is the place often visited by tourists so they want something authentic? Do you want your place to have a more intimate feel or do you want to serve bigger, more dynamic groups? Define your niche clearly and take all your subsequent steps accordingly.
Give it a makeover
A restaurant's atmosphere is second only to the quality of food that is served. A place that has character and where customers can feel comfortable will be sure to draw attention. So, while it might require a small investment from you, it's worth evaluating the look of your restaurant if you want to stand out. Make sure that it doesn't look cheap and customers will find it "Instagrammable." At the same time, keep in mind the changing needs in the post-pandemic era and don't sacrifice functionality for looks.
Boost your curb appeal
Unless your outdoor appearance manages to grab attention, unfortunately, many won't give a chance to your impeccable interior. So, boosting your curb appeal is quite an important element in a restaurant's success. Make sure there is appropriate signage so people don't just walk by. It's also highly recommended to display your menus outdoors so passers-by can get an idea of what they can expect. It's always better to be transparent: customers will appreciate you being straightforward with your offer and prices. Finally, don't forget to beautify the area with some greenery and decoration.
Mind the staff
The next crucial puzzle piece in a successful restaurant business is the staff. The importance of well-trained, friendly staff should never be underestimated in an industry where service is paramount. Be sure to employ the right people and train them so that they are all on the same page and reflect your brand values equally.
Take it outdoors
Additionally, keep in mind that outdoor dining is huge right now. You can greatly expand your restaurant's capacity if you add some outdoor seating. Don't forget about comfort here either: the northern hemisphere is well into fall, so adding a few blankets will extend the use of your outdoor space, while the southern hemisphere is getting increasingly hot as summer approaches, so keeping the space well-shaded is paramount. For the Australian heat, you can find custom pergolas in Sydney that will fit your needs perfectly. Pick a stylish solution that will not ruin the overall look.
Don't lag behind
Next, it's worth giving some thought to modern solutions that can have a huge impact on a restaurant business's productivity and profitability. For instance, food delivery is where it's at today, so designing your own dedicated food delivery app will definitely boost the business you get. Additionally, a restaurant can manage its inventory, sales, invoices, and much more very efficiently with the help of a POS system. Bookkeeping has never been easier than this so you'll be able to focus on the more important things.
Market yourself like a pro
Finally, don't expect people to just magically show up. You'll need to put considerable work into marketing your restaurant in order to keep the traffic high. Using social media on a regular basis should go without saying. Using holidays and community events to promote your business is another well-working method. You can even organize workshops, book signings, and other similar events at your restaurant to boost awareness of your business among locals.
Last but not least: serve food that will have customers call for seconds! However, you surely already got that. All you need to do is deal with the aforementioned details and your restaurant will soon see more and more people coming in.
Author bio:
My name is Grace Wilson. I'm a 27-year-old biotechnologist and kind of a bookish girl. Surfing the Internet is my favourite, that's why I've turned into blogging. Following a healthy mindset and lifestyle is what I consider my life principle. If interested, follow my Twitter.