Hoses are very useful for various industrial applications. These come in various materials making it very important to be knowledgeable before taking the plunge. The temptation is always high to choose the cheapest option on the market although it might turn out to be costly in the long run. The performance and lifespan of a flexible hose depend on a host of interior and exterior factors. It is important to consider issues including UV exposure, abrasion, chemical exposure, and extreme temperature.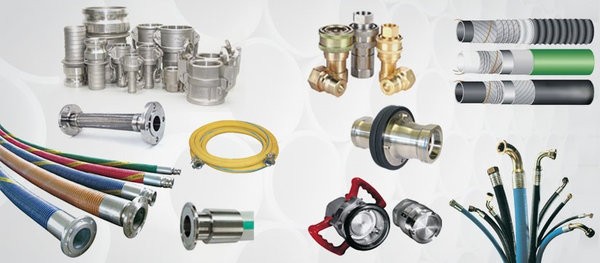 The rule thumb is to find a reputable manufacturer to guide you find the ideal hose for your application. A good idea is to understand some of the materials for making hoses to make you make an informed decision. The time and effort invested in this will pay off with minimal maintenance, hose failure, and replacement requirements.
Options For Flexible Hose Material
Thermoplastic Rubber
Hoses made from thermoplastic rubber come with the durability and strength of plastic. These hoses are very versatile and withstand temperatures of about 275 °F. Thermoplastic hoses are built with exceptional contact strength between braid, core, and jacket layers. The contact allows thermoplastic materials to re-melt during production for a mechanical and chemical bond. Thermoplastic hoses are applied in chemical fume processing, high-pressure hydraulic systems, and pressurized gas conveyance requirements.
Polytetrafluoroethylene
Commonly known as PTFE, this is the best material for hoses in various sizes, shapes, and purposes. The trademark name for PTFE hose is Teflon with unique features including self-cleaning and extreme chemical resistance. When looking for flexible hose manufacturer (https://www.jreltd.com/), PTFE hoses are a great investment for other qualities including temperature, aging, and weather resistance. The self-cleaning feature of these hoses matches sanitary standards for applications in various industries including:
Pharmaceuticals
Food and beverages
Cosmetics
Diary production
PVC
This is the most affordable option for light-duty indoor applications. Keep in mind that PVC hoses are not the best choice for outdoor operations. Exposure to UV radiation and extreme temperatures might make PVC degrade. However, it is a good choice for indoor applications including ventilation, woodworking, and plumbing for effectiveness and durability.
PVC flexible hoses come in multiple sizes and colors with smooth interior walls that guarantee efficient airflow. This material has exceptional flexibility, crush resistance, and high conductivity to lessen static build-up.
Polyurethane
PU hoses are ideal for various industrial and commercial applications, unlike PVC hoses. The versatility of this hose comes from the manufacturing capabilities with options including static dissipative versions and various wall thicknesses. Polyurethane has resistance to tear strength, chemical exposure, and abrasion. Additionally, PU hoses come with great flexibility in low temperatures backed by exceptional pressure and vacuum rating.
Polyurethane hoses are ideal for extremely heavy-duty applications including industrial manufacturing, agriculture, lumber, and mining for being heavier. These hoses withstand extreme heat and cold, abrasion, and UV radiation during regular outdoor use. The best manufacturer will have PU hoses with various lengths and diameters.
Static Dissipative Polyurethane
When looking for a hose with the ability to lessen static electricity build-up, a static dissipative polyurethane hose is the best choice. This comes with extreme chemical resistance, temperature resistance, and durability. The additional capability to manage static offers great dust collection capability. Quality static dissipative polyurethane hoses minimize material build-up and friction maximizing airflow through the smooth interior walls.
Silicone
Hoses made with silicone are extremely durable, flexible, and versatile. Silicone retains shape on exposure to extremely high temperatures. This makes silicone hoses ideal for applications including engine systems for conveying hot gases and in high-temperature exhaust fuel systems. The high inertness of silicone allows application as chemical resistant tubing and flexible chemical hoses in chemical processing environments prone to solvents and corrosives exposure.
Neoprene
This was traditionally a popular material for hoses and ducts but rare today. Neoprene is an inexpensive option with features including chemical and oil resistance backed by the ability to withstand extreme temperatures. Neoprene hoses have low toxicity making them appropriate for applications including water and pharmaceutical applications. This material tolerates high temperatures and resists oils to work in mechanical and automotive applications with grease and oil.
Coated Fabric
Another material for hoses that withstand high-temperature applications is coated fabric. These hoses are mechanically crimped through a continuous design process. Coated fabric hoses are extremely durable for having a flame-resistant coating. These hoses ensure safe for reliable operation in temperatures reaching 1200 °F. flexible coated hoses come in various lengths and diameters to match particular needs. Some of the coating materials for fabric hoses include:
Fiberglass
Silicone
Aluminum
Teflon
Neoprene
Bottom line
It pays to be knowledgeable about available materials for hoses before hitting the market. This is very important to allow selecting the right hoses for your application. Options for hose material include Teflon, neoprene, silicone, thermoplastic rubber, and Polyurethane. The best flexible hoe manufacture will have a range of hoses in various materials to help you make the right choice.