Composite hose is a unique type of hosepipe designed from a combination of multiple layers of special materials such as spirally-wrapped thermoplastic films and fabrics, held together between an inner and outer wire helix. This hose possesses capabilities such as versatility and adaptability, making it flexible to use for a variety of industrial purposes.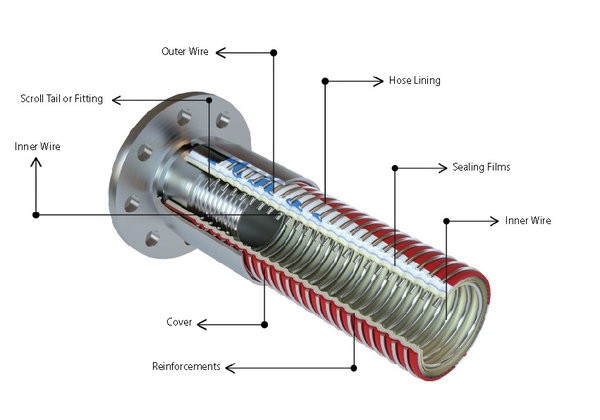 Construction of Composite Hose
Composite hoses are different from other single-material hoses. The construction of these hoses is based on the mandrel-wrapped principle, in which the hoses are in the form of a helix. They are made from multiple ranges of tight-wound polyester, polypropylene, polyamide fabrics, and films, reinforced in one single tube in the shape of inner and outer wire helixes. Fabrics and films are covered and protected with the help of PVC coated fabric. These two spirals can be made of the same or different metals. The inner wire helix is composed of stainless steel, Polypropylene coated steel, galvanized mild steel, or aluminum, depending upon the requirement. Whereas the outer wire helix is composed of stainless steel, galvanized mild steel, or aluminum. The screws of these spiral wires are made from materials like polymer-coated steel, stainless steel or galvanized steel, or aluminum.
Reasons for using Composite Hose
Composite hose is considered the most versatile hose for industries because it can transfer a large variety of chemicals and fluids. It also comes with other special properties hence making it popular in the industry market.
1. Flexibility: Composite hose is considered the most flexible hose. Multiple layers of fabrics and films used in the designing of this hose are not sealed or glued together. This gives the ease of bending as the layers can easily slide over one another when the composite hose is moved.
2. Safety: Composite hose is usually fabricated to be fail-safe. Basically, there are two areas where this hose can fail:
•  The Hose: Directly, there is no leak path present in the hose for the liquid to follow because of the multiple layers of fabrics and films. For the leak to occur, the fluid must find its way through these multiple layers until it reaches the outer layer. After reaching the outer layer, small drops could be seen along the seam line showing that a leak had taken place. Whereas, in other hose leaks are usually fatal, damaging the walls of the hose without any prior warning.
•  The End Fitting: They are specifically designed in the shape of a tailpiece or spiral shank, which reduces the chance of a fitting blowing off on their own.
3. Chemical Resistance: The bore of the composite hose is designed using a wide array of plastics such as Teflon, polypropylene, and nylon, which can accommodate a large variety of chemicals. This makes composite hose suitable for the transfer of chemicals.
4. Resistant from Corrosion: Composite hose-pipes are free from the problem of corrosion because they are designed using non-eroding sheeting of polymer with an inward helix made from covered steel. They are ideal for transferring liquids such as saltwater hydrocarbons that could easily corrode a hose other than a composite hose.
5. Assortment: When we want to purchase best composite hose, it could be customized according to our needs. Every part of a hose can be assorted and modified, from the hose's length to the polymer film, the temperature capacity, or the cylinder's length.
Advantages of Using a Composite Hose
Hose pipes are generally used in homes and industries. For the home applications, we are free to choose any hose, but for industrial purposes, the composite hose is the most preferred one. As the layers of these hose are made from polypropylene material along with PVC cover, hence it can be used in a variety of applications. The best advantage of these hoses is that it can be customized according to the need of the industry. Apart from this, there are a few other advantages:
1. Low Bending Radius:  Because of its flexibility and low bending radius, composite hose finds its application in the areas where there is minimal space. The reason why this is more flexible is that the internal diameter is only thrice smaller than the bend radius. Hence could be used for gantry loading or unloading.
2. No Welding: Composite hoses could be used for a long period of time without being damaged because there is no welding used in the designing of these hoses.
3. Easy to Repair: The risk of the pipe getting burst is high when using for industrial applications. However, composite hoses are designed in a collapsible way. This means the liquid will not come out of the layers, even if the pipe fails or breaks. It will just simply collapse. Because of the multiple layers present, any leak in the hoses could easily be spotted and repaired as soon as possible.
4. Light Weight: Due to the lightweight composite hoses are too easy to handle. In comparison with other hoses, the composite hose is almost 30% lighter in terms of weight.
Conclusion
A composite hose is one of the most demanded pipes as it is a perfect fit for multiple applications in different industries.