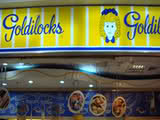 Goldilocks has become the leading brand in the Philippine bakeshop industry selling a wide variety of products at affordable prices. With over 40 years of experience, more than 200 stores worldwide and being elevated to the Hall of Fame in both the Bakeshop and Franchise categories by several award-giving bodies, you are assured of sweet success.
Aside from its quality cakes, breads, and pastries that have been a bestseller over the years, Goldilocks now also offers a wide range of dishes such as beef, chicken, and seafood, noodles and pasta, and a wide range of popular Filipino food.
Whether you're a first-time franchisee or a seasoned investor, Goldilocks has several franchise schemes to suit your investment needs.
BAKESHOP
Franchise fee*
P 800,000 (VAT exclusive)
Investment Cost
Est. P 6 to 8M
Store Size Requirements
Minimum of 60 sqm
Maximum of 80 sqm
FULL
STORE
Franchise fee*
P 1.2 M (VAT exclusive)
Investment Cost
Est. P 10 to 13M
Store Size Requirements
Minimum of 150 sqm
Maximum of 200 sqm
Investment cost will cover the Following:
– Franchise fee
– Lease hold improvements
– Delivery vehicle
– Operating equipment / utensils
– Collateral / surety bond
– Project management fee
– POS– Point of Sales w/ hardware package
How can I apply for a franchisee in the Philippines?
1) Download and print a copy of the following forms. Fill out completely.
2) Prepare the following
– Letter of intent addressed to the Franchise Relations Manager
– Address, location, and vicinity map of proposal (to include site description, including business establishments within 1 km. radius)
– Comprehensive resume of the applicant (personal background information credit references, latest ITR, fixed assets and liabilities, proof of billing address, list of membership organizations, 2×2 colored photograph)
3) Mail the documents to:
GOLDILOCKS BAKESHOP INC.
Franchise Relations Department
439 Shaw Boulevard
Mandaluyong City 1550
Or email at: lin.deres@goldilocks.com.ph
Do you like this money making business franchise idea? then please consider subscribing to our RSS feed and have new articles sent directly to your inbox. (Once you entered your e-mail address, you need to login to your e-mail account and click the link to confirm your subscription).