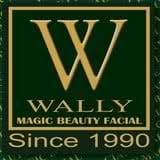 Wally Magic Beauty Facial Center is the only of its kind specializing Facial Aesthetics Treatments founded since 1990 by "Warlita C. Guiterrez" also known as "Mommy Wally" where the Trade name emanated; who invented the Wally products that exclusively distributed and used by Wally Centers which provide magic in every clientele's face and bring out the best of it.
Wally's services are very distinct using the specialized products and time tested methods offer by a friendly and professional team that touches with exceptional Wally's Magic in a relaxing ambience completing every clientele's satisfaction.
Training, continuing research & development, business strategizing, and marketing are observe by her young professional and energetic partner Jobertson C. Bagares to keep abreast in beauty industry.
Franchise Information
Franchise Fee: P500,000
Franchise Inclusions:
– Use of name
– Use and exclusive retailing of products
– Operating system
– Accounting system
– Training of attendants
– Opening assistance
– Architectural design
– Attendants uniform and accessories design
Continuation fee: P5,000 per month
Franchise term: 5 years
Total capital requirements: P1.5 Million estimated
Space requirement: 40 sqm. with 4 beds and receiving area
How to Franchise Wally Beauty Facial Business?
Just fill up the Confidential Questionnaire and send it together with your Letter of Intent to:
Jobertson Combatir Bagares
Franchise Manager
Wally Magic Beauty Facial Center
U5&6 The RDJ Arcade
Alunan Ave., Koronadal City
Telefax: (083) 228-8663
Email: wallymagicbeauty@yahoo.com
Do you like this Money Making Business Idea? content"> then please consider subscribing to our RSS feed. You can also subscribe by email and have new articles sent directly to your inbox. (Once you entered your e-mail address, you need to login to your e-mail account and click the link to confirm your subscription).