Pedicab or Padyak or foot-pedaled tricycle is a man peddled bicycle with a sidecar for passengers. It is one of the most convenient transportation in rural areas, specially from the central town to the villages. It usually covers short distances and feeder trips but longer trips can be arranged. This mode of transportation is a best alternative especially with the high prices of gasoline and when streets are flooded.
How to Start A Pedicab (Padyak) Operation Business
I. Estimated Investment Cost

II. Estimated Monthly Income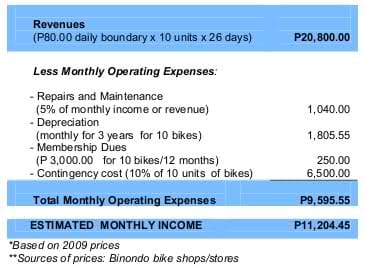 III. Return on Investment (ROI)
ROI = P11,204.45 / P70,640.00 = .15
Payback Period = 8th month
IV. Prohibitions
• No padyak/pedicab shall be allowed to enter, pass, or utilize any highway, national or provincial road, or any main street in the city.
• Pedicab operation shall only be allowed in subdivision roads, callejons, alleys, and small side streets within the city.
• No person below 18 years of age shall be allowed by any ownerf9 or operator to drive padyak.
V. Registration Requirements
1. Business Name Registration
Department of Trade and Industry (DTI) within NCR
a) 12/F, Trafalgar Plaza,
105 H.V. Dela Costa St., Salcedo Village, Makati City
Tel. No.: 811-8232 loc. 208
b) 2/F, Park N' Ride, Lawton,
P. Burgos Ave., Dr. Basa St., Ermita, Manila
Tel. No.: 536.7153
c) G/F, Highway 54 Plaza,
EDSA, Mandaluyong City (across SM Megamall) Tel. No.: 706.1767
d) 5/F, Araneta Square Mall, Monumento Circle, Kalookan City Tel. Nos.: 332.0854 / 332.0829
DTI Office in the province where the business is located Website: www.bnrs.dti.gov.ph for online registration
Validity: 5 years
2. Mayor's Permit
Municipality or city where the business is located
Validity : 1 year
3. Tax Identification Number (TIN) Bureau of Internal Revenue (BIR)
BIR National Office Bldg.,
Agham Road, Diliman, Quezon City
Trunkline: (632) 981.7000 / 981.8888
Email: contact_us@cctr.bir.gov.ph www.bir.gov.ph
BIR Regional or District Office where the business is located
VI. Financing
Small Business Corporation
17/F and 18/F, Antel Corporate Center,
139 Valero Street, Salcedo Village, Makati City
Tel. No.: (632) 751.1888 www.sbgfc.org.ph
(Direct lending for individual borrower with an
asset size of P 500,000 – P 100M)
People's Credit and Finance Corporation
2/F, Accelerando Building,
395 Sen. Gil Puyat Ave., Makati City
Tel. Nos.: (632) 897.8521752.3745
Fax No.: (632) 325.0448-49
Email: info@pcfc.ph www.pcfc.gov.ph
National Livelihood Development Corporation (NLDC)
4/F, Hanston Building, F. Ortigas Jr. Road, Ortigas Center, Pasig City
Tel. No.: (632) 914.7290 to 97 / 631.2955/57
Email: nlsf-info@nlsf.gov.ph
Source: www.dti.gov.ph
BUREAU OF MICRO, SMALL AND MEDIUM ENTERPRISE DEVELOPMENT (BMSMED)
5/F, Trade and Industry Building
361 Sen. Gil J. Puyat Ave. Makati City
Tel. Nos.: (02) 897.1693 / 897.7596 / 890.4968
Fax No.: (02) 896.7916
Email: bmsmed@dti.gov.ph
Photo: hubpages.com
Do you like this money making business idea? then please consider subscribing to our RSS feed and have new articles sent directly to your inbox. (Once you entered your e-mail address, you need to login to your e-mail account and click the link to confirm your subscription).